Egypt's Policies Entrench the Islamist Threat
Publication: Terrorism Monitor Volume: 14 Issue: 23
By: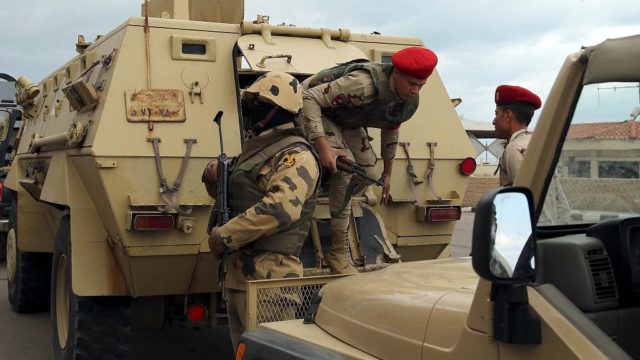 At a time when Islamic State (IS) is losing ground in Syria and Iraq, its Sinai franchise dealt a blow to the Egyptian armed forces stationed in Sinai. On October 14, the group attacked an army checkpoint in restive North Sinai, killing 12 soldiers and injuring six others in the deadliest attack on Egyptian security forces this year (al-Ahram, October 14). The militants attacked with assault rifles, under the covering fire of heavier weapons including mortar rounds and rockets (al-Masry al-Youm, October 14). A statement from the Egyptian military described the incident: "An armed group of terrorist elements attacked a security checkpoint in North Sinai this morning using four-wheel drive [vehicles] and were immediately engaged. Our forces killed 15 terrorists."
The next day, IS published images of the attack – distributed via Telegram and Twitter – and claimed that over 20 members of the security forces had been killed. In the following days, the Egyptian military launched air raids on IS hideouts in Sinai and intensified its counter-terrorism campaign in the area. In a subsequent clash, eight soldiers were killed and 11 others wounded according to reports (al-Masry al-Youm, October 16).
Military action, however, has had only limited success. The checkpoint attack came despite the military's repeated trumpeting of its own successes killing prominent IS figures. In early August, the Egyptian military announced an IS leader in Sinai identified as Abu Duaa al-Ansari had been killed, along with 45 militants, in an airstrike that targeted the group's strongholds in Sinai (al-Arabiya, August 4).
The attack also stands out because the target – the checkpoint is 40 kilometers from the town of Bir al-Abd, west of al-Arish – is a considerable distance from known IS strongholds in Sheikh Zuweid and Rafah, adjacent to the Gaza Strip. These areas have been the main focus of IS operations since the 2013 coup that overthrew Egypt's Islamist former president Mohamed Morsi.
Islamist Attacks in Cairo
In the capital Cairo, Islamist militants have also been active. Eight days after the attack in Sinai, on October 22, two men on a motorbike targeted army general Adel Ragaei, shooting him dead in front of his house in Obour City, 35 kilometers north-east of Cairo (al-Masry al-Youm, October 22).
An armed group identified as Liwa al-Thawra (Revolution Brigade), which the government has labeled a militant wing of the Muslim Brotherhood, claimed the attack in a message posted on Twitter that read: "A group of our fighters have liquidated the criminal Adel Ragaei, one of Sisi's militia leaders this morning, shooting him in the head with several bullets and taking his weapon" (Twitter, October 22). The group also showed what it claimed were pictures of the assassination operation and later posted footage on YouTube purportedly showing the assassination (Masrawy, November 14).
Liwa al-Thawra came into the spotlight in August when they claimed responsibility for attacking a group of policemen stationed at a checkpoint in Monofeya, located in the northern part of Egypt in the Nile Delta. The attack killed two soldiers and injured five other people, including two civilians, and marked the third anniversary of the August 2013 Rabaa massacre in which the security forces killed as many as 1,000 pro-Morsi protesters (al-Watan, August 21).
Ragaie's killing constitutes a serious blow to Sisi – no military general was assassinated during the three-decade-long rule of President Hosni Mubarak, nor under the Islamists' brief spell in power. Ragaie was the head of the Ninth Armored Division and oversaw the destruction and flooding of tunnels that ran into the Gaza Strip under the Rafah border, which provided a lifeline for residents of the besieged territory  (al-Jazeera, October 23).
Cairo has witnessed several assassination attempts against Sisi's supporters. In late September, a senior prosecutor, Assistant Attorney General Zakaria Abd al-Aziz, survived a car bomb planted near his motorcade. Neither al-Aziz nor his escorts were injured in the blast, but a civilian who was close to the explosion was injured by shrapnel and was taken to a hospital for treatment. [1] In August, former Grand Mufti Ali Gomaa also survived an attempt on his life in Cairo's 6th of October City, when armed men opened fire on him on his way to a mosque to lead prayers (al-Ahram, August 6).
Gomaa has been a vocal critic of Muslim Brotherhood and a staunch supporter of President Sisi. Furthermore, in 2013, he had blessed the violent dispersal of Rabaa and Nahada encampment in particularly virulent language, saying: "Shoot them in the heart … Blessed are those who kill them, and those who are killed by them… We must cleanse our Egypt from these riffraff … They shame us … They stink. This is how God has created them." [2]
IS Militants Adapt
Three years after the coup that brought down Morsi, Egypt is struggling under the increasingly repressive policies of Sisi's administration and facing a rising terror threat from Islamist militants that has extended into Cairo.
At least 700 members of the police and army were killed between August 2013 and August 2015, according to a Carnegie study, as well as hundreds of civilians and militants. [3] The second half of 2015 witnessed a dramatic increase in terrorist operations, including the murder of the general prosecutor, Hisham Barkat, in June, and the IS Sinai Province's attempts to seize Sheikh Zuwaid area, which left at least 35 soldiers dead, in July. There was also the attempted bombing of the Italian consulate in Cairo the same month, and the downing of a Russian aircraft in Sharm el-Sheikh in October, which resulted in the death of all 224 passengers and prompted the suspension of international flights to the resort town.
As the military campaign has intensified, IS militants in Sinai are changing tactics, resorting to roadside bombs in Arish, reports of which are now depressingly frequent in news bulletins. The Bir al-Abd attack, in the middle of Sinai, was ambitious, close as it was to the Suez Canal. In Cairo, assassination attempts by Islamists are aimed at breaking the morale of the security forces. IS has also inspired youth from other Islamic groups, such as the Muslim Brotherhood, to operate in Cairo and the Nile Delta.
The increasing terror threat benefits Sisi as it provides the government with an excuse to sideline demands for reform – demands the administration's strong-arm tactics have already weakened to a degree – and puts the international community in a corner with little option but to support Sisi's government without the usual rhetoric about respect for human rights.
NOTES
[1] Interior Ministry statement (Facebook, September 29)
[2] Full speech can be found on (YouTube, October 10, 2013)
[3] 'Egypt's Escalating Islamist Insurgency' (Carnegie, October 21, 2015)