Elections in Ukraine's Secessionist Territory: A Topic of International Negotiation (Part One)
Publication: Eurasia Daily Monitor Volume: 12 Issue: 144
By: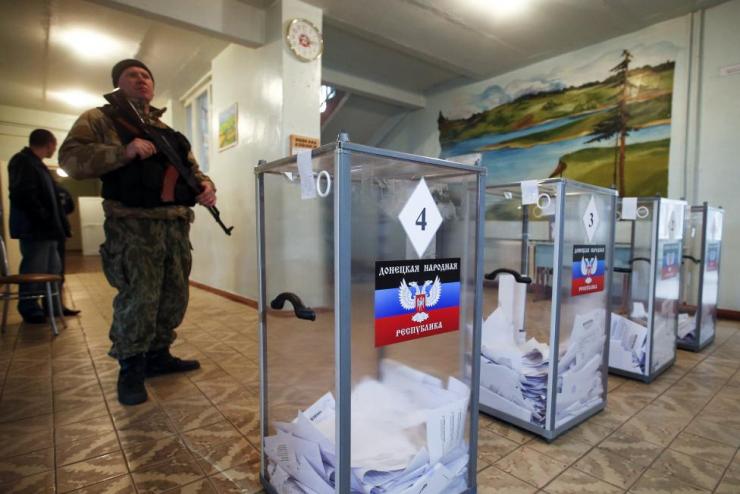 Ukraine is scheduled to hold local elections throughout the country (except the Russian-occupied territories) on October 25—the first such elections since the advent of a Western-oriented Ukrainian government.
Under Ukrainian laws, passed in March (and corresponding with international law), elections of Ukraine may not be held in territories of Ukraine not controlled by the government of Ukraine but that are, instead, under the control of foreign military forces and the nominees of a foreign power (Rada.ua, March 17, 18).
Moscow, Berlin, Paris and, apparently, Washington, however, are urging Kyiv to agree with the staging of local elections in "certain areas of the Donetsk and Luhansk provinces"—i.e., the Moscow-controlled Donetsk and Luhansk "people's republics" ("DPR, LPR"). Russian and Western diplomats involved in this process may have reached consensus about the prerequisites to the holding of valid elections in this territory.
Left unmentioned in this context are the evacuation of Russian forces and disarmament or demobilization of "DPR-LPR" troops and security services. Such measures are not being listed as prerequisites to holding valid elections. It seems, therefore, that elections would be held under the gun in this territory.
The declared prerequisites (at this point) are, first, that elections in Donetsk-Luhansk should be deemed as part of Ukraine's country-wide local elections, under Ukrainian law. And second, that the Organization for Security and Cooperation in Europe (OSCE) should prepare and observe the elections in that territory, in accordance with the OSCE's standards. This implies, first, a wishful assumption that "DPR-LPR" could be made to appear as adhering to democratic standards; and second, that elections in Donetsk-Luhansk could be recognized as valid, if they are staged with Kyiv's consent and simultaneously with local elections in the rest of Ukraine.
That is a path toward legitimizing the Donetsk-Luhansk authorities and inserting them into Ukraine's political and institutional system. This has been Moscow's scenario since the Minsk One armistice (September 2014). Under Minsk Two, moreover (February 2015), local elections in that territory are to be held not only under Ukrainian legislation, but also under "modalities" to be negotiated between Kyiv and Donetsk-Luhansk (article 4).
This approach compromises Ukrainian legislation in several ways. First, the mere fact of holding elections in this territory contradicts Ukrainian law (see above). Second, Ukraine's electoral code is inherently incompatible with "DPR-LPR" election practices (as displayed in their November 2014 "parliamentary and presidential elections," which produced the current authorities there). Third, the "modalities" of the proposed elections are to be negotiated by Kyiv with Donetsk-Luhansk, instead of being determined by Ukraine's legislation. And negotiating with "DPR-LPR" authorities would imply recognition of those authorities by Kyiv. Thus, international reassurances that those elections would be held "under Ukrainian law" are misleading, irrespective from which capital they emanate.
Meanwhile, holding or even preparing elections in that territory would necessitate Ukraine's consent, which Russia has failed on its own to obtain.
Western diplomacy, increasingly anxious to "freeze" this conflict, seeks Kyiv's consent to holding elections in that territory. Pro-Russia authorities would predictably win. Yet, discussions are accelerating in the "Normandy" format (Russia, Germany, France, Ukraine), the bilateral Russia-US format (on the deputy ministerial level, Grigory Karasin–Victoria Nuland), and the Minsk Contact Group (Russia, Ukraine, OSCE, "DPR," "LPR"), about holding elections in the secessionist territory.
Those forums and channels are, by definition, concerned with "implementing the Minsk agreement," the main political clauses of which carry a December 2015 deadline. Russia bears no direct "obligations" on the military clauses; it is not even named. The burden of "Minsk obligations" is being shifted entirely on Ukraine at this stage: i.e., consenting to local elections being held in Donetsk-Luhansk and adopting a constitutional status for that territory. Even in that case, under Minsk Two, Ukraine would not regain control of its border with Russia, but could only start negotiating about that with the armed "DPR-LPR" (another form of recognition de facto).
Politically, "re-integrating" Donetsk-Luhansk in their existing form into Ukraine's political system would eventually bring a contingent of pro-Russia deputies into the Ukrainian parliament. According to Hiorhiy Tuka, recently appointed governor of the liberated part of the Luhansk province, sentiment favoring Russia and the former Party of Regions is widespread, and would impact on elections accordingly (Ukraiynska Pravda, July 26). The Ukrainian government may be able to change that mood in the liberated area eventually, but the militarized "DPR-LPR" will remain beyond Kyiv's reach in political terms, even if that territory is formally re-integrated with Ukraine.