Energy Security in Europe: The Uncertainties of South Stream and the Delays of Nabucco
Publication: Eurasia Daily Monitor Volume: 9 Issue: 229
By: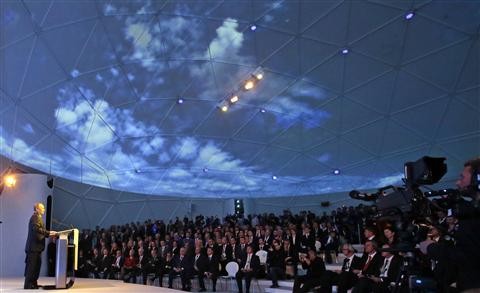 United States Senator Richard Lugar has urged the Obama administration to break Russia's energy monopoly in Europe and called on Congress to lift limitations on LNG deliveries to NATO allies in Europe. His critical report, "Energy and Security from the Caspian to Europe," and the proposed LNG for NATO Act came days after Russian President Vladimir Putin launched the construction of the South Stream natural gas pipeline in the Russian Black Sea town of Anapa (Interfax, Standart, December 7; foreign.senate.gov, December 12; RT, December 13).
Senator Lugar urged the US administration to do more for European energy security by supporting the Southern Corridor from Central Asia and the Caucasus to Europe. He advised the State Department to restore the high-level position of US Envoy for Eurasian Energy Security and asked Congress to place NATO allies on an equal footing with free trade partners under US law when providing for automatic licenses for US LNG exports. Most Central and Eastern European countries are currently dependent on Russian gas supplies from 60 to100 percent of their needs. The report sends a strong message to US officials regarding South Stream that energy security in Europe is vital for America's national security interests.
The South Stream launching ceremony in Anapa, attended by Putin, marked the end of the negotiations and the beginning of actual construction work. There is no doubt now that Putin's political project will be built, but serious questions remain regarding the quantities of Russian gas that would be available for transfer to Europe, Gazprom's natural gas pricing policies, and South Stream's impact on EU energy regulations.
A day before the ceremony in Anapa, Maria van der Hoeven, executive director of the International Energy Agency, also raised questions about the cost-effectiveness of the project. She told reporters that making a multi-billion dollar investment into the pipeline "could be seen as a brave choice," given Europe's sliding gas consumption. European gas demand has declined by 11 percent in 2011 and is expected to decrease further in 2012 (Moscow Times Online, December 10).
In the fall of 2012, Gazprom engaged in intensive rounds of negotiations in Southeastern Europe to put in place the pipeline agreements with all participating states. Gazprom hurried to preempt possible investment decisions on the Nabucco gas pipeline that would have made South Stream's future uncertain.
The EU- and US-backed Nabucco pipeline would pump gas from Central Asia and the Caucasus to Europe via Turkey and southern Europe, reducing Europe's reliance on Russian gas. The original idea has undergone modifications since Azerbaijan and Turkey agreed on June 2012 to build the Trans-Anatolian Pipeline (TANAP) from the Caucasus through Turkey to the Greek border. The pipeline will then connect with Nabucco-West (a shorter version of the original project) through Bulgaria, Romania, and Hungary to Austria. Senator Lugar's report is focused on this version of Nabucco, which would effectively diversify gas sources in Europe. The South Stream project does not diversify sources—they remain entirely Russian—it only changes routes by bypassing Ukraine and as a result enabling the Kremlin to place greater political pressure on Kyiv.
The South Stream pipeline was marketed in Eastern Europe as a profitable venture because the expected transfer fees for the planned 63 billion cubic meters (bcm) of gas per year will be significant. However, Gazprom may not have such quantities of gas available since Russia's Eastern Siberia fields are not yet developed and the Western Siberian ones are becoming depleted. Gazprom currently delivers 55 bcm of gas per year to Germany and Finland via the Nord Stream pipeline under the Baltic Sea. The South Stream pipeline may end up with much smaller quantities of gas, given that Southeastern Europe has much smaller demand. If the pipeline carries only 15 bcm of gas per year, probably diverted from Ukraine's transit network, the countries participating in the project will find it difficult to pay the loans they plan to obtain for the construction of the pipeline. Gazprom has no new contracts for South Stream, and only Serbia has expressed desire to increase supplies to 5 bcm per year from the current 1.39 bcm (argusmedia.com, December 10).
However, Gazprom's biggest problem will be complying with EU energy regulations. One of them requires South Stream to provide full access to third-party gas in all distribution and transmission infrastructure in a competitive manner. Another, even more problematic regulation that will affect South Stream is the EU requirement for separation between transmission and production activities, or the "unbundling" of supply and trade (ec.europa.eu). Based on this regulation, in 2011, the EU overturned Gazprom's acquisition of a 50-percent stake in the Central European Gas Hub in Baumgarten, Austria.
Russia wants to create a precedent with South Stream that will be used for its Nord Stream pipeline as well. Gazprom will try to avoid implementing the Third Energy Package by bending the regulations or interpreting them in a flexible manner.
In December 2011, Russia's Ambassador to the EU Vladimir Chizhov told reporters: "South Stream does not fall under the Third Energy Package because its owner will not be Gazprom but an international consortium. That is, it will be under an independent operator. The same applies to Nord Stream, because its operator—Nord Stream AG—is a consortium registered in the Canton of Zug in Switzerland." South Stream's core shareholders include Gazprom with 50 percent, Italy's Eni with 20 percent, and Germany's Wintershall Holding and France's EDF with 15 percent each.
In September 2012, the Russian press reported that Gazprom would reform its European assets to meet EU requirements and avoid anti-trust claims by the European Commission. The planned change implies the creation of two subsidiaries of Gazprom to sell gas to European customers instead of the existing single entity—Gazprom Storages & Transport and Trading GMT Holding. The first of the holdings will reportedly embrace Gazprom Germania, gas storage and transport networks, and the second will sell gas (RT, September 20). The plan will probably not work, because Gazprom will remain the owner of all assets and this will not satisfy the requirements of the EU's third energy package (Euractiv.com, September 21).
The risks and uncertainties of South Stream are much higher than the benefits, but the Eastern European countries seem to be determined to invest in the project nonetheless. This will leave them without funds for Nabucco. The EU, however, still has a chance to press its energy and environmental regulations and give a boost to Nabucco. US leadership in this task is critical, which makes the initiative of Senator Lugar even more important.