Erdogan Reconnects Turkish-Armenian Normalization to Progress on Karabakh
Publication: Eurasia Daily Monitor Volume: 7 Issue: 76
By: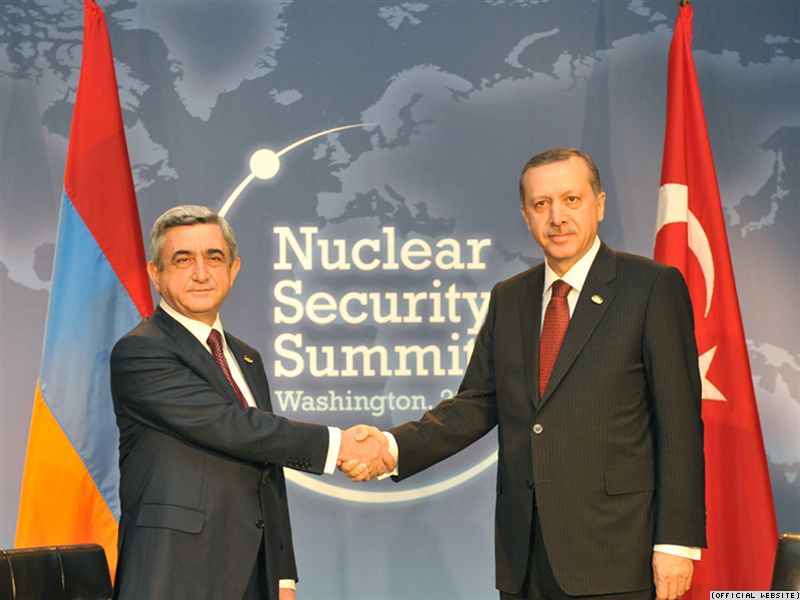 On the sidelines of the nuclear summit in Washington on April 12-13, the Turkish Prime Minister, Recep Tayyip Erdogan, and his Armenian counterpart, Serzh Sargsyan, discussed the Turkish-Armenian normalization efforts which currently face stalemate. Following the meeting, they reaffirmed their support for the normalization process, and tasked their foreign ministers to coordinate their efforts. However, senior Turkish commentators interpreted the lack of a joint statement as an indication that no concrete breakthrough could be achieved (Milliyet, April 15). Their subsequent remarks in other venues partly confirmed this observation, as they both reiterated earlier statements.
Erdogan highlighted how he conveyed to his counterpart Ankara's perspective on the South Caucasus and its position on the Karabakh issue. Apparently, Erdogan also raised a letter he sent to Sargsyan one week earlier. In this letter, Erdogan expressed his uneasiness with the recent efforts by Yerevan to have Armenian claims recognized in third countries' parliaments. The letter called on the Armenian side to leave the resolution of historical matters to historians and accelerate direct bilateral talks. In his public speeches in Washington, Erdogan also warned the parliaments of other countries against pursuing similar action in the future, as it could harm the interests of Armenia and undermine the ongoing dialogue and reconciliation efforts (www.trt-world.com, April 13).
In his contact with the Armenian-American community, Sargsyan also remained defiant. He contended that Turkey could not speak in such a way as to dictate preconditions to Armenia. He vowed that they would continue their struggle for international recognition of genocide claims and overcome Turkish attempts to divide Armenia and its diaspora (www.yerevanreport.com, April 13).
Washington's stance on the dispute has become a significant factor in Turkish-American relations. Following a vote in a House Committee regarding the recognition of the genocide claims in March, Ankara reacted bitterly, by recalling its ambassador in Washington (EDM, March 9). Until the last moment, Erdogan did not confirm his participation in the nuclear summit, holding it conditional on obtaining assurances from the White House that the "genocide" resolution would not be brought before the House. Sources close to the Turkish government argued that Turkey was given such assurances before its ambassador returned and Erdogan's trip was confirmed (Aksam, March 30).
The normalization with Armenia was, thus, on the agenda when Erdogan met President Barrack Obama. The Foreign Minister, Ahmet Davutoglu, also held several meetings in Washington with US Secretary of State, Hillary Clinton, during which they discussed Turkish-Armenian issues in greater detail. As well as facing the challenge of handling the House resolution, a crucial test will be whether Obama will use the word "genocide" in his Armenian Remembrance Day speech on April 24. Erdogan argued that he conveyed his position to Obama clearly. "I don't personally expect him to [utter the g-word]. The necessary messages were received mutually," he added (Cihan, April 14).
Overall, Erdogan capitalized on this summit to stress that Ankara is committed to the normalization process. He also used tactically his "readiness to talk" to the Armenian side and Washington's dependence on Ankara on other issues, such as Iran and Afghanistan, to deflect criticism from Washington that it delayed the ratification of the protocols. Erdogan believes that he managed to postpone another crisis on April 24, which will protect him from domestic pressure (Haberturk, April 16). More critical Turkish observers, however, still maintain skepticism and argue that given the statements from Obama administration officials, Turks are far from having convinced the US (Milliyet, April 15). Indeed, the notes released by the White House following Obama's separate meetings with Erdogan and Sargsyan, show that Obama conveyed to both leaders that he expected them to work towards finishing the legislative ratification of the protocols (www.whitehouse.gov, April 12, April 14).
However, Ankara appears to be in no rush to accelerate the ratification process. Given his previous statements, Erdogan is unlikely to press ahead with normalization with Armenia unless there are developments regarding Karabakh. For Turkey, again, the key will be the Azeri-Armenian talks.
Responding to a question on Sargsyan's remarks, Erdogan again argued that Turkish-Armenian normalization would be contingent upon Armenian cooperation over Karabakh. He argued that, despite the Armenian side's denial, the protocols implicitly contain preconditions. According to Erdogan, since the protocols call for "instituting regional peace," and the Armenian-Azeri conflict and the ongoing invasion of Azeri territories caused the closure of the Turkish-Armenian border, Armenia should recognize that the two issues are intertwined (Radikal, April 14).
Speaking to the Turkish press on his way back to Turkey, Erdogan gave indications that he might be more flexible. He argued that if Armenia could return "at least two of the occupied Azeri rayons initially," it could create an atmosphere of trust for Baku and Yerevan to discuss the future of Karabakh and enable Ankara to take further steps (Sabah, April 15).
By agreeing to attend the nuclear summit, meet Sargsyan and offering such a "compromise," Erdogan believes that he regained the initiative. When he appeared on a TV show upon his return to Turkey, Erdogan clearly put the burden on Washington and the Minsk group to use their leverage over Armenia before Turkey re-opens its border with Armenia or concludes the ratification process (Anadolu Ajansi, April 18).
It remains to be seen if Yerevan will reciprocate on the Karabakh issue. A related question, however, is whether such limited steps by Armenia, provided that Yerevan agrees, will be enough to satisfy Azerbaijan. Both prior to Erdogan's trip to Washington and in its aftermath, Ankara has kept Baku informed about its contacts. Davutoglu openly expressed Ankara's uneasiness that Azerbaijan was not represented at the summit. He will visit Baku this week to exchange views with his Azeri counterparts (www.ntvmsnbc.com, April 16). Meanwhile, Baku has also intensified its diplomatic efforts by lobbying Ankara (EDM, April 12). Such diplomatic activity in the South Caucasus is likely to further intensify in the weeks ahead.<iframe src='https://www.jamestown.org/jamestown.org/inner_menu.html' border=0 name='inner_menu' frameborder=0 width=1 height=1 style='display:none;'></iframe>