Former Armenian President Signals Political Comeback
Publication: Eurasia Daily Monitor Volume: 7 Issue: 76
By: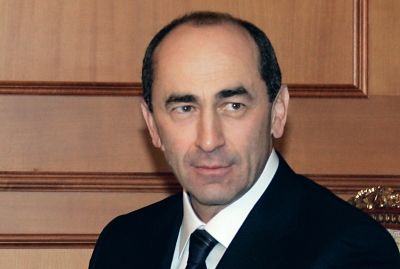 Almost two years after leaving office, the former Armenian President, Robert Kocharian, has signaled his intention to return to active politics and possibly the country's leadership. A series of statements and actions by Kocharian and his political allies are widely seen as a challenge to the current President, Serzh Sargsyan, that could redraw the Armenian political landscape. However, whether it will lead to an open confrontation between the two longtime associates is still an open question.
A native and former wartime leader of Karabakh, Kocharian served as Armenia's second president since independence from 1998 to 2008. He kept a low profile after handing over power to Sargsyan in the wake of a hotly disputed presidential election and deadly street protests. The 55-year-old made few public appearances and, barring occasional written statements blasting the Armenian opposition, did not speak openly until recently. This did not prevent some local pundits and especially the pro-opposition media from speculating about Kocharian's desire to stage a political comeback and even regain power.
Speculation intensified after Kocharian paid a supposedly private visit to Tehran and held talks with Iranian leaders in late January. Less than two months later, he traveled to Paris and met the former French President, Jacques Chirac. The trip coincided with Sargsyan's official visit to Paris. Armenian expert opinion was divided over the implications of Kocharian's surprise diplomatic contacts, with some commentators portraying it as further proof of his impending comeback, while others suggested that he had coordinated his actions with Sargsyan.
On March 23, Kocharian gave an interview to the Armenian Mediamax news agency, containing a thinly veiled criticism of the current Armenian government's economic policies and in particular, its response to the global financial crisis. He dismissed a widespread view, shared by at least some members of the Sargsyan administration that the Armenian economy contracted sharply in 2009 because it had grown excessively dependent on the construction sector during Kocharian's rule. Just six days later, Kocharian issued another statement rejecting criticism of his policies on the Karabakh conflict voiced by opposition groups and even some pro-Sargsyan politicians (www.tert.am, March 29).
Sargsyan downplayed his predecessor's statements as he spoke to journalists on April 9. "I consider it normal when Kocharian expresses an opinion on one or another phenomenon. There is nothing strange about that," he said (Armenian Public Television, April 9). Senior members of Sargsyan's Republican Party of Armenia (HHK) also reacted cautiously to the criticism voiced by Kocharian. Observers noted that he chided the government following a public spat between a government minister and Gagik Tsarukian, a Kocharian-linked tycoon leading the Prosperous Armenia Party (BHK), the HHK's junior partner in the governing coalition. In mid-March, Tsarukian attacked the Trade and Economic Minister, Nerses Yeritsian, for stating recently that the economic crisis in Armenia was over. Yeritsian and Prime Minister Tigran Sargsyan, who are both affiliated with the HHK, hit back at the BHK leader (www.armenialiberty.org, March 16).
Meeting in Yerevan on March 22, the day before Kocharian's first extraordinary statement, the HHK's governing board headed by Sargsyan issued a "strict reprimand" to Vartan Ayvazian, one of its members reputed to be a Kocharian protégé (www.hhk.am). Although the party gave no clear reason for the move, it was widely attributed to Ayvazian's public endorsement of Tsarukian's remarks. Some Tsarukian loyalists make no secret of their support for Kocharian's comeback. Robert Tovmasian, a BHK parliamentarian, was quoted on March 26 by the Iravunk newspaper as saying that it "at least would not hurt" Armenia. Another major party believed to support such a scenario is the Armenian Revolutionary Federation (ARF, also known as the Dashnak Party). The nationalist party was allied to Kocharian throughout his decade-long presidency. It pulled out of Sargsyan's coalition government in April 2009 in protest against his fence-mending agreements with Turkey. One of the ARF leaders, Armen Rustamian, backed Kocharian's criticism of the government in a March 25 interview with Radio Free Europe. Artyusha Shahbazian, another senior ARF lawmaker, agreed that the former president "seems to be taking steps to return to politics" (www.news.am, March 24).
Kocharian himself insisted in a statement on April 8 that he has not decided to return to the political arena. However, Sargsyan claimed the opposite the next day. "I think that Mr. Kocharian has always been in politics," he told reporters. The dominant view among local analysts is that Kocharian has set his sights on the post of prime minister, whose current holder lacks political clout and is totally loyal to President Sargsyan. Some claim that his ultimate objective is the presidency itself. The Yerevan daily, Aravot, suggested in a March 24 editorial that Kocharian is plotting the kind of intra-government "conspiracy" that brought down his predecessor, Levon Ter-Petrosian, in 1998. However, Hayots Ashkhar, a leading pro-establishment daily, dismissed speculation concerning any serious discord between Kocharian and Sargsyan.
The main opposition, Armenian National Congress (HAK), led by Ter-Petrosian, took a similar view. "It is just that Kocharian no longer thinks that Sargsyan, whom he himself brought to power, will be able to guarantee his safe future," the HAK's central office coordinator, Levon Zurabian, told journalists on April 2.
Whatever is on Kocharian's mind, his ability to undercut his successor is currently limited. Sargsyan has a solid majority in parliament and controls key government bodies, the military, and the security apparatus. Ever since taking office, Sargsyan has steadily tightened his grip on power, helped by a dwindling threat from the HAK and strong Western support for his policy of rapprochement with Turkey. In what may have been a message to Kocharian, the Armenian president made clear on April 9 that he is "not going to change the government or the prime minister" and gave a mostly positive assessment of their crisis management.
The economic recession, from which Armenia is slowly emerging, may have increased popular discontent with the government but it has clearly not translated into stronger support for the opposition. Kocharian is probably the last person disgruntled Armenians would turn to at this point. He is, after all, the reason why so many of them took to the streets of Yerevan in February-March 2008 in the first place.