Nazarbayev's Role in the Kyrgyz Crisis
Publication: Eurasia Daily Monitor Volume: 7 Issue: 76
By: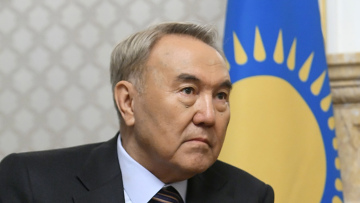 Kazakhstan, currently chairing the Organization for Security and Cooperation in Europe (OSCE), by extricating the former Kyrgyz President, Kurmanbek Bakiyev, from internal exile in Jalalabad has highlighted opaque features of the crisis. It also provided an opportunity for the Kazakh president to cast himself in a positive light both internationally and domestically. Although the facts may appear simple to establish and seem to support the more colorful claims made by Astana, nonetheless there are a number of factors less emphasized in the Kazakh reporting on the situation, mixed with exaggeration.
President, Nursultan Nazarbayev, referring to the crisis, said that Kazakhstan had emerged as a key player in regional stability and security, then stressed "our country is already facilitating constructive cooperation between the US, Russia, and China in Central Asia" (Novosti-Kazakhstan, April 15). Shortly after the crisis began on April 7, there were early signs of intense Kazakh diplomacy, aimed at defusing the risk of further conflict. Indeed, this also involved foreign ministry officials and Kazakh OSCE representatives stressing its potentially significant role. On April 9, Kazakhstan's Foreign Minister, Kanat Saudabayev, held telephone conversations with his counterparts in Ankara, Berlin, and Paris, gaining their support for the country's efforts to stabilize the situation. Nazarbayev said he entered talks with Bakiyev, as well as the interim government, while visiting Washington for the nuclear security conference on April 12-13, and discussed it with US President, Barack Obama, and his Russian counterpart, Dmitry Medvedev.
On April 16, Nazarbayev told a press conference in Astana that on the previous day he had ordered an air force plane to fly into southern Kyrgyzstan, where Kazakh Spetsnaz conducted a "daring mission," enabling Bakiyev and his family to land in Taraz, Kazakhstan at 8.15 pm on April 15. He said these servicemen would be decorated for the role they played in preventing a "civil clash growing into a clash between the southern and northern parts of the country," adding, "we have performed a good mission on behalf of the OSCE and the heads of state, who were really worried" (ITAR-TASS, Interfax, April 16).
While Astana's role in the crisis was undoubtedly positive, arguably its most practical success to date as OSCE chairman, untangling its diplomatic shifts are complicated by Nazarbayev's earlier presence in Washington. Moreover, the claim to have averted a civil war in Kyrgyzstan is subjective at best, since there was no clear evidence of an imminent civil war, only existing as a theoretical possibility, and following Medvedev's warning that it might happen or that the country could become a "second Afghanistan," many considered the risk more credible (Interfax, April 14).
It is equally clear that intervention by offering Bakiyev refuge in Kazakhstan (even if temporarily) was risky. Official media downplayed this, but his presence within the country caused concern among opposition members and these negative attitudes were expressed on various websites. Bakiyev's actions in Bishkek were condemned, and calls made for his prosecution. One post on the popular opposition website, zonakz.net, warned that while Bakiyev's supporters remained armed, instability would continue, and that Bakiyev might orchestrate events from abroad (www.zonakz.net, April 12). On April 15, Adam Kesher, an Almaty-based political scientist and one of the most popular bloggers in the country, posted a commentary in his Livejournal entitled: "Kick Him Out of Here."
Pro-government media in Kazakhstan, however, predictably portrayed Nazarbayev's handling of the Kyrgyz instability as statesman-like. For example, Gulnur Rakhmatullina, a senior analyst in the Institute for Strategic Studies under the President of Kazakhstan, referred to Nazarbayev's visit to Washington as confirming that it is the regional leader. Then, Rakhmatullina said that Obama had asked for "advice" from the Kazakh leader on how to "influence the situation in Kyrgyzstan," which provided ample proof of the country's "authority in the international arena" (Liter, April 14).
The article went on to argue that the Kazakh government had set the "tone at the nuclear summit," as part of Astana's active policy in the sphere of "global nuclear disarmament." Nonetheless, on the eve of his arrival, Kazakhstanskaya Pravda reported that Nazarbayev's main goal was to secure Obama's backing for hosting an OSCE summit earmarked for November. He failed to elicit unequivocal backing, and other initiatives were also unconvincing, such as creating an international nuclear fuel bank in Kazakhstan. Obama thanked him for the idea, but did not offer any concrete support (Kazakhstanskaya Pravda, April 11 www.politikom.ru, April 15).
Indeed, Nazarbayev made a number of concessions that attracted media attention. One significant offer related to the Northern Distribution Network (NDN), which logistically supports the NATO International Security Assistance Force (ISAF) mission in Afghanistan. Nazarbayev offered an additional flight route, as part of the NDN. Currently between 30 to 35 percent of all US cargo to Afghanistan arrives through the NDN. Obama and Nazarbayev explored how the route might be enhanced. Michael McFaul, Special Assistant to the US President for National Security Affairs and Senior Director of Russian and Eurasian Affairs in the National Security Council, said this new route would allow US flights across the North Pole and the territory of Kazakhstan, which is more convenient than flying across Europe, and will consequently save time and money (Interfax, April 12).
McFaul also confirmed that Astana will not review contracts with US energy companies operating in Kazakhstan for the purpose of increasing the tax burden on them. He noted, "President Nazarbayev agreed to work with our companies on preserving the contracts and ensuring the integrity of the already existing contracts" (www.politikom.ru, April 15; ITAR-TASS, April 12). This marks a major policy reversal on the part of the Kazakh government, which had actively pursued the revision of energy contracts originally signed in less favorable circumstances in the 1990's, and if this is implemented, US companies will effectively receive a privileged status in the Kazakh energy sector.
Thus, Nazarbayev's foreign policy agenda, actively pursued during his Washington trip, served to illustrate that his participation in resolving the dilemma over Bakiyev being seemingly "trapped" in southern Kyrgyzstan became intertwined in a much wider strategic context. What he offered and failed to achieve in his talks with Obama was driven by his need to secure backing for an OSCE summit in Kazakhstan this year, likely to result in Medvedev's European security treaty being discussed. Failing to secure this objective in Washington, Nazarbayev returned to Astana determined to take the risk of evacuating Bakiyev.<iframe src='https://www.jamestown.org/jamestown.org/inner_menu.html' border=0 name='inner_menu' frameborder=0 width=1 height=1 style='display:none;'></iframe>