Is a Russian-Uzbek Rapprochement in the Offing?
Publication: Eurasia Daily Monitor Volume: 7 Issue: 77
By: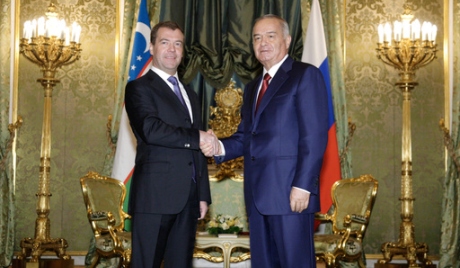 Uzbekistan is famous for its flexibility in maneuvering between Moscow and Washington. Most recently, President Islam Karimov has been the subject of overtures from the US and NATO to which he has responded positively. However, Moscow clearly intends to establish itself as Tashkent's principal interlocutor and on his recent visit, Deputy Prime Minister Sergei Ivanov made that objective clear. Ivanov's visit occurred in conjunction with the twelfth session of the Russian-Uzbek inter-governmental Commission. At these meetings, and in its quest to reestablish its position in Uzbekistan, Moscow utilized all the policy instruments that are available to it. The ensuing coup in Kyrgyzstan that came soon after Ivanov's visit also suggests that Moscow will again try to ride both the Uzbek and Kyrgyz horses in order to maintain its primacy in Central Asia.
First, Ivanov cited Uzbekistan's importance to Russia as a trade partner, and more importantly Russia's importance to Uzbekistan in that context. Trade turnover has risen to $4.5 Billion in 2010 and Uzbekistan's share in Russia's trade turnover is around 20 percent. Obviously, this asymmetry reminds Tashkent that it needs Moscow more than the other way around. Moreover, 800 companies using Russian capital operate in Uzbekistan and the number of these companies has grown significantly since 2007, while in Russia about 350 joint ventures operate. Typically, Uzbekistan exports raw materials to Russia. However, Ivanov also claimed that Moscow is dissatisfied with these results and wants to expand the relationship. Thus, he balanced implicit threats with offers of expanded trade (www.uzreport.com, April 1). Beyond this, Lukoil simultaneously revealed that in 2010 it will invest $480 million dollars in Uzbekistan this year, but warned that no projects will succeed without competitive equipment. Moreover, Russia has such equipment in abundance according to Lukoil. Since Ivanov admitted that this is the principal area of economic cooperation, essentially Lukoil is reminding Tashkent that if it wants to develop its energy it needs to buy Russian equipment and tie into its energy policy (Interfax, March 31).
Third, Moscow is also offering incentives. Thus, it is now prepared to switch to long-term contracts to buy Uzbek gas. Uzbekistan would then be bound hand and foot for long periods of time to supply Russia with contracted amounts of gas and would therefore be unable to sell elsewhere regardless of price (Interfax, March 31). This clearly reflects Russian concern that Central Asian gas in general might go to China or to the Nabucco pipeline where the EU is again trying to ramp up its efforts to secure gas from Turkmenistan and Central Asia. Therefore, in addition to Ivanov's efforts, Foreign Minister, Sergei Lavrov, traveled to Turkmenistan last month to overcome past discords and negotiate an agreement by which Ashgabat would sell more gas to Russia and thus less to other rival importers like China and the EU (Nezavisimaya Gazeta, Interfax, March 16).
Ivanov also restated Moscow's position on the vexed issue of water. Kyrgyzstan, which has water, had attempted to build hydroelectric projects that Uzbekistan opposed to the point of threatening force against it. Russia, wishing to avert interstate violence in Central Asia and seeking to preserve its leverage over both states, loaned Kyrgyzstan the money for the Kambarata complex in 2009, but also warned that it supported the Uzbek view. Ivanov reiterated that position by saying that the construction of large water works in Central Asia should only take place after all the relevant states have been consulted, in other words if Uzbekistan were to oppose a project it would support that refusal (ITAR-TASS, March 31).
Since the April coup in Kyrgyzstan was connected to the issues of Russian funding for Kambarata, and the new Kyrgyz government is clearly dependent on Russia, Moscow may now be able to effectuate a solution allowing it to retain its influence over both states. At the same time, Ivanov's remarks indicate that Moscow is trying to woo Uzbekistan back to its fold by demonstrating not only how it could harm the country, but also by reasserting how it can benefit Uzbekistan. His comments on trade and energy fall into this pattern, blending reassurance with the implication that a lack of support for Russia could have deleterious consequences for Uzbekistan. Lastly, Ivanov reminded Uzbek leaders that Moscow and Tashkent's security forces are working together against terrorism, another reminder of how Russia works on behalf of Uzbekistan and what could happen if that cooperation came unhinged (ITAR-TASS, March 31).
All these statements suggest that Moscow is trying to induce a return by Karimov and his government to a pro-Russian or primarily pro-Russian stance, and that it is utilizing all the economic instruments of power at its disposal to achieve that. Moscow's use of economic warfare against Kyrgyzstan was instrumental in provoking the recent coup and these moves continue in the vein of emphasis of economic instruments of power with the suggestion of military cooperation or its withdrawal in the background. The next stage of the competition among the great powers for influence in Central Asia may thus be entering a round in which the ability to invest in and offer economic inducements to those countries is a decisive factor. That is a message that Washington needs to hear.