EW Hype? The Reasons Behind the Limited Effectiveness of Russia's Electronic Warfare in Ukraine
Publication: Eurasia Daily Monitor Volume: 19 Issue: 51
By: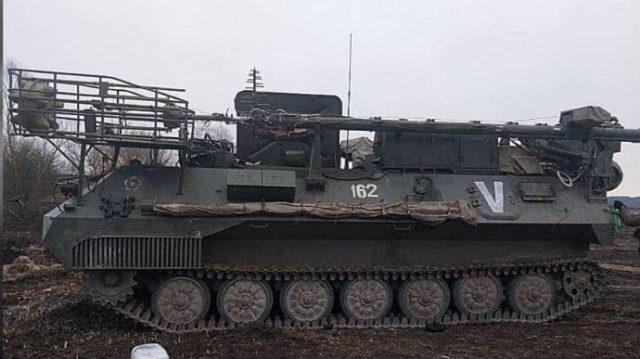 At the beginning of April, the hampered and decimated Russian forces that had been trying to conquer the Ukrainian capital retreated from the Kyiv region to resupply and regroup. According to the General Staff of the Armed Forces of Ukraine (AFU), a new potential direction of attack could be the Kharkiv region, in order to encircle the large group of AFU units in Donbas. To support this assault, the Russian forces may employ one of their newest electronic warfare (EW) systems—the Silok-M1—in order to try to counter Ukrainian unmanned aerial vehicles (UAV) (Defense Express, April 3). This Russian EW complex was specifically developed to detect enemy drones, calculate their flight coordinates, and suppress their remote-control channel in automatic mode at a distance of three to four kilometers. Yet even if the Silok-M1 functions as advertised, it would be of only limited effectiveness against not only Ukraine's famed high-altitude Bayraktar TB2 unmanned combat drones (see EDM, March 16) but even against smaller reconnaissance UAVs.
Russia has been using EW systems in Ukraine since igniting the "separatist" war in eastern Donbas eight years ago (see Jamestown.org, August 27, 2021). But after the new, full-scale phase in the Russo-Ukrainian war started on February 24, 2022, many of the newest Russian EW stations were destroyed or even captured by the AFU.
For example, on March 13, soldiers of the Ukrainian 10th Mountain Assault Brigade reported that they apprehended an undamaged Borisohlebsk-2 EW system from the invading forces (Militarniy, March 13). This complex is used for detecting and suppressing enemy communications systems. Days later, Ukrainian journalist Yuriy Butusov reported on a Torn-MDM falling into AFU hands (Facebook, March 17). This station is used for detecting, analyzing and recording electromagnetic signals within a range of 1.5–3,000 megahertz; and it can detect and calculate the coordinates of the source of the signal at a distance of up to 70 kilometers. This system was observed many times in past years in the Donbas war zone, according to the international volunteer open-source analysis community InformNapalm (Informnapalm.org, accessed April 7).
Also in mid-March, members of the Ukrainian military captured a fully operational Rtut-BM system (LB, March 19). This complex is used to protect friendly forces from radio-controlled munitions or remote-detonated explosives. Another similar EW station was destroyed at Hostomel airfield, near Kyiv (Mil.in.ua, April 3). Reportedly, Russian forces have no more than 30 of them (Defense Express, April 3). Like other EW stations, the Rtut-BM was mentioned among the top priority targets not only for the Ukrainian army but also for national resistance, and it has been displayed on an official AFU webpage to aid citizens in identifying it (Mod.gov.ua, March 1).
But perhaps the most important gain for Ukraine and the biggest loss for Russia when it comes to the latter's deployed EW systems was a captured element of the Krasukha-4 complex. The Krasukha-4 broadband multifunctional jamming station is used to counter both ground-based and airborne radars as well as airborne early-warning and control system (AWACS) planes. Moreover, it reportedly has the range to disrupt low-Earth-orbit satellites and can cause permanent damage to targeted radio-electronic devices. Part of this EW complex (allegedly a command post) was captured by the AFU on March 22 (The War Zone, March 22). All of this seized equipment could be transferred to Ukraine's Western allies for further research and reverse engineering.
Despite the wide array of EW stations deployed as part of its large-scale re-invasion of Ukraine, the Russian military seems to have had few if any recorded successes in their use so far. One of the possible reasons may be that these EW complexes could interfere with the operation of their own radars installed on planes and air-defense systems as well as the Russians' (already known to be problematic) communications systems. As the war has made apparent, Russian soldiers generally use low-quality, non-secure radio stations or even cell phones in Ukraine, which are relatively easy to scramble and intercept—even using non-military equipment (Twitter.com/mil_in_ua, February 27; Twitter.com/radio_research, March 2; Rusi.org, March 9; The Economist, March 28). Finally, the Russian Armed Forces have not experienced dynamic combat against a capable or near-peer adversary for a long time, engaging in only limited operations in Donbas and against under-equipped militant groups in Syria. Combined with the low morale of the Russian troops in Ukraine, this lack of experience likely significantly lowered the potential reach and effectiveness of their EW units.
Such problems may explain the sudden observed replacement of the Russian forces' communications systems with more secure technologies. Reportedly, some Airborne Troops (Vozdushno-Desantnye Voyska—VDV) now employ Auriga 1.2V two-way satellite ground stations (Twitter.com/1244_Dervish, March 28). The highly portable and autonomously capable Auriga 1.2V system utilizes very-small-aperture terminal (VSAT) technology and can work in severe environmental conditions, including difficult weather or in mountainous terrain. It can be set up by one person in ten minutes. The Auriga 1.2V is used for text and digital messages but also allows for secure voice communications with counterparts located anywhere in the world. Among the newest Russian communication systems, it was deployed to the Central Military District in 2019 and was notably tested during the Tsentr (Center) 2019 military exercise (Mil.ru, August 14, 2019). Because of the limited number of these complexes, they probably were deployed only to the most capable elite forces operating in Ukraine, such as the VDV. In heavy clashes following the Russians' retreat from the Kyiv region, at least one Auriga 1.2V station was reportedly captured by Ukrainian soldiers (Facebook.com/GeneralStaff.ua, April 2, 2022).
Since February 24, no significant evidence has come to light of the Russian forces using EW for psychological operations (psy-ops). This is in contrast to joint Russian-proxy groups engaging in precisely such methods along the line of control in Donbas, in years past. Partly this may be due to the fact that such tactics have long ago lost much of their psychological impact against experienced Ukrainian service members (see EDM, November 5, 2018 and March 17, 2020). Some reports from temporarily occupied Ukrainian cities mentioned incidents of local mobile networks or internet connections being suppressed, but those cases mostly involved the physical control of communication equipment on the ground (Obozrevatel, March 4). In late March, the Ukrainian authorities apparently found and eliminated several large Russian "bot farms" meant to spread disinformation, Russian ideology and justifications for the war; thus, Moscow's psy-ops are apparently, for now at least, being left to the cyber-warriors.