Expanding and Escalating the China-Bhutan Territorial Dispute
Publication: China Brief Volume: 21 Issue: 14
By: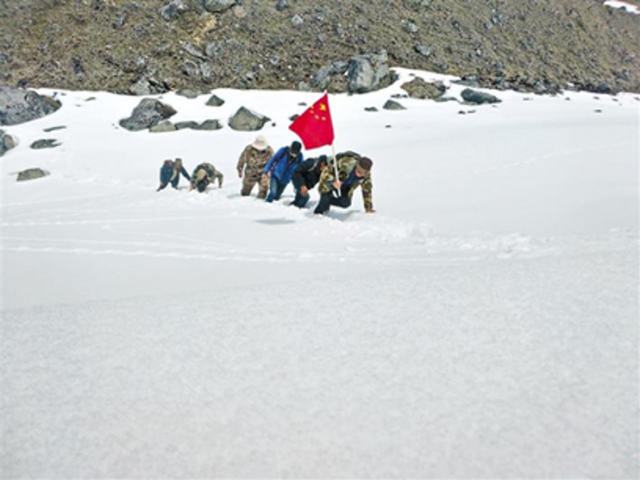 Introduction
At the 10th Expert Group Meeting on the Bhutan-China Boundary Issue, held from April 6 to 9 in Kunming, Yunnan Province, the People's Republic of China (PRC) and the Kingdom of Bhutan agreed to hold the 25th round of boundary talks at a "mutually convenient time as soon as possible"  (PRC Ministry of Foreign Affairs (MFA), April 9). The last round of talks was held in April 2016, and the next round was apparently put off first due to the Doklam crisis in 2017 and then delayed because of Bhutan's general elections and a change in government the following year (The Bhutanese, October 26, 2019).
Meanwhile, the Sino-Bhutanese border dispute has become more complicated, with China escalating its claims and taking robust steps to change the status quo on the ground. According to Smruti S. Pattanaik, an Indian analyst on South Asian security issues, "it is very likely that China will raise its new territorial claims [at the upcoming border talks] as a pressure tactic."[1] The talks will be closely monitored not just in Beijing and Thimphu but also in New Delhi. Under the 2007 India-Bhutan Treaty of Friendship, India is virtually responsible for Bhutan's security (India Ministry of External Affairs, March 5, 2007). Additionally, China's claims to territories in Bhutan have major implications for India's national security and territorial integrity.
The Border Dispute
Apart from India, Bhutan is the only country with which China has an unsettled land border. Thimphu is also the only neighboring country with which Beijing does not have official diplomatic and economic relations, although the two countries have been engaged in border talks since 1984. Two agreements—one on the guiding principles on the settlement of the boundary issues reached in 1988, and the other on maintaining peace and stability in the China-Bhutan border area reached in 1998, provide the basis of the ongoing negotiations (Bhutan Ministry of Foreign Affairs (MFA), June 29, 2017, Global Times, April 9). According to Pattanaik, China and Bhutan "have successfully completed the joint survey of the disputed areas but are yet to reach a comprehensive agreement on [the] demarcation of the boundary."[2]
The Sino-Bhutanese border dispute has traditionally involved 295 square miles (sq mi) of territory, including 191 sq mi in the Jakurlung and Pasamlung valleys in northern Bhutan and another 104 sq mi in western Bhutan that comprise the areas of Doklam, Sinchulung, Dramana and Shakhatoe. These territories were discussed during the past 24 rounds of border talks and included in a "package deal" dispute resolution proposal that China put to Bhutan in 1996. Under this deal, the PRC offered to renounce its claims to the Pasamlung and Jakarlung valleys in northern Bhutan in return for Thimphu ceding territory in Doklam to Beijing (The Bhutanese, July 1, 2017).
Escalating Claims
China has recently expanded its territorial claims beyond the disputed regions in northern and western Bhutan. In June 2020, at a virtual meeting of the U.S.-based environmental finance group Global Environment Facility (GEF), a Chinese delegate opposed Bhutan's application to fund a project in the Sakteng Wildlife Sanctuary, located in Bhutan's eastern district of Trashigang. The Chinese delegate claimed that the sanctuary lay in "the China-Bhutan disputed areas" that were on "the agenda of [the] China-Bhutan boundary talk[s]" (The GEF, July 16, 2020). Following this, the Chinese foreign ministry issued a statement to the Indian newspaper Hindustan Times, saying that "disputes over the eastern, central and western sectors" of the China-Bhutan border had existed "for a long time" (Hindustan Times, July 5, 2020). In response, Bhutan stated at the GEF that Sakteng "is an integral and sovereign territory of Bhutan," and its foreign ministry later issued a formal complaint to the Chinese embassy in New Delhi. Signed minutes of prior border talks had made no mention of Sakteng, according to Bhutanese sources (Hindustan Times, July 5, 2020), and there is little cartographic evidence supporting China's claim to Sakteng in Chinese sources as well.[3]
Altering the Status Quo on the Ground
In addition to expanding its territorial claims, the PRC has also worked to unilaterally change the status quo on the ground through an array of measures, ranging from sending Tibetan grazers and military patrolling teams into disputed areas to building roads and even military structures in contested territory (Takshashila Institution, July 2020). Reports of Chinese incursions into disputed Bhutanese territory are not new; incursions into Doklam were reported as far back as 1966 (Global Times, August 12, 2017). In 1979, "intrusions were found to be on a larger scale than in former years," prompting the start of the ongoing border talks. [4] Incursions into Bhutanese territory were particularly serious during the years 2008-2009: 21 incursions by the People's Liberation Army (PLA) were reported to have happened in 2008 and 17 in 2009 (Observer Research Foundation (ORF), August 9, 2017).
Previously, Chinese infrastructure building in Doklam consisted of rather rudimentary dirt track roads, but since 2017 it has begun building permanent structures in the region. This paralleled a 2017 campaign to develop more than 600 "well-off border villages" (边境小康村, bianjing xiaokang cun) in China's Tibetan Autonomous Region (TAR); the Tibetan infrastructure campaign has been closely linked with domestic policy priorities such as poverty alleviation and rural revitalization.[5] On June 16, 2017, the PLA began constructing a motorable road from Dokala in the Doklam area toward the Bhutan Army camp at Zompelri.[6] This triggered a 73-day standoff between the Chinese and Indian militaries at the China-India-Bhutan trijunction area. Even after both sides agreed to pull back, China continued to construct permanent installations in the disputed territory. Satellite images taken half a year later revealed concrete structures; bunkers and trenches; and even a military complex with helipads (NDTV, January 17, 2018). Geospatial data from last year showed that China had built a village called Pangda (庞大村), a little over one mile inside Bhutanese territory, just 5.6 miles from the 2017 Doklam standoff site (NDTV, November 20, 2020). Indian military experts argued that the new village is not purely civilian, as is claimed by Chinese media (Global Times, November 23, 2020), but instead one "meant for military purposes" (Takshashila Institution, January 4, 2021). Most recently, satellite imagery analysis has indicated at least three more Chinese-built villages, Gyalaphug (杰罗布, Jieluobu), Dermalung (德玛隆, Demalong), and Menchuma (民久玛/马, Minjiuma), as well as multiple additional military outposts that have been constructed in disputed areas in northern Bhutan (Foreign Policy, May 7).
Importance of Territory Claimed by China
The historically disputed territory in northern and western Bhutan is relatively small. However, the new Chinese claim in eastern Bhutan is said to be around 2,051 miles, or 11 percent of Bhutan's total area (ORF, July 9). The disputed territory in western Bhutan consists of rich pasture land that has been the site of historic conflicts between Tibetan and Bhutanese herders (IDSA Comment, January 19, 2010) and could have potential for economic development. Nevertheless, it is primarily the immense strategic significance of the Doklam Plateau that is driving China's territorial claims and aggressive infrastructure building in western Bhutan. The plateau is located on the southeast side of the trijunction area. Indian military experts say that under Bhutan's control, Doklam gives India a "major terrain advantage" over China vis-à-vis the Chumbi Valley, allowing India the advantage of carrying out a strategic offensive or counteroffensive against China from Sikkim (News Laundry, July 8, 2017). Should Doklam be controlled by China, India would lose that advantage. Importantly, control over Doklam would also give China a foothold from where it could strike the Siliguri Corridor, a tenuous sliver of territory that connects India's conflict-ridden northeastern states to the rest of the country. Therefore, Chinese control over Doklam has grave implications for India's national security and territorial integrity.
China's most recent territorial claims in Sakteng are of immense strategic value. The area adjoins the Indian state of Arunachal Pradesh, which contains disputed territory between China and India. Tawang, a key bone of contention between India and China in the eastern sector of the Line of Actual Control (LAC), lies to Sakteng's northeast and is vital to Indian border defense. Control over Doklam and Sakteng together will give China significant military advantages in dealing with India in the eastern sector of the LAC. India plans to build a road from Guwahati to Tawang via the Sakteng Wildlife Sanctuary, which will reduce travel distance and strengthen its ability to speed up the overland mobilization of troops to the disputed Sino-Indian border. China may have added Sakteng to its claimed territories in an effort to pre-empt India's plans for the Guwahati-Sakteng-Tawang road (Asian Affairs, August 1, 2020).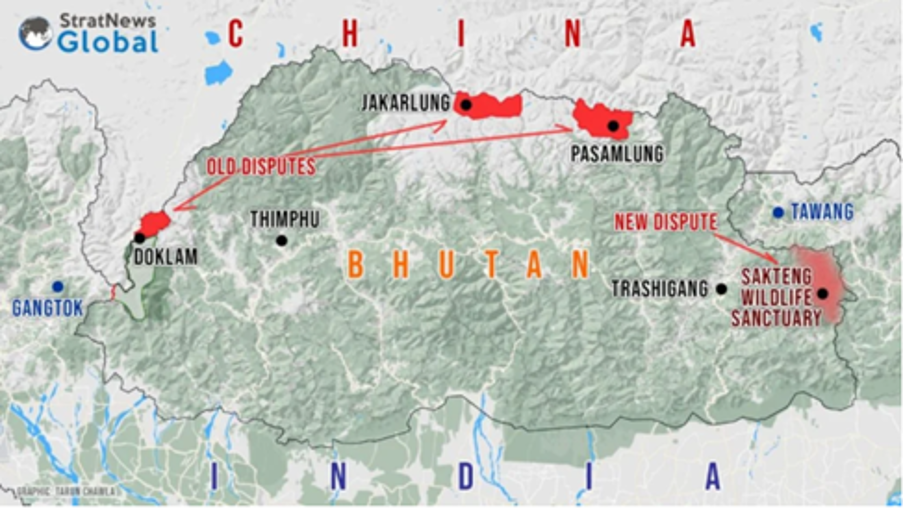 Mirroring the South China Sea Strategy
Parallels are being drawn between China's expansionism in Bhutan and in the South China Sea (Japan Times, March 21). In the South China Sea, China has built and fortified islands to strengthen its claims over disputed waters. In Bhutan, the construction of roads and other permanent structures, including villages and military installations, is aimed at unilaterally altering the status quo in China's favor. According to some observers, this strategy seems aimed at presenting "Bhutan with a fait accompli" (Takshashila Institution, January 2021). Indeed, Indian analysts "see a pattern in China's behavior." It is not just in the South China Sea and Bhutan but also in Ladakh in the western sector of the LAC that the PRC is "is slowly changing the status quo" on the ground "in its favor."[7]
Conclusion
China's territorial claims in Bhutan are expanding, and the strategy that it has adopted to press its claims is increasingly aggressive. Of the three areas in Bhutan that China claims, areas in western and eastern Bhutan have immense strategic value to India and China. As part of its efforts to develop and stabilize the TAR, China has dramatically increased its investment in border infrastructure (China Brief, December 6, 2020; Xinhua, June 25). A recent white paper on Tibet that, "In the new era…the borders are secure. Everywhere in Tibet is thriving and prospering" (Gov.cn, May 21). It also appears that Beijing's aggressive building of entire villages in northern Bhutan is aimed at imposing heavy pressure on Thimphu to cede to Chinese demands, especially in the western sector. China's territorial demands in Bhutan are driven not by strategic or economic threats emanating from Bhutan, but instead by Beijing's ambitions in its territorial dispute with India. The recently expanded territorial claims in Sakteng are likely to be raised by China in the proposed 25th round of boundary talks between China and Bhutan. Whether or not Bhutan will contest China's construction of entire villages for civilian and military use within its historic territory remains to be seen.
Dr. Sudha Ramachandran is an independent researcher and journalist based in Bangalore, India. She has written extensively on South Asian peace and conflict, political and security issues for The Diplomat, Asian Affairs, and the Jamestown Foundation's Terrorism Monitor and Militant Leadership Monitor. She can be contacted at sudha.ramachandran@live.in
Notes
[1] Author's interview with Smruti S. Pattanaik, Research Fellow at the Manohar Parrikar Institute for Defense Studies & Analyses in New Delhi, India, on July 1, 2021.
[2] Ibid.
[3] "Chinese maps do not show Sakteng or nearby areas in Bhutan as Chinese territory," according to the China security expert M. Taylor Fravel, https://twitter.com/fravel/status/1279962377413419013.
[4] Thierry Mathou, "Bhutan-China Relations: Toward a New Step in Himalayan Politics," in Ura, Karma and Sonam Kinga (eds.), The Spider and the Piglet (Proceedings of the First International Seminar on Bhutan Studies) (Thimphu: The Centre for Bhutan Studies, 2004), p. 399. https://www.bhutanstudies.org.bt/publicationFiles/ConferenceProceedings/SpiderAndPiglet/19-Spdr&Pglt.pdf
[5] A recent white paper on Tibet explicitly linked the project of improving border prosperity (兴边富民, xingbian fumin) to larger development goals for the region, noting that since 2017 China has worked to improve "housing, water, electricity, roads, communication and Internet [access]" in border areas (Gov.cn, My 21).
[6] While the Bhutanese government maintained that the road [lay] inside Bhutanese territory and "is a direct violation of the [1988 and 1998] agreements and affects the process of demarcating the boundary" between the two countries (Bhutan MFA, August 6, 2017), the PRC insisted that "Doklam has been a part of China since ancient times" and "is an indisputable fact supported by historical and jurisprudential evidence, and the ground situation." China's construction of [a] road in Doklam is an act of sovereignty on its own territory, it said (PRC MFA, June 28, 2016).
[7] Interview with Pattanaik, July 1, 2021.