Expanding China's Central Asia Playbook to Afghanistan
Publication: China Brief Volume: 21 Issue: 16
By: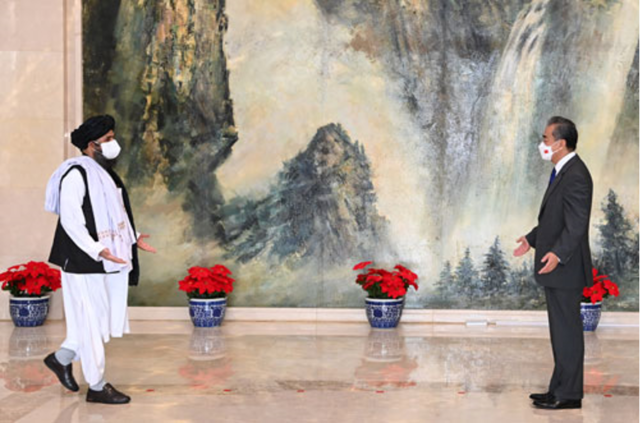 Introduction
For almost 30 years, the People's Republic of China (PRC) has deployed various strategies to increase its economic and political influence in Central Asia. In 1994, then-Premier Li Peng suggested a plan to develop economic connectivity and "revive the old Silk Road" (Xinhua, December 25, 2013). This paved the way for a China-Kazakhstan oil pipeline which became operational in 2005 and was followed in 2009 by a China-Central Asia gas pipeline reaching Turkmenistan. With these pipelines, China has gradually undermined Central Asia's energy export reliance on Russia (a legacy of the Soviet Union). In addition, China-Europe cargo rail lines via Kazakhstan offer Central Asian economies the quickest access to sea-based trade through Chinese territories and have played a significant role in growing trade linkages between China and the region. State-owned Chinese companies have repaired and modernized a number of decaying Soviet infrastructure projects throughout Central Asia and helped to transfer some industrial capacity crucial to individual economies, such as aluminum processing and renewable energy. China is likely to deploy the same investment-driven playbook used in Central Asia under the pretext of post-war reconstruction in the Taliban's  re-established Islamic Emirate of Afghanistan after advances in Kabul on the eve of August 15 (AP, August 15).
While efforts to integrate the economies of Central Asia with China have boosted development, quick and easy Chinese investments have also furthered elite-level corruption across the region.[1] This has benefited China, allowing it to leverage economic ties to attain its key political goal in the region—maintaining the territorial integrity of Xinjiang. Beginning in the early 2000s, Central Asian states wary of the independence movement across the border suppressed ethnic Uyghur associations in their territories. To date, no Central Asian state officials have dared to voice concern for the treatment of ethnic minorities in Xinjiang, a neighboring region with a strong history of shared culture. Both Kazakhstan and Kyrgyzstan have been reluctant to accept ethnic Kazakh and Kyrgyz refugees from across the border, and local news have reported about secret agreements between Chinese border guards and their Central Asian counterparts to detain and repatriate any people that cross illegally (Azattyk, January 13, 2015; Azattyk, August 12, 2016).
Taliban and Beijing: An Honest Beginning?
In the midst of the American troop withdrawal, the Taliban in Afghanistan have recaptured almost all of the country, entering the capital and expressing clear gestures to establish itself as a legitimate ruling party. Despite the possibility of small-scale resistance from the Afghan Army and potential in-fighting within the Taliban, a Taliban-led regime is likely to last, especially with the support of China in post-war reconstruction. Understanding this reality, China has recently stepped up its efforts to ensure that the Taliban understands its will to secure and control Xinjiang, offering promises of economic investment and international recognition in return for regional stability.
On July 28, Mullah Abdul Ghani Baradar, one of the Taliban's key founders, led a delegation to Beijing. The agenda of Baradar's meeting with China's Foreign Minister Wang Yi was clear. China has asked the Taliban to "cut ties completely with the East Turkestan Movement," which China considers to be a terrorist organization seeking independence in Xinjiang from Beijing (PRC Ministry of Foreign Affairs, July 28).[2] A large number of foreign fighters with a variety of affiliations are present in Afghanistan, and the Taliban's ability to oversee and control these groups is in doubt (UN Security Council, May 20). Nonetheless, the Taliban delegation provided reassurance that Afghanistan will not harbor the group, as it hopes to develop friendly relations with China and secure a role for Chinese investments in post-war reconstruction.
It is too soon to tell whether the Taliban can uphold their end of the bargain. At the same time, not working with the East Turkestan Movement may be the first among many requests demonstrating Beijing's concerns for the future of Afghanistan. On July 13, during a trip to Tajikistan, which shares a 1,300 kilometer (807 miles) porous border with Afghanistan, Wang urged the Taliban to be a responsible actor and give fair recognition and treatment to the Afghan government (PRC Ministry of Foreign Affairs, July 14). Wang also added that China wishes for an inclusive regime to be established in Afghanistan, with a robust, productive Islamic policy.
Besides the worry that Taliban support for the East Turkestan Movement could challenge the stability of Xinjiang, China is concerned about what kind of Islamic regime will emerge under the Taliban's leadership in Afghanistan. Including the Afghan government in the future of Afghan politics will serve to support a more modest and predictable Islamic policy, which is desirable for China as it worries that the success of the Taliban in Afghanistan could encourage the spread of like-minded groups throughout Central Asia, with the potential to influence extremism in Xinjiang.
Central Asian leaders, already concerned about the increase of extremism domestically, are also anxious as to how their populations will react to the Taliban's success in Afghanistan. With dozens of international terrorist organizations active in Afghanistan, outreach to Central Asia has been on the rise. In Kyrgyzstan, in July alone, a terrorist attack was planned by a Kyrgyz citizen who was a member of an undisclosed international terrorist organization and had trained in Afghanistan; two more cases of foreign fighter recruiters were also recently brought to light: one person was found to have known ties to ISIS, and the Hizb ut-Tahrir movement recruited a Kyrgyz women to carry out its propaganda work in the country (24 KG, July 28; 24 KG, July 27; 24 KG, July 22; 24 KG, July 16).
For the time being, Central Asian states are working to make sure that there is no conflict overspill into the region. There is a need to stabilize and assure the international community that Central Asia is safe enough for large investments, a topic that is particularly concerning to the oil- and gas-rich economies of Turkmenistan, Uzbekistan and Kazakhstan. On July 22, Tajikistan held its largest ever military exercise preparing for the growing insecurity from Afghanistan (Reuters, July 22). On August 10, the Russian military led a week-long exercise with the Tajik and Uzbek armies in its Kharb-Maidon base at the border between Tajikistan and Afghanistan (Moscow Times, August 10).
Economic Incentives for Peace
Beijing has failed to deliver tangible security plans to support its Central Asian neighbors on the western periphery in the event of an escalation of instability in Afghanistan. Instead, since the United States first announced plans to withdraw from Afghanistan in the early 2010s, China's primary strategy towards Afghanistan has been to induce economic incentives for peace.
In 2015, China began granting a tax-free regime for all Afghan products entering China (PRC Ministry of Commerce, accessed August 10). As a result, Afghan exports to China increased steadily from $12 million in 2015 to $52 million in 2020 (PRC General Administration of Customs, accessed August 10). A cargo flight inaugurated a China-Afghanistan air corridor in late 2018, shipping Afghan pine nuts (Xinhua, November 7, 2018). A rail route between China and Afghanistan via Kazakhstan and Uzbekistan was launched in summer 2019 (Belt and Road Portal, December 11, 2019). These logistics initiatives are important steps to establishing a transport corridor for trade, which will be crucial for gradually incorporating Afghanistan into the Belt and Road Initiative (BRI). Besides allowing bilateral trade, it also boosts local added-value businesses and aids economic growth in countries between China and Europe, boosting a land-based Eurasian economy that hopes to rival the current sea-based global economic dynamic. In the first quarter of 2019 alone, Afghanistan exported over $15 million worth of pine nuts to China; this success prompted the Afghan government to invest in a processing plant for pine nuts in Kabul (Xinhua, April 15, 2019). Apart from expanding trade, Chinese companies have obtained a number of infrastructure contracts in Afghanistan such as repairing the Bamyan-Samangan highway and a solar energy project in Daykundi (Belt and Road Portal January 9, 2017). That being said, while relatively small-scale Chinese trade and infrastructure projects exist,[3] China has suspended its oil and gas project in northern Afghanistan, and almost no progress has been made toward developing the Mes Aynak mine project that was signed in 2007, largely due to concerns arising from the lack of a security guarantee from the Taliban as well as supply chain and energy concerns (MEI, January 21, 2020).
Getting local political elites hooked on the rent-seeking opportunities that come with working with Chinese companies has been the primary strategy for China to attain its political goals in Central Asia over the past 30 years. If the Taliban can provide security protection for Chinese investments, Beijing is likely to roll out the same toolkit of informal political and economic incentives, but the key question of whether or not Taliban leaders will be swayed by financial incentives remains. In a rare phone interview with international media, the Taliban spokesman Suhail Shaheen told the South China Morning Post that "China is a friendly country that we welcome for reconstruction and developing Afghanistan [sic]… if they have investments of course we ensure their safety, their safety is very important for us"(South China Morning Post July 9).
Conclusion
Moving forward, China will have to recognize the Taliban as a legitimate political party as a first step to recognizing a Taliban-led Afghanistan. Despite dozens of reported secret meetings between China and Taliban in recent years, China remains deeply insecure about a Taliban-ruled Afghanistan. Leading Afghanistan analysts in China are pessimistic about the future of regional security after the Taliban establishes itself as a legitimate ruling party. For example, Dr Wang Shida (王世达), Deputy Director of the South Asia Institute at the China Institute of Modern International Relations, wrote in an opinion article for Dazhong Daily (大众日报) that the "Taliban's return to power will turn Afghanistan into a more conservative and isolated country" (Dazhong Daily July 6). More explicitly, Dr Qian Feng (钱峰), Director of the Research Department of National Institute of Strategic Studies at Tsinghua University, told the Global Times that the "fact is, there are still supporters of the East Turkestan Movement within the Taliban" (Global Times July 13). Furthermore, even if the Taliban were to rule Afghanistan as a legitimate political party, it might not be able to guarantee security; various factions within the Taliban controlling different districts would likely still compete to share profits with a foreign investor—such as China—once it finally enters the market in Afghanistan.
The Taliban will not be an easy partner for China. Significant uncertainty remains regarding the kind of Islamic ideologies that the Taliban leadership will pursue, as well as how this will affect the group's foreign policy—particularly toward its Central Asian neighbors—if it were to gain control of the Afghan state. In the long term, Afghanistan is in a geographically ideal position to benefit from China's BRI, sitting between Central Asia and South Asia, and potentially providing a conduit for the landlocked former to the South Asian oceans. It is expected that Chinese companies will be interested in Afghanistan's reconstruction and connectivity plans. But absent substantial political reforms—possibly as an outcome of the peace talks—Afghanistan's fragile governance also risks leaving a large vulnerability open for Chinese actors to exploit. Across Central Asia, the failure to implement meaningful political and economic reforms following the Soviet era has resulted in a systemic lack of transparency and other safeguards against corruption, leading to a sustained culture in which political elites view their positions as a source of income and thus open the door to Chinese influence. With China determined to attain a security guarantee over Xinjiang issues, future Afghan political elites will be similarly vulnerable to succumbing to China's open pockets.
Niva Yau is a resident researcher at the OSCE Academy in Bishkek and a Fellow at the Eurasia Program of the Foreign Policy Research Institute in Philadelphia. Her work focuses on China's foreign policy, trade and security in its western neighborhood, including Central Asia and Afghanistan. She has conducted a number of commissioned research pieces and briefed officials on China affairs in Central Asia, concerning security engagement, private security companies, Belt and Road Initiative, governance export, influence campaigns, renewable investments in Central Asia, and more.
Notes
[1] For more information on corruption in Central Asia, see: Forthcoming report, https://www.iri.org/cfai; Gül Berna Özcan, "Chinese Business in Central Asia: How Crony Capitalism is Eroding Justice," FPRI, March 30, 2021, https://www.fpri.org/article/2021/03/chinese-business-in-central-asia-how-crony-capitalism-is-eroding-justice/.
[2] The U.S. State Department removed the East Turkestan Islamic Movement (ETIM) from its list of terrorist organizations last year, with one State Department official explaining the change saying "for more than a decade, there has been no credible evidence that ETIM continues to exist" (RFA, November 5, 2020). For more on how the Chinese state references ETIM to justify its counter-terrorism program, see: China Brief, February 26.
[3] For reference, the China Global Investment Tracker records 3 significant deals (valued at more than $100 million) totaling $3.48 billion worth of investment between China and Afghanistan since 2007 (AEI, accessed August 10).