'Federalization' Is Back on Russia's Agenda for Moldova
Publication: Eurasia Daily Monitor Volume: 9 Issue: 145
By: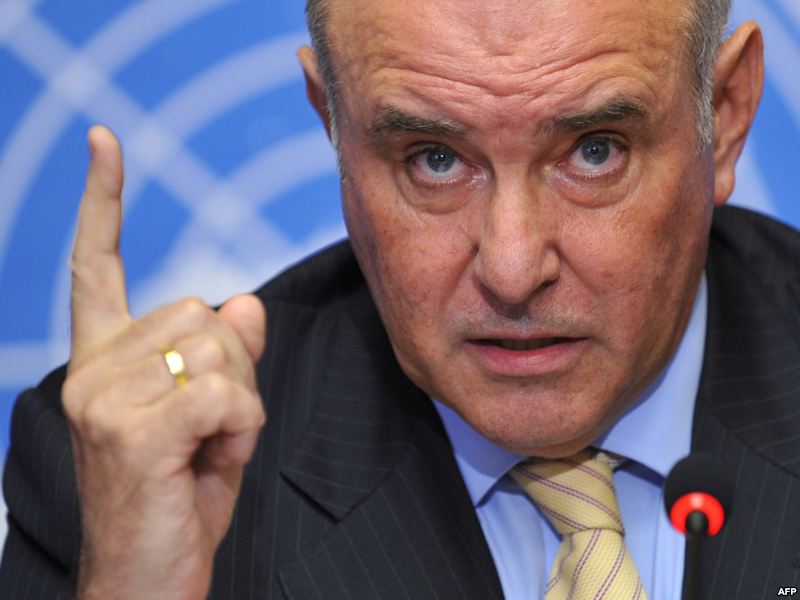 Moscow has marked the 20th anniversary of its "peacekeeping" in Moldova by multiplying obstacles to conflict-resolution (see EDM, July 27). State Secretary and Deputy Minister of Foreign Affairs Grigory Karasin, reading out in Tiraspol a message on President Vladimir Putin's behalf, promulgated a new political definition of Russia's "peacekeeping" operation: "This operation in its existing format is the main guarantee of continuity of the political process of conflict-resolution. Our peacekeeping force is the guarantor of achieving a solution acceptable to both Transnistria and Moldova" (Olvia-press, July 28; Interfax, July 30).
This innovation portrays Russia's military deployment as a prerequisite to political negotiations as such (while still leaving any outcome a hostage to Tiraspol's acceptance). This re-definition turns the table on Moldovan and Western proposals to replace Russian troops with an international mission of civilian character. Moscow, however, rules out discussing that issue, as long as consensus on a future political solution (which, in Russia's view, is "federalization" of Moldova) has not been achieved (RIA Novosti, July 28; Interfax, July 30).
Russia's troops perform two nominally distinct but practically overlapping missions in this part of Moldova: "peacekeeping" as well as guarding vast ammunition stockpiles left over from the Soviet era. The ammunition-guarding mission provides an additional pretext for the Russian troops' continuing presence. From 2004 onward, Moscow claimed that it could not remove or recycle that ammunition without the "consent" of Transnistria's leader Igor Smirnov, who predictably refused to "consent." With new leadership in Tiraspol since 2011 under Yevgeny Shevchuk, Moscow uses the same tactic. According to Karasin, ammunition can only be removed by agreement between "Russia and Transnistria"; and Russia "will not satisfy the appetites" of those urging removal of ammunition, if those same parties call for re-formatting the peacekeeping operation (Kommersant, July 30).
In his speech to the Tiraspol conference on the "20th anniversary of the peacekeeping operation on the Dniester: geopolitical challenges of the contemporary age," Karasin singled out the 1997 Primakov Memorandum and 2003 Kozak Memorandum as sound proposals for a "mutually acceptable" political settlement. According to Karasin, the current deadlock is the fault of those who "tore up" the Primakov and Kozak documents (a federal/confederal setup of Transnistria and a rump Moldova, under Russian political and military guarantees). Karasin had just made the same point in his July 23 Rossiyskaya Gazeta article, and reinforced it in a subsequent Kommersant interview. There, he criticized Moldova's 2005 law on the principles of a political settlement as incompatible with a "federative or confederative" settlement; and he asked Chisinau to revoke that law "because it precludes any efforts in that direction in the future." "In time, Moldovan politicians will understand this. […] Federalization is one option. It is up to Transnistria and Moldova to decide" (Kommersant, July 30).
All this implies: a) Russia holds out for a "federalization"-based settlement or no settlement at all; b) Tiraspol is empowered to block the process; and c) Russia can wait indefinitely. Again citing "Putin's instructions," Karasin called for Tiraspol and Chisinau to pursue agreements "on an equal basis" (Olvia-press, July 28). This is designed to re-open the hard-won agreement that has been reached on certain limitations to Chisinau-Tiraspol "equality" in the international negotiating format.
Russia's Deputy Prime Minister and recently appointed special presidential envoy "for Transnistria," Dmitry Rogozin, addressed the Tiraspol conference by video. Unlike the Foreign Affairs Ministry, which does not entirely or permanently rule out negotiations on troop withdrawal, Rogozin came close to ruling this out "until such time as political prerequisites to a consolidated, stable, maybe even eternal peace [materialize]." Russian peacekeepers stand guard "on our soil, the soil of those people who used to be united in the Soviet Union and have achieved their independence [alluding to 'independent' Abkhazia and South Ossetia as well as Transnistria]" (Olvia-press, July 28).
Colonel-General Valery Yevnevich, currently on active duty as an "aide" [pomoshchnik] to Russian Defense Minister Anatoly Serdyukov, announced in Tiraspol that the ministry has decided to re-equip Russia's troops in Transnistria with modern armaments. Yevnevich argued that those troops constitute an integral part of Russia's armed forces and, as such, are included in the re-armament program. Yevnevich had earlier commanded the "Operational Group of Russian Forces in the Transnistria Region of the Republic of Moldova [sic]" from 1995 to 2002, and supervised all of Russia's "peacekeeping" troops afterward (RIA Novosti, July 27). Rogozin and Serdyukov had first indicated that intention in April (see EDM, April 20).
Nothing was said, however, about requesting Moldova's consent to upgrading the weaponry of Russian troops on what is legally Moldovan territory. These and quite possibly other Russian officials believe that they need not seek Moldova's consent to such rearming (which, as they must know, Chisinau would refuse, were it requested). Russia's military presence itself violates the legally binding principle of "host-country-consent" to the stationing of foreign forces. Re-arming those Russian troops by unilateral decision would further advance the incremental process of de-recognizing Moldova's territorial integrity in practical terms. It could also set a precedent in Ukraine, where Russia proposes to re-arm its Black Sea Fleet with new weaponry.
Thus, Russia has used the 20th anniversary of its "peacekeeping" to resurrect old unacceptable demands and add new ones, as pre-conditions to conflict-resolution. The updated list includes: 1) Russian military presence as prerequisite not only to a political resolution, but to negotiations as such; 2) ammunition removal subject to Tiraspol's consent under the new leadership, as it was under the former one; 3) Moldova's "federalization" or "confederalization" on a take-it-or-leave it basis; 4) abolition of Moldova's 2005 organic law, which precludes a federal/confederal setup; 5) re-arming Russian troops irrespective of Moldova's position; 6) direct Russia-Transnistria relations, excluding Moldova's authorities from that process, and treating the two parts of Moldova as different entities, de facto institutionalizing the country's division.
These demands and conditionalities supplement those presented by Rogozin in Chisinau in April, reinforcing them. Overlapping with Karasin's listing, Rogozin's demands and conditions included: 1) "Moldova" and "Transnistria" as co-equal parties to negotiations (blurring or erasing the difference in legal status of either of them); 2) Moldova to seek a common assessment with Transnistria regarding the 1992 armed conflict (in which Rogozin claims to have led Russian volunteers fighting against Moldova); 3) Normalization of Moldova-Transnistria economic relations; 4) Moldova to "recognize Russia's role as the only country with political and military authority in this region"; 5) Any future political settlement "would only be possible on a federal or confederative basis," creating a "common state" (Primakov Memorandum term, signifying a contractual arrangement between Moldova and Transnistria as co-equal parties) (see EDM, April 20).