Finland's Rising Arms Exports Raise Controversy in Parliament
Publication: Eurasia Daily Monitor Volume: 13 Issue: 174
By: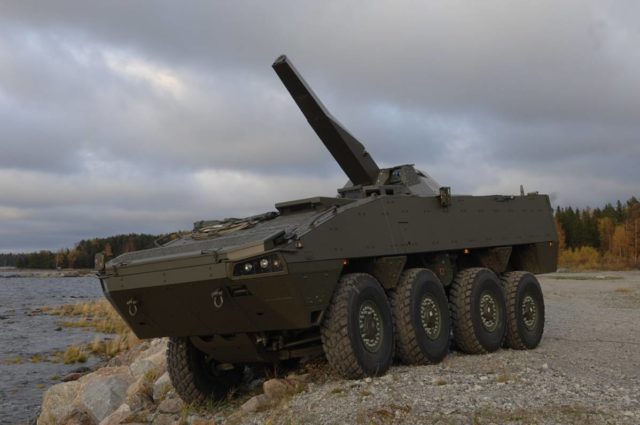 As the global economy continues its slow recovery from the 2008–2009 worldwide recession, armament sales appear to have been one of the few recession-proof export sectors. The greater Middle East has been main emporium for such purchases. While the United States and Russia remain the world's two leading armaments exporters, other countries have also rushed in to fill niche markets, such as small arms, training aircraft and light artillery. Notably, Finland has been increasing its arms exports to the point where questions have begun to be raised in the parliament about the morality of such exports to volatile regions. So far, the government in Helsinki has been providing bland assurances that Finnish armaments are not being used to violate human rights around the world.
On October 23, Finland's Prime Minister Juha Sipilä insisted, during his weekly interview on YLE Radio, that the country's armaments export policy remained unchanged. But the following day, European Parliament Member Liisa Jaakonsaari, of the Sosialidemokraatit party (SDP), questioned Sipilä's assurances that human rights remained at the core of the country's armament export policy by pointing to Finnish weapons sales to Uzbekistan and Turkmenistan (Helsinki Times, October 24). Moreover, according to the think tank SaferGlobe Finland's recently released report, "2016 Finnish Arms Export," in 2015 Finland's arms exports were worth $108 million (€99 million), with more than half going to the Middle East, including to be used in war-torn Yemen (Yleisradio Oy, October 23). SaferGlobe's report noted that the Middle East has now supplanted the European Union as Finland's primary armaments export market.
The reorientation of Finnish arms exports away from Europe toward Middle Eastern and Asian markets has been nearly a decade in the making. In the early 2000s, 84 percent of Finnish arms exports were to the European Union. Between 2011 and 2015, the EU's proportion of Finnish arms exports had dropped by nearly a third, to 52 percent. By 2015, Middle Eastern customers overtook the EU for the first time (Saferglobe.fi, October 26, 2015).
For the period January 2015–July 2016, Finland's Ministry of Defense awarded domestic companies 50 permits to sell weapons to Middle Eastern states, among them Saudi Arabia and the United Arab Emirates, both of which had been conducting military campaigns against Houthi Shia insurgents in Yemen. The two countries allegedly bombed civilian targets in Yemen, raising accusations of war crimes. In 2011, Finland sold 36 NEMO mortar systems, produced by manufacturer Patria, to Saudi Arabia. And in 2015, United Arab Emirates purchased 40 Patria-produced AMV 8×8 armored personnel carriers. Such weapons systems are also reportedly being considered by other regional states, including Qatar. The head of the State Department Unit for Arms Control, Sanna Maria Vanamo, noted that export controls are effective only before the final sale is made. After that, it is up to the discretion of the purchaser as to how these weapons are used, he said (Yleisradio Oy, July 29).
Recent Finnish arms exports to post-Soviet Central Asian states Turkmenistan and Uzbekistan have also coming under parliamentary scrutiny. Reportedly, Finland exported 50 advanced TRG M10 snipers rifles and 100,000 rounds to Turkmenistan in September 2015. The following year, Finland also exported 150 units of the same rifle to Uzbekistan (Hs.fi, October 23). Defending Finnish armament sales to countries such as Saudi Arabia and Uzbekistan, on October 24 Finnish Defense Minister Jussi Niinistö stated that such deals were only concluded after careful consideration of each individual case. As for the possibility of Uzbekistan's military forces using Finnish armaments to repress human rights, Niinistö observed that, "On the whole, Uzbekistan in recent years has been relatively stable and the risk that [our] rifles would be used in violation of human rights, is considered to be minor" (Yleisradio Oy, October 24). Considering the relatively small footprint Finnish arms exporters currently represent in Central Asian and Middle Eastern markets, for the moment Moscow appears comfortable with Finland's growing entry into Russia's traditional markets in Eurasia and the Middle East.
But with domestic concerns rising, the Finnish government is increasingly caught in a self-made contradiction: on the one hand, Helsinki wants to increase exports, including armaments, but on the other hand, it struggles to pursue an "ethical" policy in its foreign trade. Foreign interest in acquiring Finnish armaments is a testament to their high quality, as Finland's increasing market share shows. That said, for the foreseeable future, the Finnish government can expect the question of armaments sales to illiberal regimes to continue to roil political life in this country.