Food Shortages in Turkmenistan Lead to Rationing in State Stores
Publication: Eurasia Daily Monitor Volume: 17 Issue: 70
By: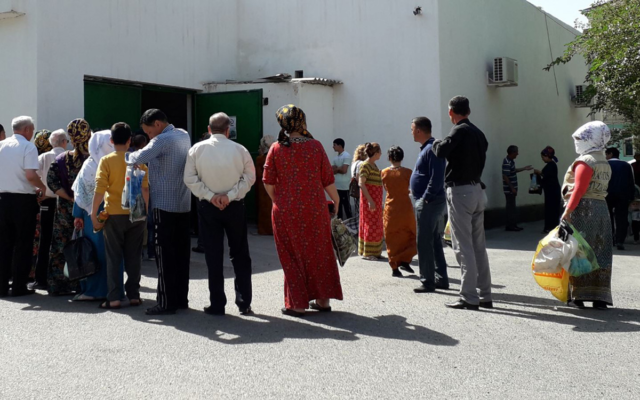 Isolationist Turkmenistan, which proudly claims to be COVID-19-free, has nonetheless been affected by the pandemic (Izvestia, May 10). A recent closure of its borders due to pandemic concerns has halted imports, reportedly leading to food shortages. The provincial situation became so dire before the borders were reopened that, on April 4, residents in the city of Mary (190 miles east of Ashgabat) apparently marched on the local government headquarters to protest rising food prices, dispersing only after the head regional administrator promised to resolve the issue within three days (Chronicle of Turkmenistan, April 6). For authoritarian Turkmenistan, the Mary demonstrations could be an ominous harbinger of problems to come.
Food security in Turkmenistan has been in decline for several years. Due to low wages and poor living standards, many prefer to shop at government-operated stores because these have significantly lower prices than private markets, creating regular and lengthy queues for basic necessities, including chicken, vegetable oil, eggs and sugar. Increasingly large proportions of the population reportedly face an unnerving choice between diminished rations at state stores or having to purchase essentials in the country's modest retail sector, where prices can be three times higher or more (Chronicle of Turkmenistan, April 6).
On February 24, the government of Turkmenistan shut the country's 713-mile border with Iran, a decision which destroyed the fragile balance between domestic state-owned stores and private-sector food suppliers (Chronicle of Turkmenistan, February 24). Closing the border with the Islamic Republic had immediate and significant political consequences for Turkmenistan, which is dependent on food imports. Economic observers estimate domestic production meets only around 40 percent of national demand, requiring the country to import the rest, of which about 80 percent is supplied by Iran (Turkmen.news, February 27).
In the wake of optimistic reports from Iran that the pandemic there had peaked, along with Ashgabat's claims that the Central Asian republic has remained coronavirus-free, the administration of Gurbanguly Berdimuhamedov decided to partially reopen the shared border on April 13 (Nezavisimaya Gazeta, April 13). Despite this move, the country's food supplies have continued to suffer periodic disruptions, frequently leading to de facto rationing at state stores outside the capital. In response to these interruptions, on May 12, Iranian Transport Minister Mohammad Eslami stated that he and his counterparts in Uzbekistan and Turkmenistan spoke via video conference and approved a joint protocol for controlling COVID-19 in order to resume full transit trade among them (The Tehran Times, May 13). Eslami optimistically added, "Road and rail transport with Turkmenistan will be resumed in 15 days," and he expressed hope that full economic relations would soon be restored (Iran Front Page, May 13).
Turkey-based Turkmenistani opposition member Maksat Saparmuradov, who, in 2012, founded the Conservative Party of Turkmenistan and formerly worked for Turkmenistan's security forces, predicted last month that the situation in his native country would continue to deteriorate. Specifically, he declared that, by June or July, Turkmenistan will face large disruptions to its food security, spontaneously leading to riots and widescale mass unrest (Platon.asia, April 16).
While Saparmuradov's apocalyptic vision has yet to materialize, there is irrefutable evidence that the economic situation in Turkmenistan has, in fact, been experiencing sharp decline and threating food market stability. Notably, on May 9, the governor of Saparmyrat Türkmenbaşy district (Daşoguz province), Serdar Meredov, came to check on the cotton fields at the local Yalkym agricultural association, where he was accosted by indignant women lined up outside a local store selling scarce flour at state prices. The women accused Meredov of causing shortages through misguided policies after his decision to transfer most of the cultivated land in the Atgyrlan area, where 25,000 tons of wheat were previously grown, to cotton production, which can be exported for foreign currency. As a consequence, local wheat harvests have dropped below 15,000 tons per year. Furthermore, local residents aver that Meredov has his own "unofficial private land plots" in the Magtymguly, S. Niiazova and Aibovur agricultural associations, where he grows rice, sesame, mung beans, corn, melons and watermelons. with all expenses being paid by the associations themselves (Chronicle of Turkmenistan, May 10).
Not surprisingly, there is virtually no mention of any of these issues by the State News Agency of Turkmenistan or even its flagship Internet newspaper, Turkmenistan–Golden Age. Instead, Turkmenistani media has, in recent weeks, been covering the heroic actions of Turkmen soldiers during the Great Patriotic War and the purported complete lack of COVID-19 in the country as well as denying the destructive force of last month's severe storms in the country (Turkmenistan.gov.tm, accessed May 13).
Nor does the short-term political prognosis look particularly positive. On May 8, President Berdimuhamedov told a meeting of the Cabinet of Ministers that "the situation in the global economy continues to be very difficult." The government expects a reduction in domestic production, as the current sharp decline in oil prices could lead to "an even more unfavorable situation than [Turkmenistan faced] during the global financial crisis of 2008–2009, as well as the drop in oil prices in 2014–2015" (Ca-portal.ru, May 11). In an indication that food price issues in rural districts were percolating upwards in the government, Berdimuhamedov urged his ministers to curb rising costs. Whether they will succeed sufficiently to quell the specter of protests remains to be seen.