Foreign and Domestic Causes of Unrest Ahead of Azerbaijan's Presidential Elections
Publication: Eurasia Daily Monitor Volume: 10 Issue: 69
By: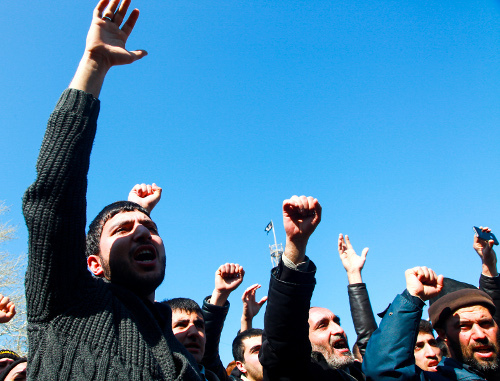 In 2013, two waves of popular discontent rolled over Azerbaijan. The first wave, starting in January and continuing through March, was related to the abuse of soldiers in the military (Hurriyet Daily News, March 11). The second wave, beginning on March 31, was related to the arrest of a pro-Iranian and anti-government cleric, Taleh Bagirzadeh (a.k.a. Bagirov), on charges of heroin possession (Caucasian Knot, April 1). Other Islamic political party members and clerics like Bagirzadeh who were suspected of receiving funding from Iran have also been arrested on drug charges in recent years (trend.az, March 30, 2011; Hurriyet Daily News, August 12, 2011).
The anti-soldier abuse movement and Bagirzadeh's supporters have numbered in the several hundreds in street protests (xebersayti.com, April 8, 2013). One of their main differences is that the anti-soldier abuse movement is largely secular, while Bagirzadeh's supporters are almost all religiously conservative. If the secularists and religionists unite, they would be unlikely to unseat incumbent President Ilham Aliyev in Azerbaijan's October 2013 presidential elections, but they could raise pressure on the government if there are voting irregularities. In 2010, election monitors from the Organization for Security and Cooperation in Europe, the Council of Europe and European Parliament said that Azerbaijan's parliamentary elections in 2010 had "shortcomings" and did not constitute "meaningful progress" (osce.org, November 8, 2010).
The discontent in Azerbaijan could also become more pronounced in the half-year before October 2013, if Iran seeks to destabilize Azerbaijan for any of the following reasons:
First, Azerbaijan's secular government and liberal society represent a counter-model to Iran's theocracy, which could particularly appeal to some of Iran's 13 million ethnic Azeri citizens. Most of Iran's ethnic Azeris live in the Iranian provinces of East Azerbaijan and West Azerbaijan near the Turkish and Azerbaijani borders and speak native Azeri and Turkish (since the two languages are closely related). An economically prosperous and politically stable Azerbaijan that is well accepted by the international community is a potential challenge to the Iranian government's legitimacy.
Second, since March 2013, the territorial rivalry between Azerbaijan and Iran has reignited. On March 30, 2013, exiled ethnic Azeri Iranians of the National Liberation Front of South Azerbaijan (referring to East and West Azerbaijan, Iran), which Iran calls a "Zionist plot," held a conference in Baku to "question the future of Iran." The participants said that—in light of the Western sanctions on Iran, the Green Movement of 2009, the Arab Spring and the civil war in Syria—Iran could collapse and Iran's East and West Azerbaijan provinces could be incorporated into Azerbaijan (contact.az, March 30, 2013). In retaliation for this "vicious act," on April 10, an Iranian politician threatened to draft legislation to revise the Treaty of Turkmenchay of 1828, in which the Qajar Dynasty ceded Persian territory to Tsarist Russia, to make Azerbaijan part of the Russian Empire (Fars News Agency, April 10).
Third, Azerbaijan and Israel have a close strategic partnership. Iran fears that Israel or the United States could use Azerbaijan as a base for an Israeli or US air attack on Iran's nuclear facilities (Fars News Agency, February 28, 2012). Azerbaijani officials, however, say that any such bases are intended purely for Azerbaijan's own use against Armenia if war breaks out over Karabakh (Interfax News, February 29, 2012).
One of the ways for Iran to pressure Azerbaijan is through educating and funding clerics from the pro-Iranian religious community in Nardaran, outside of Baku (azernews.az, December 19, 2007). Nardaran is the hometown of Taleh Bagirzadeh— the cleric who was arrested on drug charges on March 31, 2013. Unlike most of Azerbaijan, Nardaran is deeply and openly religious: women wear Iranian-style black chadors; pork and alcohol are prohibited; and murals of Shia Islam's Imam Hussein are displayed.
Bagirzadeh spent one and a half years in prison from June 2011 to November 2012 for leading protests and preaching against Azerbaijan's policies banning the hijab in schools and universities. When Bagirzadeh was released, an opposition media agency quoted one of his supporters as saying that "the current regime in Azerbaijan has adopted the methodology of Hosni Mubarak from the 1990s. …this boosts our popularity as the most credible force opposing the Aliyev regime" (Crescent-online.net, November 6, 2012).
After Bagirzadeh's re-arrest on March 31, several hundred Nardaran residents demanded that the government release Bagirzadeh and other "prisoners of the hijab." They also chanted "Death to America," "Death to Israel," and "Down with corrupt officials of Azerbaijan" (www.contact.az, April 2). The expansion of Bagirzadeh supporters' demands to both religious and secular causes, and their continued focus on the hijab issue, which has secular sympathizers, likely signals an attempt to reach out to secularists who are also discontent with Azerbaijan's current government, including, for example, the anti–soldier abuse movement.
Important geopolitical dimensions to the protests also exist. First, Azerbaijan is not only geographically close to secular like Syria, but Ilham Aliyev is the only president in the Islamic World who, like Bashar al-Assad, acquired power based on the legitimacy of his father. Given that father-to-son transfers of power have been widely perceived as illegitimate in Egypt, Yemen, Libya and now Syria, increasing numbers of Azerbaijanis could also view their government in a similar light.
Second, what happens in the run-up to the October elections in Azerbaijan will be closely watched by Central Asian governments, particularly Kazakhstan and Uzbekistan, which are preparing for power transitions within the next ten years. Similar to Azerbaijan, religious groups in Kazakhstan have opposed the ban on the hijab in certain public places, while society at large has expressed its frustration about other issues, such as soldier abuse (24.kg, March 21, 2012; www.ktk.kz, June 20, 2012). Heightened Instability in the run-up to Azerbaijan's elections— whether motivated by events in the Arab World, Iranian infiltration, or secular and religious domestic concerns—could affect how Central Asian governments calibrate democratization in their countries as well as the transfer of power to the next generation of leaders.