Gazprom Extends Its Infrastructure Network in Germany Through Joint Ventures
Publication: Eurasia Daily Monitor Volume: 10 Issue: 69
By: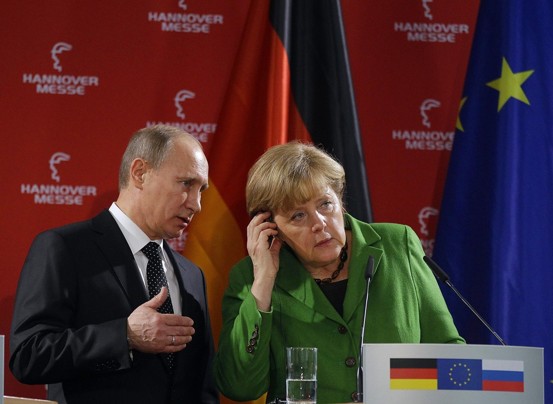 As part of their agreement of intent to expand the Nord Stream pipeline system into northwestern Europe (see EDM, April 11), Russian Gazprom and Dutch Nederlandse Gasunie have further agreed to cooperate on "other infrastructure projects in northwestern European countries" (Gazprom press release, April 10). This must refer first and foremost to projects that are, or can be, connected with the existing Nord Stream pipelines, and potentially to an expanded Nord Stream system in northern Germany and the Netherlands.
On April 11, Russian Energy Minister Aleksandr Novak declared that Germany's economy ministry supports Russia's requests to the European Commission to exempt the OPAL and NEL pipelines in northern Germany from the EU's Third Package of Energy Market Legislation. Two days earlier, Novak—accompanying Russian President Vladimir Putin at the opening of the Hannover Trade Fair—had told a receptive German business audience that the Russian government counts on Gazprom's partners to help obtain that exemption from EU authorities (Interfax, April 9, 11).
Those two pipelines are among the centerpieces of a vast infrastructure network that Gazprom has built up in Germany, and seeks to extend into the Low Countries as part of Gazprom's vertically integrated monopoly arrangements. The EU's anti-monopoly Third Legislative Package requires separation ("unbundling") of gas supply from transportation and storage, as well as access by third-party competitor suppliers to use the existing pipelines.
Gazprom has built up its infrastructure network in Germany through its Wingas joint venture with Wintershall, a subsidiary of the BASF chemical concern. This relationship has helped Gazprom toward its 40-percent share of Germany's total gas market, as well as a vertical monopoly structure designed to protect Gazprom's positions. The Wingas joint venture owns and operates transmission and distribution pipelines and storage capacities, as well as trading and supplying gas wholesale for industrial and residential use since the 1990s. From its inception, Wingas has operated as a parity joint venture (Wintershall owns 50 percent plus one share; Gazprom maintains 50 percent minus one share). In 2012, Gazprom and Wintershall have agreed to transfer some of Wingas's business and assets in Germany to Gazprom, in return for Wintershall receiving equity stakes in certain gas fields in Russia. The proposed swap awaits regulatory approval during 2013. Wingas has recently been renamed W & G [Wintershall & Gazprom].
Nord Stream, carrying Russian gas via the Baltic seabed to Germany, is 51 percent Gazprom-owned, with the German E.ON Ruhrgas and Wintershall owning 15.5 percent each. Nord Stream lands on the German coast at Lubmin (near Greifswald), point of inception of the OPAL and NEL pipelines, which run through northern Germany leading farther afield.
Matching Nord Stream's capacity of 55 bcm per year, OPAL's and NEL's design capacities are 35 bcm and 20 bcm per year, respectively. They are apparently intended to be fully dedicated to Nord Stream gas, as well as its only direct takers. They are under-utilized as Nord Stream itself is under-utilized. W & G (through a fully owned subsidiary) operates OPAL, and it directly holds 80-percent ownership, with E.ON Ruhrgas holding 20 percent of shares. W & G again (through a fully owned subsidiary) operates NEL and directly holds 51 percent ownership, with Nederlandse Gasunie and the Belgian Fluxys owning 25 percent and 24 percent, respectively (www.naturalgaseurope.com, accessed April 10).
OPAL ("Baltic Pipeline Connector"), the largest-capacity gas pipeline on the European continent, runs 470 kilometers toward central Germany (with a short detour through the Czech Republic). NEL ("North German/European Gas Pipeline") runs 440 kilometers toward Hamburg, the Rehden underground storage (Western Europe's largest—see below) and toward the Netherlands border. Construction costs for OPAL and NEL have been estimated at €1 billion ($1.3 billion) for each. OPAL and NEL connect the Baltic Nord Stream with major transmission pipelines in Germany's interior.
The same W & G, with its fully owned subsidiary Gascade (until recently named Wingas and Wingas Transport, respectively) operates Germany's major transmission pipelines that take Russian and non-Russian gas volumes into northern Germany. These lines, under significant Gazprom control via the joint venture, include:
• WEDAL ("West Germany Connector Pipeline"), 320 kilometers long, connecting with the Fluxys-operated Belgian network and the Zeebrugge terminal of the pipeline to Baxton, England, on the seabed of the North Sea. As part of its Nord Stream expansion ideas, Gazprom owns a 10-percent stake in the Zeebrugge-Baxton pipeline.
• MIDAL ("Central Germany Connector Pipeline"), 700 kilometers (Germany's longest gas pipeline), connected with the Rehden and Jemgum underground storage sites (both near the Netherlands border), and winding its way through several parts of Germany.
• JAGAL ("Yamal Gas Connector Pipeline"), 335 kilometers, annual capacity 28 bcm (under-utilized), fully dedicated to Russian gas entering from the Yamal-Europe pipeline via Poland into northern Germany.
• STEGAL ("Saxony-Thuringia Gas Pipeline"), 315 kilometers, carries Russian gas entering Germany from the Ukraine-Slovakia-Czech Republic transit route.
• RHG (Rehden-Hamburg Gas Pipeline), 130 kilometers, built and operated by Wingas/W & G to supply the Hamburg area. It is also intended to become a link in the chain that would connect Nord Stream, via NEL and RHG, to the Rehden storage site.
If Gazprom can exercise a significant degree of control over these pipelines through W & G, it seeks a more direct role in gas storage in northwestern Germany within easy reach of the Netherlands. The Wingas joint venture (at it was named until 2012) owns and operates the Rehden underground storage site, with a capacity of 4.2 bcm, rated as Western Europe's largest, and representing 20 percent of Germany's total storage capacity. Following Gazprom-Wintershall negotiations in 2012, Rehden is supposed to be handed over to Gazprom's subsidiary Astora, already present at the site, pending decisions by German and EU competition authorities. For its part, the German EWE ("Energy Supply Weser-Ems") has formed a joint venture with Gazprom's subsidiary Astora to build a storage site with the capacity of 1.2 to 1.5 bcm at Jemgum near the Dutch border. Gazprom apparently intends to target the Low Countries' gas market, in the context of Gazprom's intentions to expand the Nord Stream pipeline system.