Foreign Assets Under Threat: Is AQIM Preparing an In Amenas-Style Attack?
Publication: Terrorism Monitor Volume: 14 Issue: 14
By: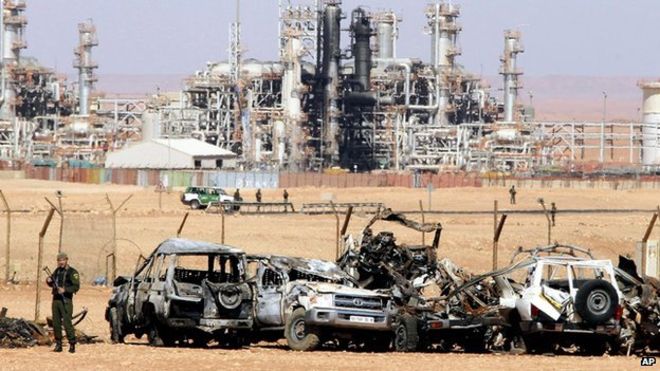 In late May, al-Qaeda in the Islamic Maghreb (AQIM) claimed it had attacked an Areva-operated uranium mine in Arlit, northern Niger (Alakhbar, May 24). AQIM attributed the alleged assault to its al-Nasser brigade and said the attack was carried out with Grad-type missiles (Alakhbar, May 24). There were no reported injuries or damage as a result of the attack and the Nigerien government even denied the assault had taken place (Alakhbar, May 26). Areva made no comment.
AQIM said its alleged attack had taken place in spite of strict security measures at the facility, although security at the mine has come under some scrutiny in recent years (Alakhbar, May 24). The Arlit facility was bombed in 2013. The attack, which left one person dead and 14 others injured, was blamed on the Movement for Oneness and Jihad in West Africa (MUJAO) and al-Mourabitoun (Le Sahel, May 23, 2013; Middle East Online, May 24, 2013).
The purported rocket attack on the Arlit facility came amid a series of AQIM attacks on soft targets in West Africa that include: a hotel in Bamako, Mali in November 2015; a hotel and a cafe in Ouagadougou, Burkina Faso in January 2016; and a beach resort near Abidjan in Cote d'Ivoire in March 2016 (RFI, November 20, 2015; le faso, January 16; Koaci, March 15).
The Arlit assault, however, also follows a rocket attack carried out on a gas facility run by BP and Statoil in Krechba, Algeria in March. These attacks raise questions about whether the group intends to target more high-profile foreign owned or operated assets going forward and if AQIM has the capabilities to conduct such attacks (TSA, 21 March).
AQIM's Intentions
It is highly likely that AQIM intends to carry out further attacks on infrastructure and extractive facilities in West Africa. Such assaults are key to recruitment efforts, enabling the group to tap into widespread grievances in the region surrounding resource management and the perceived "theft" of resources by international organizations.
Shortly after AQIM claimed responsibility for the alleged Arlit attack, the group issued a warning to other multinational organizations in West Africa that they were also targets for AQIM attacks. The group stated that the region was "not a place for theft" and that "[their] wealth should not be extorted" (MEMRI, May 26).
This echoes sentiments expressed after the Krechba attack in Algeria in March and the Burkina Faso attack in January. Following the latter assault, AQIM declared that the attack had been carried out as a result of deals being made "to rob the wealth of Africa" in that country (RCSS Middle East, February 3).
The statement appeared to be a reference to the transitional period between late 2014 and early 2016 in Burkina Faso. During this period, numerous demonstrations were launched against foreign mining companies for allegedly stealing local wealth without investing in longer term development (le faso, June 5, 2015).
In the case of Niger, the rocket attack occurred just weeks after Areva was faced with strike action at Cominak, its other uranium mine in Niger (Pulse.ng, May 3). Workers protested over the company's alleged failure to pay promised bonus payments in full (Pulse.ng, May 3). AQIM likely hopes that the conduct of such attacks will help it to play into these local grievances, potentially assisting the militant group in its recruitment efforts.
Potential for High-Profile Attack
Although the latest infrastructure attacks in Algeria and Niger will have concerned foreign companies, they have not caused nearly as much damage as the 2013 In Amenas attack in Algeria, which left more than 30 foreign hostages at the gas plant dead (RFI, January 19, 2013). It is likely, however, that AQIM will seek to replicate that more effective and conspicuous assault.
Its desire to stage an In Amenas-style attack is closely linked to the way in which AQIM has become bolder and more aggressive in its assaults since it re-allied with al-Mourabitoun following the Bamako attack in November 2015 (RFI, December 5, 2015). The merger of the two groups has contributed to an apparent rejuvenation of AQIM, which had struggled to carry out any significant attacks between 2007 and 2015 and had largely restricted itself to hit and run attacks in northern Mali.
The reunion has brought Mokhtar Belmokhtar, the leader of al-Mourabitoun and the alleged mastermind of the In Amenas attacks, back into AQIM. Belmokhtar, who believes conventional warfare against Western forces is ineffective, and who is known for his penchant for "spectacular" attacks, is likely to push AQIM to conduct ever more high-profile assaults on extractive facilities.
The rivalry between AQIM and Islamic State (IS) will further entice the group to carry out a more significant attack in West Africa. The increasing frequency of AQIM attacks and their timing, which has often coincided with IS assaults, suggests the group is trying to ensure it is not out-done by the more radical agenda of IS.
The Bamako attack, for example, came just 10 days after the IS Paris attacks in November 2015; and the Ouagadougou attack occurred almost immediately after IS carried out an attack in Jakarta, the group's first assault in Southeast Asia.
A "spectacular" attack similar to In Amenas would likely attract new followers and enable AQIM to draw back some of its support base, which it has been hemorrhaging to IS in recent years (see Terrorism Monitor, March 3). Several key militant groups in the AQIM stronghold of Algeria, including the al-Ansar Brigade, al-Ghuraba Brigade, and Jund al-Khilafa, as well as Boko Haram in Nigeria, have declared their affiliation with IS since its proliferation (al-Jazeera, September 14, 2014; al-Jazeera, March 8, 2015).
Expanding Militant Network
The attacks carried out in Algeria and Niger, in March and May of this year respectively, display AQIM's ability to launch missile attacks on extractive and infrastructure facilities in the region. However, as far as the available information shows, the attacks were not particularly effective – neither was reported to have caused any damage or injuries.
This implies that while AQIM might be contemplating an In Amenas-style assault, this type of attack is at present beyond the group's capabilities. Such an assault would require extensive planning and personnel and possibly more advanced weaponry. Such requirements could explain why, despite targeting extractive facilities twice in the past six months, AQIM has favored less complex missile assaults in both cases. Neither attack has caused anywhere near as much damage – either physical or reputational – to its foreign targets as the In Amenas assault.
Nevertheless, the task the group faces in conducting a more significant infrastructure attack may become gradually easier over the coming months. AQIM demonstrated during its assaults in Bamako, Ouagadougou, and Grand Bassam that it has been expanding its networks and links to local militant groups throughout the Sahel. This expansion has enabled AQIM to carry out attacks some distance outside of its traditional strongholds, including one in southern Cote d'Ivoire in March (Global Observatory, April 6).
Ethnic groups, including the Fulani, the Bambara, and the Songhai, have all been sought out to join the group, and AQIM has formed a number of battalions from these various ethnicities (MG Africa, February 14; Global Observatory, April 6; al-Jazeera, January 17, 2013). Meanwhile, the group has ties to the Force de Libération du Macina (FLM) and Ansar Dine, which are active in central and southern Mali (Global Observatory, April 6).
Under a more aggressive AQIM leadership, an expanded following may be capable of carrying out more sophisticated assaults on infrastructure and extractive facilities. The weakness of security within the region and the vast and increasing availability of weaponry will also make the planning of such an assault feasible in the medium term.
Security forces in West Africa are frequently weak and corrupt; militaries are often undermanned, and borders lack adequate security measures and checks (Vanguard, June 18, 2015). Tracking a single militant can require considerable resources. It has been suggested that all of France's Operation Barkhane's resources have been required to arrest a single insurgent or destroy large caches of weapons. [1] This situation has been exacerbated by the effects of the collapse of the Gaddafi regime in Libya and the Malian crisis, which have seen weapons and ammunition flood the Sahel, allowing militant groups to easily obtain large stores of heavy weaponry (Reuters, November 24, 2011).
AQIM has also proved itself to be extremely adaptable. Despite Operation Barkhane's efforts to destroy vast quantities of weaponry in the region, the group's members in northern Mali have learned how to build their own bombs using fertilizers. [2] Additionally, the flexibility of AQIM and its use of various divergent cells makes it much harder for security services to predict, prevent, or stop attacks. A Malian military officer in 2009 said that AQIM groups evade capture by ensuring they "move fast and never stay in one place" (BBC, November 23, 2009). Added to this, AQIM's Katibas (brigades) operate largely autonomously, meaning that while security personnel may be monitoring the central command, they struggle to track all of the affiliated battalions simultaneously.
Heightened Security
Amid regionally weak security, the effect of the In Amenas attack on multinational organizations and local militaries has almost certainly been to force them to increase their security measures and review risk planning at extractive facilities, ideally better preparing them for a similarly "spectacular" attack.
This was most apparent after the Krechba assault in which security forces reacted quickly, mounting a security operation around the gas field, killing four militants and wounding another three (Alalam, March 21; PressTV, March 20). Both BP and Statoil withdrew their staff from the facility, preventing any hostage situation from unfurling, and Sonatrach employees later claimed that production actually increased in the aftermath of the attack (Algeria Press Service, March 22). Although the withdrawal of BP and Statoil staff was undoubtedly costly and administratively taxing, the level of impact was in stark contrast to the In Amenas attack, which caused much more prolonged reputational and physical damage to the gas plant. Consequently, an attack on the scale of that assault may be much harder for AQIM to carry out now than it would have been for al-Mourabitoun in 2013.
While in the longer term AQIM will aim to carry out a significant attack on foreign extractive assets, such an attack is unlikely in the immediate future. The attacks on soft targets in Bamako, Ougadougou, and Grand Bassam were relatively effective and required limited planning and resources. The likelihood is that these more "cost-effective" assaults will remain a staple for the foreseeable future, while the group builds its capacity over the next 12-18 months.
Possible Future Targets
AQIM has cited troop contributions to the UN's MINUSMA mission in Mali and other counter-terrorism operations across the Sahel as its main reason for conducting attacks outside of Mali (Global Observatory, February 29; Alakhbar, May 24). Niger is involved in the peacekeeping mission and is home to a French intelligence and a US-drone base, making the country a key target. It is highly likely that if AQIM is able to conduct a more sophisticated infrastructure assault in the longer term, it will take place in another West African country involved in the peacekeeping mission.
It is also notable that both Algeria and Niger are involved in long-running resource management disputes with their populations. AQIM called the attack in Arlit a response to "crusader thieves" who had "plundered" Niger's resources (MEMRI, May 26). Facilities in countries with equally controversial resource management regimes provide much more "legitimate" targets for AQIM, enabling the group to more effectively tap into local grievances over resource nationalism.
The purported Arlit rocket attack should serve as a warning to extractive companies that more aggressive insurgent assaults on multinationals are on militant groups' agendas and are likely to become more pervasive as insurgencies throughout the region gain prominence.
NOTES
[1] Author interview with Francois Rihouay, freelance journalist based in Bamako (May 16, 2016)
[2]Ibid