Foreign Policy Context of Azerbaijan's Major Pardoning Act
Publication: Eurasia Daily Monitor Volume: 16 Issue: 42
By: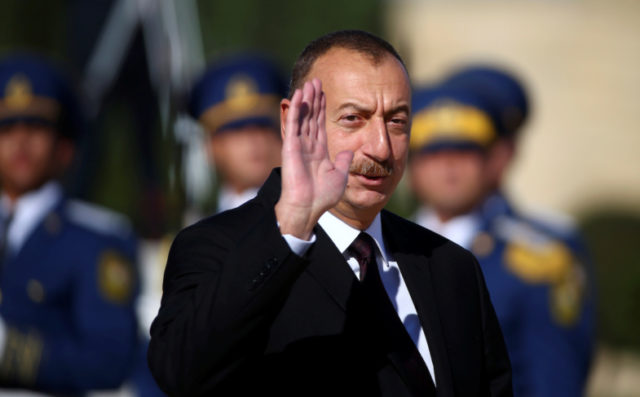 Azerbaijani President Ilham Aliyev signed a decree, on March 16, pardoning 51 persons, who were described as "political prisoners" by international organizations and human rights watchdogs. Although pardons in Azerbaijan are not inherently unusual, the numerical scale of the collective pardon in this case was unprecedented for the country. The Azerbaijani government has refused to acknowledge any political motivation behind its action, and asserts that it was operating based on humanitarian principles. Opposition figures and critics, meanwhile, attribute the pardon to domestic and international pressure and have sought to portray it as the government's retreat meant to relax domestic tensions (President.az, Turan.az, March 16; Jam-news.net, March 19).
While the authorities' humanitarian argument is being rejected by opponents, attempts to credit the decision to domestic political pressure are also not persuasive. First, there is indeed domestic pressure on the government, but it is mainly of a socio-economic nature—the result of declining global oil prices and, relatedly, two difficult devaluations of the national currency in 2015. The pardoning decree came amidst the government's ongoing social measures to address the situation through increases to salaries, pensions and stipends, the state's partial coverage of troubled bank loans to Azerbaijani citizens, and other popular steps (Ekhokavkaza.com, Contact.az, March 18).
Second, the domestic opposition does not represent a significant political challenge to the ruling party. Aliyev's critics have sought to use current social discontent to shape their political agenda. As such, they are motivated by international examples of how dissatisfied populations may turn to an opposition in protest to social problems even when they may not wholly embrace the opposition's political program. While Azerbaijan's opposition forces blame the government for failing to resolve many issues at the national level, their popular appeal is limited due to several long-standing internal issues, inter alia: the lack of a democratic transition or succession within the opposition political parties; the absence of a clear vision, solid strategy or sound program of reforms; the precedence of personal/group ambitions and intrigues over common interests, and related disunity; the habit of boycotting elections instead of exhausting the legitimate platform to reach out to the electorate; and failures of the main opposition actors to maintain their own power let alone to resolve the Karabakh conflict and other national problems in the early 1990s, when they were in office (Zerbaijan.com, December 1993; Azadinform.az, August 18, 2014 and March 7, 2019; Kaspi.az, April 10, 2014; BBC—Azeri service, July 16, 2014 and August 23, 2013).
Regarding international pressure, it is true that Azerbaijan consistently faces large amounts of it. The latest US Department of State report critical of Azerbaijan's human rights situation is another case in point. Nonetheless, international pressure did not directly bring about the pardoning act. It rather helps to contextualize the authorities' decision to pardon the 51 individuals: the issue of political prisoners adversely affect Azerbaijan's reputation in the West, leaving it in a position of vulnerability vis-à-vis other assertive players in the region. Such players can try to manipulate the domestic vulnerabilities of the country, especially when its partnership with the West is not in the best shape (State.gov, March 13, 2019; Azertag, December 26, 2018).
In particular, as Baku and Brussels enter the decisive phase of negotiations on a new partnership agreement, Moscow has been sending covert warnings against Azerbaijan's participation in North Atlantic Treaty Organization (NATO) drills in Georgia (Caucasuswatch.de, March 22; TASS, February 28) as well as overt warnings against Russians traveling to Azerbaijan (Mid.ru, March 12). Additionally, recent statements from Russian officials threatening to send criminal bosses (kingpins) to their countries of origin (Regnum.ru, March 15) and raids on Azerbaijani labor migrants and businesses (Haqqin.az, Oxu.az, March 5, 13) are another source of concern for Baku. Moreover, high-profile Russian parliamentarian Konstantin Zatulin has called on Iran to take a more active role in the South Caucasus (Tasnim News, February 28). Indeed, Moscow and Tehran have tried to initiate projects such as the Iran–Armenia–Georgia–Russia energy project, circumventing Azerbaijan, which would limit Baku's regional space for maneuver (see EDM, February 25; Tert.am, February 28). Additionally, Tehran has needled Baku in its own ways, including with sharp nationalistic rhetoric, diplomatic faux pas, and attacks on Iran's Azerbaijani minority (Asbarez.com, March 5; Azeridaily.com, March 10; Kadamov.com, March 14; President.ir, February 11).
The pardoning act was welcomed by international (Western) organizations as a positive step (Eeas.europe.eu, March 17; Freedomhouse.org, March 18; Coe.int, March 19; Kavkazsky Uzel, March 20). This has implications for addressing the country's foreign policy issues: Having failed to win the argument on Karabakh in international forums by stressing self-determination over territorial integrity, Armenia is now attempting to make its case on human rights grounds. But the clemency granted to the 51 Azerbaijani prisoners may curb such efforts (see EDM, October 2, 2017; Newsarmru.com, September 2, 2018; Azernews, October 13, 2018; Armedia.am, November 15, 2018; Azconsulatela.org, Regnum.ru, May 2, 2005). The release of the political prisoners may also contribute to finalizing negotiations on the EU-Azerbaijan strategic partnership agreement (see EDM March 24, 2017; Europa.eu, March 15, 2019; Turannews.com, July 4, 2018).
Baku's hopes that Moscow was shifting its position on the Karabakh conflict have been fading; there is no sign that the positive statements from various Russian figures might turn into real deeds (see EDM, September 18, 2018). But Azerbaijan is seeing positive signals from Washington, Berlin, Brussels and elsewhere, and that is partly due to Armenia's troubled foreign policy (see EDM March 21; Asbarez.com, February 13; News.am, February 21; Azvision.az, October 11, 2018; Armenia.com.au, November 2, 2018). In this light, the pardoning act can be regarded as a goodwill gesture toward the West rather than a bowing to international pressure.
In the meantime, there are expectations that over 74 remaining "political prisoners" might also soon be pardoned or released through legal proceedings (BBC—Azeri service, Turan.az, Meydan.tv, March 16; Azpolitika.info, Kavkazsky Uzel, March 19). That said, pardoning acts are positive but of a tactical nature. Therefore, the government will need to shape political, legal and judicial circumstances to ensure that politically implicated imprisonments are prevented in the future. President Aliyev has stated before and after the pardon that political and judicial-legal reforms will be launched soon, as "there is no alternative to reforms" (President.az, March 20). This is a significant indicator of Baku's understanding of the need for reforms. However, genuine reforms could lead to domestic and external challenges to the ruling elite. Therefore, it is yet to be seen whether that understanding will translate into substantial systemic transformations.