Foreseeing the China-India Boundary Dispute: 2022 and Beyond
Publication: China Brief Volume: 21 Issue: 24
By: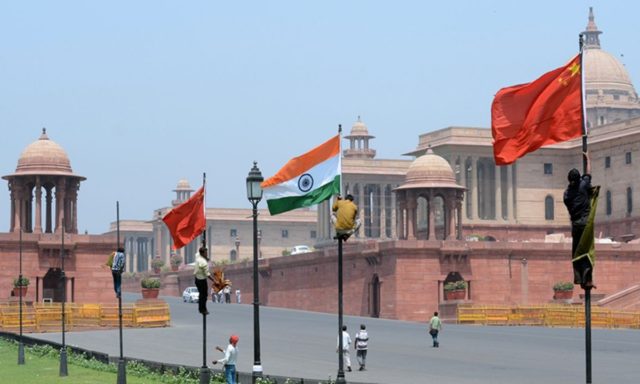 Introduction
Over the last year, Chinese politics have been acutely driven by President Xi Jinping's quest to further cement his leading role in the hierarchy of the Chinese Communist Party (CCP). Xi's drive to stamp his "strongman" image and personality-driven political ideologies on the CCP system have dominated Chinese politics, with the recently concluded Sixth Plenum only continuing this trend. The Chinese President's efforts to capitalize on his growing power, on both the domestic and international fronts, has greatly impacted geopolitical dynamics across the Indo-Pacific region. Between nationalist policy releases—such as the new coast guard law (海警法, hai jing fa) or dual circulation strategy (双循环策略, shuang xunhuan celue) (China Daily, August 6)—and continuing disputes with regional powers over land/territorial or maritime boundaries, Xi's focus has been on reinforcing his own legacy as he aims for an unprecedented third term in office. Thus, Xi has been stroking nationalist fervor to justify the regime's repressive measures (e.g., Hong Kong, Xinjiang and Tibet) and expansionist maneuvers (Taiwan, East and South China Seas and India's Ladakh).
Xi's "strongman" persona extends to his attempts to alter the regional geopolitical landscape, which is particularly evident in Beijing's continued aggressive posture in the China-India boundary dispute. Even after multiple rounds of talks between China and India, the objective of complete disengagement along the Line of Actual Control (LAC) in eastern Ladakh has not been achieved (Ministry of External Affairs, November 18). This impasse continued with the 13th round of border talks held on October 10, which produced no resolution over the contentious issues in eastern Ladakh. Indian representatives emphasized the importance of resolving ongoing issues along the border to improve bilateral relations (Ministry of External Affairs of India, October 11). However, constructive attempts have been met with strong resistance from the Chinese side, who have termed Indian suggestions as "unreasonable and unrealistic" (Ministry of National Defense of the People's Republic of China, October 11). The 14th round of the Corps Commander level talks on the Galwan disengagement will likely be held soon. Though it is highly improbable that the 14th round of border talks will yield any concrete outcome, it is worth reviewing the military and political developments since the last few rounds of talks and the tone they have set for a possible resolution in 2022, particularly amidst such a precarious scenario.
Continued Aggressive Posturing and Marketing of Soft Power
The goals of China's approach to border politics with India in 2021 have been twofold: improving military logistical support on the ground while highlighting diplomatic engagement to resolve disputes. This approach seeks to represent China as a flagbearer of peace and increase its international appeal. The next year is unlikely to reflect any change in such aims.
In late October, the Standing Committee of the National People's Congress, China's chief legislature, adopted a new law on the "protection and exploitation" of China's land border areas. This new law, which is set to take effect on January 1, 2022, lays down several important measures pertaining to the role of the state in safeguarding the integrity of China's land boundaries in the event of "any act that undermines territorial sovereignty" (China Daily, October 23). In seeking to "resolutely safeguard territorial sovereignty and land border security," Beijing seems to have found a new approach toward reinforcing its desire to resolve the boundary dispute with New Delhi on its own terms (Global Times, October 24). The new law stipulates that the People's Liberation Army (PLA) and the paramilitary People's Armed Police (PAP) are largely responsible for resisting armed invasion and responding to intrusions (officially called as "transgressions" between China and India) along China's border. Both institutions are under the command of the Central Military Commission (CMC), which is headed by Xi. The new legislation does not inherently change the calculus of how China handles security along its boundaries, but it does demonstrate increased resolve by the Chinese state to protect its "sacred and inviolable" sovereignty, and concurrently also serves to strengthen pursuit of the domestic objective of enhanced control over ethnic minority populations along the borders (China Daily, October 23).
Another significant aspect of the new law is its emphasis on the development of the towns along the border, which highlights the role of civilians in supporting the PLA and PAP in what can be interpreted as an extension of the CCP's "civil-military fusion strategy" (China Brief, October 8, 2019). This aspect might be the most significant concern for Indian operational planning, as the ambiguity of involving civilian populations and integrating civilian infrastructure into military strategy and utility is seriously challenging (The Indian Express, October 27). For instance, the Chinese state is also known to pay allowances to citizens living along the China-India border in Tibet in a bid to ensure their loyalty. As a part of its "civil-military fusion strategy," China displays and exerts superiority over the extent of development and economic stability of the villages on the Chinese versus the Indian side of the border. Moreover, subsidizing Tibetan citizens to move to border areas has also emerged as a key trend in the Chinese government's attempts to consolidate power along the boundary regions (China Tibet Net, January 28; South China Morning Post (SCMP), December 6, 2020). China's new land border law seeks to legitimize the use of civilian settlements to aid the Chinese territorial claims along the LAC—a move similar to China's construction of artificial islands in the South China Sea (SCMP, March 7).
Additionally, the PLA recently tested high-altitude conventional weapons that are designed for extreme conditions in the western sector of the border with India (SCMP, November 23). The PLA has been focusing on strengthening border infrastructure and upgrading logistics, using modern technologies to improve the living and working conditions of its soldiers along the LAC,  especially during the harsh winter months (Global Times, November 9). Soon after border talks stalemated in November, the PLA tested precision weapons systems intended for use in the harsh environment, continuing China's build-up of advanced weapon systems along the border. Beijing is reportedly also improving its air combat power along the western front of the LAC, constructing new bases while upgrading existing ones and expanding connectivity ambitions by building helipads across the Qinghai–Tibet Plateau (Toutiao, November 18).
The military developments are an attempt to re-balance the status quo and undermine the border mechanism resolution processes that China and India have engaged in since the June 2020 Galwan clashes in a bid to reduce hostilities. For instance, even as the two countries held the 23rd Working Mechanism for Consultation and Coordination (WMCC) on India-China Border Affairs, which is one of the most important channels for dialogue, to "find an early resolution to the remaining issues along the LAC," China nevertheless expanded military and civilian facilities in the Tibetan Autonomous Region (TAR)—e.g., the number of heliports and airbases in the region doubled from 2017 to 2020 (Ministry of External Affairs of India, November 18; Hindustan Times, February 8).
Aggressive posturing by China has also increased tension in border areas overlapping with third party countries. For instance, satellite images recently revealed that four new Chinese villages have been built in Bhutanese territory near the Doklam plateau—the sensitive boundary tri-junction between India, China and Bhutan where China and India engaged in an extended standoff in 2017 (Twitter, November 17). As one of Bhutan's oldest partners—New Delhi is especially sensitive to its Himalayan neighbor's territorial integrity and has played a significant role in Bhutanese foreign policy. India is doubly cautious because in October, China and Bhutan signed a Memorandum of Understanding (MoU) on a Three-Step Roadmap for Expediting the Bhutan–China boundary negotiations, which has been heralded by China as "historic" (Global Times, October 15). Beijing has repeatedly disputed Bhutan's territorial claims over Doklam, and the two states had refrained from holding boundary negotiations after the 2017 standoff at Doklam, which was seen as a major military and diplomatic victory for India. The MoU is highlighted in Chinese media as a blow to India's efforts to contain China.
According to Chinese state media, "China-Bhutan boundary issues were used as an excuse by India to attack China during the Doklam standoff" and New Delhi is the "reason for the delay" in negotiations between China and Bhutan (Global Times, October 15). Still, the MoU works in China's favor, particularly in terms of expanding its sway in the Himalayan region. By securing a comprehensive agreement on the border with Bhutan, Beijing would gain inroads into Bhutan in terms of investments and tourism, thereby furthering China's objective to expand its strategic influence in the region. Nonetheless, India's influence over Bhutan remains a key area of geopolitical focus for New Delhi. As Himalayan neighbors, India's decades-old special relationship with Bhutan is still bound to enable close coordination between New Delhi and Thimphu on foreign policy issues. In 2022, the Bhutan-China MoU will have important ramifications for the China–India boundary issues especially considering the already tense state of relations due to the LAC standoff. That said, India's ability to diplomatically maneuver Thimpu may ultimately give New Delhi the upper-hand.
Political–Diplomatic Responses to the Stalemate
In response to Chinese military build-up and increased infrastructure activities along the LAC, India has boosted its defense capabilities by deploying Israeli Heron drones for surveillance operations in the eastern Ladakh sector and conducting airborne drills in the area (Hindustan Times, November 30; Army Technology, November 2). Although in recent months, the two sides have disengaged from some friction points following commander-level talks, the increased military presence along the border and respective unwillingness of both sides to make concessions in negotiations will not help to break the logjam.
The growing discontent between the Asian powers was also apparent at the 18th meeting of the Foreign Ministers of Russia, India and China held via video-conference on November 26. Chinese Foreign Minister Wang Yi indirectly referred to the Quadrilateral (Quad) initiative of India–Australia–Japan–U.S. as a "patchwork of small circles" and emphasized the need to get out of the "'democracy trap' of certain countries," an obvious reference to the growing U.S. clout in the region (The Hindu, November 26; Global Times, November 27).
As U.S.-India relations continue to grow stronger, China's insecurity about its ability to attain regional hegemony has also increased (Global Times, April 1; Global Times, November 1). Beijing has termed the U.S.-India rapprochement a "clique" orchestrated by the U.S., and Chinese media often alleges that the term "like-minded" is used as a strategy to bring together countries that are fearful of China—"an anti-China frontier" (Global Times, October 7). China's growing insecurities and Xi's need for absolute control will only boost its repressive tactics and expansionist maneuvers in the coming years, not just in 2022.
Foreseeing the Future of the Dispute
The Galwan impasse is likely to continue, as it is unlikely that Beijing will give up any border claims in 2022. Diplomatic avenues will remain open but so too are the military options, even if they are used only for deterrence purposes. As both sides continue to strengthen their combat preparedness and refuse to budge an inch during the military talks, the prospect for resolution in the near future remains rather dim (South China Morning Post, November 30).
To make matters worse, both countries are governed by regimes that thrive on whipping up nationalist fervor and headed by leaders that espouse strongman personality cults. For each leader then, making a compromise on the border issues will be akin to kneeling before the "enemy," and hence tarnish their long-held reputation. The new NPC law on the protection of land border areas amid escalating tension with India, too, highlights China's lack of intention to solve the ongoing border dispute. As long as the deadlock continues, the best that can be hoped for is that Beijing does not utilize its new border law as a justification for renewed conflicts.
Dr. Jagannath Panda is a Research Fellow and Centre Coordinator for East Asia at the Manohar Parrikar Institute for Defence Studies and Analyses (MP-IDSA), New Delhi. He is the Series Editor for "Routledge Studies on Think Asia". Dr. Panda is the Co-Editor/Author of the book "Chinese Politics and Foreign Policy under Xi Jinping: The Future Political Trajectory" (Routledge, 2020). He is also the author of "India-China Relations: Politics of Resources, Identity and Authority in a Multipolar World" (Routledge, 2017), and "China's Path to Power: Party, Military and the Politics of State Transition" (Pentagon Press, 2010). Dr. Panda is the co-editor of the newly released book "Quad Plus and Indo-Pacific: The Changing Profile of International Relations" (Routledge, 2021).