France Agrees to Send Arms to Armenia in Another Blow to Russia's Regional Influence
Publication: Eurasia Daily Monitor Volume: 20 Issue: 171
By: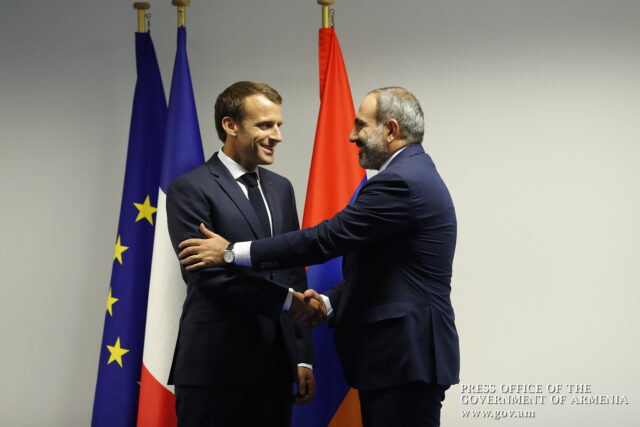 In September, Azerbaijan carried out a swift military operation to reclaim full control over the Karabakh region (see EDM, September 20). Since then, Armenia has begun searching for new partners, as Yerevan has become deeply distrustful of Moscow (see EDM, February 9). On October 3, Armenian Foreign Minister Ararat Mirzoyan held discussions with French Foreign Minister Catherine Colonna in Yerevan regarding France's possible provision of military aid to Armenia. In a joint press conference following their talks, Colonna remarked, "I would like to publicly say that France has agreed to sign a future contract with Armenia enabling deliveries of military equipment to Armenia so that Armenia can ensure its security. I cannot disclose further details now." She added that her visit was intended to demonstrate that France will continue to support Armenia's territorial integrity (Armenpress, October 3).
The brief conflict in September was the latest iteration of the Karabakh question, which continues to poison Azerbaijani-Armenian relations. The conflict over the region, a largely ethnic Armenian territory completely within Azerbaijan's borders, had announced its secession from the Azerbaijan Soviet Socialist Republic 35 years ago. Christian Armenia and Muslim Azerbaijan have subsequently fought two indecisive wars over the region. After 1992, "Nagorno-Karabakh" became a republic, unrecognized internationally, and a prominent example of the post-Soviet phenomenon of "frozen conflicts." Neither side could gain the decisive upper hand until Azerbaijan began its military offensive on September 19. Within 24 hours, Azerbaijan had regained sovereignty over the territory. The Armenian authorities in Karabakh announced that the statelet would be dissolved by January 1, 2024. Azerbaijan's lightning offensive created a refugee crisis for Armenia, prompted by the exodus of most of the region's 120,000 ethnic Armenians (Vedomosti, October 24).
The lack of response from its fellow Collective Security Treaty Organization (CSTO) members frustrated Armenian leaders. Armenia's relations with Russia soured as Yerevan felt that Moscow persistently failed to back the Armenian cause—in the September clash and during the border disputes with Azerbaijan in 2021–22. Armenia began distancing itself from Russia's "special military operation" (SVO) against Ukraine. In early June, Yerevan broke from its previously cautious neutrality when Prime Minister Nikol Pashinyan announced Armenia was "not an ally of Russia" in its conflict with Ukraine (Gazeta.ru, June 2, 2022).
The growing French-Armenian relationship on defense matters is the latest example of diminishing Russian influence in the South Caucasus. Armenia retains membership in the Russian-dominated CSTO and Eurasian Economic Union, though it has begun reconsidering that status. Pashinyan previously declared that Armenia intends to reorient itself toward the West by expanding relations with the European Union. On October 18, Sargis Khandanyan, head of the Armenian National Assembly's Foreign Relations Commission, denied that Yerevan was currently discussing withdrawing from either organization (RT, October 18).
France's support for Armenia has solidified in the weeks since Colonna's initial announcement. On October 21, in response to a question on whether Armenia can count on Paris' support, French Defense Minister Sébastien Lecornu answered, "It is essential to enable Armenia to protect its civilian population and ensure the defense of its borders. … We will formalize Armenia's acquisition of a number of armaments from French manufacturers, in particular with the signing of a contract that will allow the country to ensure the protection of its skies" (Le Parisien, October 21).
The announcement of French aid to Armenia greatly displeased the Russian government. The Russian-Armenian relationship has grown increasingly fraught over the past several years. Differences became particularly noticeable over Russian President Vladimir Putin's SVO. Pashinyan's frustration with Putin's war boiled over on May 4 during an interview with the Czech television channel CNN Prima News: "This has never been said out loud, but I think it is clear: in the war with Ukraine, we are not an ally of Russia. And our feeling from this war, from this conflict, is anxiety because it directly affects all our relations" (Ukrainska Pravda, June 2). Pashinyan did not post the interview on Facebook until June 1 due to the sensitivity of his remarks (Facebook.com/nikol.pashinyan, June 1). Three months later, the Armenian premier's frustrations with Russia reached a breaking point as he concluded, "Our dependence on Russia for security was a strategic mistake" (La Repubblica, September 3).
France recently announced what the support to Armenia will entail. On October 23, during a joint news conference with Armenian Defense Minister Suren Papikyan in Paris, Lecornu declared that an agreement had been reached for France to provide Armenia with three Thales-made Ground Master 200 radars. The two sides also signed a memorandum of understanding for the delivery of France's Mistral short-range air defense system (La Tribune, October 24). France also committed to assisting Armenia in training its army and supporting efforts to reform and modernize the Armenian military.
Moscow's response was immediate. That evening, Channel One Russia broadcast a program portraying Pashinyan as a Western puppet working to sever Armenia's ties with Russia. The Armenian Foreign Ministry, in response, sent a note of protest to the Russian ambassador to Armenia over the program's "offensive and completely unacceptable statements" (RBK, October 24). The Kremlin's aggressive response may have also stemmed from the Armenian government's ratification of the Rome Statute on October 3 confirming its accession to the International Criminal Court (ICC). As a result, if Putin were to visit Armenia today, the authorities would have no choice but to arrest him in connection with the ICC's outstanding warrant for the Russian president (see EDM, April 19; Perspective Monde, October 10).
These developments have hampered diplomatic efforts to reach a peace agreement between Azerbaijan and Armenia. The negotiations have encountered snags as Armenia increasingly favors Western mediation and Azerbaijan prefers to see the participation of regional powers (see EDM, October 25). France's newfound influence in the South Caucasus has unsettled Azerbaijan. Baku commented that Colonna's expression of support for Armenia means that France cannot be a neutral mediator in the quest for a final peace treaty (Trend International News Agency, October 6).
Seeking to retain a dominant regional presence, on October 24, Russian Foreign Minister Sergei Lavrov participated in a ministerial meeting of the "3+3" format with Azerbaijan, Armenia, Georgia, Iran, Russia, and Turkey. This was the first meeting between Azerbaijan and Armenia since Baku's successful offensive in Karabakh. Lavrov claimed that progress was made on a peace agreement: "The conflict has, on the whole, been settled. Both sides agree that Karabakh belongs to Azerbaijan and that was the main issue to be settled" (TASS, October 24).
Russian influence in the South Caucasus has taken a major blow. On the same day as the 3+3 meeting, Azerbaijan announced the start of joint military drills ("Mustafa Kemal Ataturk-2023") with Turkey near the Armenia border (Radio France International, October 24). In preparing for these and future military exercises, Armenia will likely court more Western partners asking for military aid. This approach may ultimately lead to one of Putin's greatest fears: the spread of the West's influence and presence in the post-Soviet space.