Azerbaijan Advocates for Regional Solutions to Regional Problems in the South Caucasus
Publication: Eurasia Daily Monitor Volume: 20 Issue: 165
By: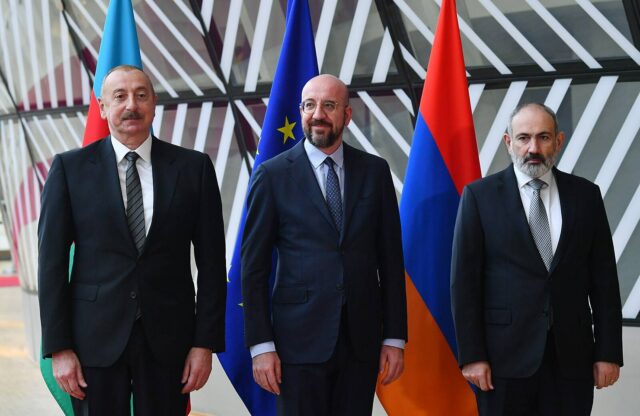 On October 4, Azerbaijani President Ilham Aliyev canceled a meeting with Armenian Prime Minister Nikol Pashinyan, European Council President Charles Michel, French President Emmanuel Macron, and German Chancellor Olaf Scholz that was meant to take place at the European Political Community summit in Granada, Spain, on October 5 (APA, October 4). The Granada summit was a long-awaited occasion in the context of the Armenian-Azerbaijani peace talks, particularly against the backdrop of the collapse of the separatist regime in Azerbaijan's Karabakh region (see EDM, October 4). Baku has instead voiced its support for more regionally centric negotiating formats for solving disputes in the South Caucasus.
Hikmet Hajiyev, foreign policy advisor to Aliyev, stated that Baku's decision to boycott the summit was prompted by France and Germany's refusal to accept Azerbaijan's proposal to include Türkiye in the talks (X.com/HikmetHajiyev, October 5). This move also served as a form of protest against the pro-Armenian statements made by the French side. Hajiyev lambasted Paris for posing a "serious threat to regional peace and stability in the South Caucasus" with its controversial policies (Anadolu Agency, October 5). Earlier, on October 3, French Foreign Minister Catherine Colonna paid a visit to Yerevan and reiterated the French government's commitment to deliver military supplies to Armenia (France24, October 3).
Baku does not consider Paris to be a neutral mediator capable of making constructive contributions to regional peace efforts. The Azerbaijani Press Agency, with reference to an "exclusive source," reported that "Baku does not see the need to discuss the problems of the region with countries far from the region. Baku believes that these issues can be discussed and resolved in a regional framework" (APA, October 4).
This emphasis on a regional framework coincided with the earlier proposal from Turkish President Recep Tayyip Erdogan to establish a new format for dealing with Armenian-Azerbaijani disputes (Turan.az, September 16). Erdogan called for the Armenian and Azerbaijani leaders to come together in a quadrilateral format together with the presidents of Türkiye and Russia. At a press conference in September, he stated that the Turkish government had already delivered this proposal to the other three countries but did not receive any responses at that time (Turan.az, September 16). Over a month has passed since then, and it remains to be seen whether preparations are underway for a meeting in this format.
Meanwhile, the countries of the South Caucasus are discussing two other arrangements for cooperation among themselves in addressing regional disputes. In his visit to Georgia on October 8, Aliyev emphasized the potential role that Georgia could play in the normalization of Armenian-Azerbaijani relations. Georgian Prime Minister Irakli Garibashvili voiced his government's impartiality in the peace process and declared Tbilisi "wants to be a mediator in this matter." Aliyev stressed that Georgia's proposal to mediate the peace talks would be the most proper course of action considering the historical context and geographic factors. "If Armenia agrees, the heads of our relevant authorities can immediately come to Georgia for both bilateral and trilateral meetings," he concluded (President.az, October 8).
In 2021, Garibashvili put forward the Peaceful Neighborhood Initiative "to promote peace and stability in the South Caucasus." His proposal was formed on the "3+2" format (Armenia, Azerbaijan, and Georgia with the European Union and the United States). According to Garibashvili, this arrangement would "facilitate dialogue and confidence-building and lead to the implementation of practical solutions to regional issues of common interest with our US and EU partners" (The Embassy of Georgia to the United States, September 28, 2021). The initiative, however, was unsuccessful.
Baku has remained supportive of the idea to create a trilateral format for holding talks among the three countries of the South Caucasus. The Munich Security Conference in February 2023 was a good opportunity for Armenia, Azerbaijan, and Georgia to come together at the highest level for the first time on a panel covering the South Caucasus. Pashinyan, however, declined to join his counterparts from Azerbaijan and Georgia. Yerevan has been continuously cautious in regards to this trilateral format for reasons that are unclear. One major exception occurred in July 2022, when the Armenian foreign minister went to Tbilisi to meet his Azerbaijani counterpart in a bilateral format for the first time (Azerbaijani Ministry of Foreign Affairs, July 16, 2022).
The "3+3" format (Georgia, Armenia, and Azerbaijan with Russia, Iran, and Türkiye) represents another possible initiative for regional cooperation. This configuration was introduced following the Second Karabakh War in November 2020. Currently, Georgia has opted to abstain from participating due to its territorial conflict with Russia. The initiative, even in the "2+3" format (without Georgia), has faced a number challenges, including Russia's war against Ukraine and Iran's increasingly aggressive policies in the region (see EDM, April 13). On October 23, the second meeting in this format was held in Tehran, approximately two years after the initial gathering of deputy foreign ministers in Moscow in December 2021 (Iranian Ministry of Foreign Affairs, October 23).
This time, the sides came together at the level of foreign ministers. They stressed the "importance of platforms like the Consultative Regional Platform '3+3' in providing opportunities for constructive dialogue and establishing mutually beneficial cooperation between the countries of the region" (Iranian Ministry of Foreign Affairs, October 23). The ministers agreed that the next meeting will be held in Türkiye on a date to be specified later. They also confirmed that the platform remains open to Georgia's participation, though Tbilisi has not indicated any willingness to join (TASS, October 24).
The countries of the South Caucasus have begun to be more outspoken in favor of regional frameworks for solving disputes and facilitating cooperation. Although Iran and Russia would prefer the complete exclusion of other players (in particular, the European Union and the United States) from regional affairs (see EDM, May 31, 2022; News.am, October 24), Armenia, Azerbaijan, and Georgia seem to have different priorities. Tbilisi firmly rejects involvement in any formats that include Russia but remains in favor of intra-regional initiatives. Yerevan participates in the "3+3" format, though it approaches the calls for a trilateral grouping from Baku and Tbilisi with caution. Baku supports regional frameworks but opposes calls from Russia and Iran for the complete exclusion of other actors from regional affairs (X.com/HikmetHajiyev, October 5). The complex geopolitical implications of each demonstrates how difficult it will be to solve these conflicts. Coming to a regional consensus on a negotiating format, nevertheless, will be crucial to establishing long-term peace and stability in the South Caucasus.