Belarus Looks to Revive Its 'Multi-Vector' Foreign Policy
Publication: Eurasia Daily Monitor Volume: 20 Issue: 165
By: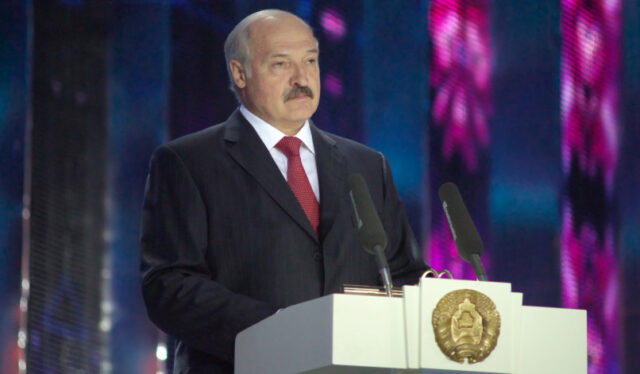 A new electoral season has kicked off in Belarus as the country prepares for parliamentary elections in February 2024. The elections are coming at a time when two parallel worlds in Belarus are increasingly diverging, writes Alexander Klaskovsky, a veteran political commentator now in exile (Telegra.ph, October 3). Klaskovsky's article highlights a growing debate among Belarusians as to the proper future direction for the country and its foreign policy.
On the one hand, Belarusian President Alyaksandr Lukashenka has given instructions on how to ensure the "correct" outcomes of the parliamentary elections (SB, September 27). That vote will be followed by elections to the All-Belarusian People's Assembly (ABPA). The assembly was given constitutional status in February 2022 and was deemed an off-ramp for Lukashenka to become its head while choosing a successor (Interfax, February 9). The Belarusian president's plans have changed, and he will likely run for president once again in 2025. As a result, the ABPA has become a sort of "third wheel," though it remains a formal institution for Lukashenka in the event that he might need it down the road. Repressions against the 2020 "rebels" continue, and all opposition parties have been disbanded. As a result, elections in Belarus have become an empty ritual more so than ever before. And yet 70,000 Belarusian citizens will staff 6,000 local electoral commissions come February 2024. Unlike in the past, no electoral commissions will be set up at Belarusian embassies abroad.
On the other hand, Svetlana Tikhanovskaya, the Vilnius-based opposition leader, plans to conduct elections for the so-called "Coordination Council," an alternative parliament. The council, however, has no influence whatsoever in Belarus, as all its members are émigrés. The "speaker" of this body, Andrei Egorov, recently observed that fewer and fewer people in Belarus pay attention to it (Telegra.ph, October 3). The council has provided few suggestions for solving the problem of political prisoners. Facilitating their release will become increasingly difficult if Tikhanovskaya continues to insist on stiffer sanctions against Minsk, as she did during her Westminster lecture in London on October 17 (Tsikhanouskaya.org, October 17).
Pavel Matsukevich, a former Belarusian diplomat now in exile, advocates for a strategy that strays quite far from that of Tikhanovskaya (Gazetaby, October 18). Matsukevich believes that more stringent sanctions against Minsk would be fraught with catastrophe—that is, the total absorption of Belarus by Russia. He further argued that, thus far, successes in negotiating the release of political prisoners have been associated with personal contacts with Lukashenka. For example, after the Swiss ambassador to Belarus presented her credentials to Lukashenka in February 2022, dual Swiss-Belarusian citizen Natallia Hersche was released from prison. The release of Vitali Shkliarov, a dual citizen of Belarus and the United States, was conditioned on the personal solicitation of then-US Secretary of State Mike Pompeo. And, it was the Vatican's solicitation of Lukashenka that allowed Tadeusz Kondrusiewicz, former head of the Catholic Church in Belarus, to return to Belarus from Poland. Now that the West has succeeded in releasing its citizens from Belarusian prisons, Matsukevich continues, it should make similar efforts on behalf of Belarusian citizens. The Lukashenka regime needs recognition and some freedom of maneuver. "Is this a lot or a little to pay for the release of political prisoners, given that they would not be released otherwise?" concludes the former Belarusian diplomat (Gazetaby, October 18).
Official Minsk's overtures to Poland highlight its serious need for more room for maneuver. In the run-up to the recent parliamentary elections in Poland, Lukashenka publicly pinned hopes on the victory of Civic Platform under Donald Tusk. The Belarusian president believes that Tusk, as the Polish premier, will lead to some positive changes in Polish-Belarusian relations. His explanation: Andrzej Duda and Mateusz Morawiecki are "Washington's lackeys," whereas Tusk is a "pro-European politician" (SB, October 6). Tusk was prime minister from 2007 to 2014. During that time, both a thaw and a freeze took place in European-Belarusian relations. A second thaw took place from 2014 to 2020, and Tusk presided over the European Council during much of that time.
Belarusian opposition-minded analysts, however, believe that Lukashenka's hopes are misplaced. According to Dzmitry Hurnievic of Radio Free Europe/Radio Liberty, such notions are based on fantasy, as only the Konfederacja party in Poland has politicians friendly to Minsk (Svaboda, October 4). Well-known Belarusian sociologist Ryhor Astapenia points out that Lukashenka does not have much goodwill left with Poland, especially after instigating a migration crisis; keeping Andrzej Poczobut, a Belarusian journalist and activist of the Union of Poles in Belarus, under arrest; and the removal of Polish Home Army cemeteries in Belarus (Svaboda, October 16).
Artyom Shraibman, a non-resident scholar at the Carnegie Endowment for International Peace, shares these opinions, albeit with some nuances (YouTube, October 18). Shraibman notes an unusual frequency in the goodwill gestures offered by Minsk to Poland, which Astapenia called into question. Beginning in mid-summer, prospective illegal migrants have been bused from the Belarusian border with Poland to the border with Latvia. In late August, Minsk even invited Polish representatives to monitor drills of the Collective Security Treaty Organization (Sputnik.by, August 28). Belta, the official press agency of Belarus, recently established a Polish-language site. Shraibman argues that one should expect new signals from Minsk and that some bilateral problems can perhaps be resolved even without a major improvement in relations.
As if on cue, an article showed up in the Russian outlet Regnum on October 20 castigating Lukashenka for his overtures to Poland. The article's author, Kirill Averyanov, writes that Lukashenka hopes against hope to revive his "multi-vector" foreign policy. He contends, "It is very naive of [Lukashenka] to try to return to 2019. Today, the confrontation between Russia and the West has gone so far that it is no longer possible to maneuver between two geopolitical centers of power; one must stand firmly on the chosen side. In the case of Minsk, on the side of Russia" (Regnum, October 20).
It remains to be seen which trend will prevail in the long run: the opposition-in-exile's calls for more sanctions to further isolate official Minsk, or increased efforts by Belarus and its neighbors to revive the country's multi-vector foreign policy. Belarus's strategic location between Russia and the European Union and its interest in having productive relationships with both are, nevertheless, two parameters cast in stone that will greatly influence this struggle. The next few months will be critical in determining Belarus's ability to conduct a more independent foreign policy.