The Kremlin Resumes Nuclear Testing in Escalation of Conflict With Ukraine and the West (Part One)
Publication: Eurasia Daily Monitor Volume: 20 Issue: 164
By: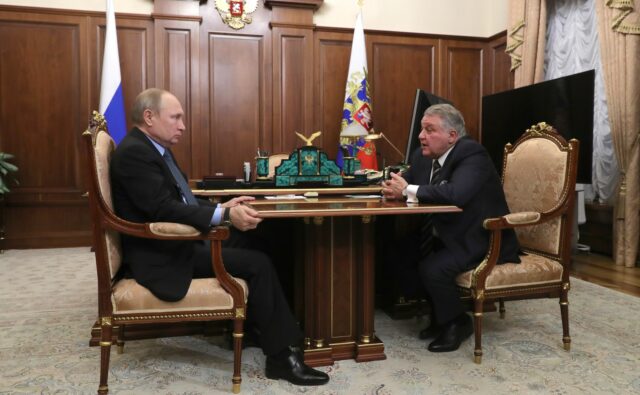 After taking a break for several months, Russian President Vladimir Putin has returned to employing nuclear threats. During his speech at the Valdai Club on October 5, Putin promised not to change Russia's nuclear doctrine nor launch preventive strikes. He made clear, however, that Russia is looking to resume nuclear testing and hinted to the State Duma that Russia's ratification of the Comprehensive Nuclear-Test-Ban Treaty (CTBT) should be withdrawn (Kremlin.ru, October 5; see EDM, October 13).
Putin gave two primary reasons for coming to the decision to cancel ratification of the CTBT. First, Russia has successfully tested the new nuclear-powered, nuclear-armed Burevestnik (SSC-X-9 Skyfall) cruise missile. Second, Russian specialists have allegedly advised testing the Burevestnik and Sarmat intercontinental ballistic missile (SS-X-29 or SS-X-30) with a nuclear payload. The CTBT, signed and ratified by Russia, does not allow for this. Putin sees no issue with revoking Russia's ratification as the United States has signed the treaty but has not ratified it.
Several Duma deputies immediately took Putin's "hint" and ran with it. On October 6, Vyacheslav Volodin, speaker of the State Duma, announced that the next Duma Council meeting would consider revoking Russia's ratification of the CTBT. The decision, according to Volodin, corresponds with Russia's national interests and will represent a symmetric response to the United States, which has yet to ratify the treaty (Duma.gov.ru, October 6). It took the State Duma less than two weeks to adopt the appropriate bill (Kommersant.ru, October 18).
Putin first discussed the possibility of resuming nuclear testing during his February 2023 address to the Federal Assembly. He announced the suspension of Russia's participation in the Treaty on Measures for the Further Reduction and Limitation of Strategic Offensive Arms (New START Treaty). The Russian president then ordered the Russian Ministry of Defense and the state atomic energy corporation, Rosatom, to ensure their readiness to test Russia's nuclear weapons. He stipulated that Russia would not do so first, but only in response to the United States resuming such testing (Kremlin.ru, February 21).
The most recent evidence that the Kremlin has been taking steps to make this a reality appeared in mid-August. At the time, Defense Minister Sergei Shoigu together with the head of Rosatom, Alexey Likhachev, flew by helicopter over Novaya Zemlya to inspect the nuclear test site there. Over 130 nuclear explosions were conducted at this site during the Soviet era from 1954 to 1990 (Telegram, August 11).
Domestic interest over Russia's position on nuclear testing has grown in recent months. For example, Mikhail Kovalchuk, director of the Kurchatov Institute, spoke out in support of such measures in late September. Kovalchuk commented on Russian political expert Sergey Karaganov's proposals to adjust the Russian state's official nuclear policy (Ria.ru, June 26). Kovalchuk suggested that Russian nuclear deterrence policy should be brought in line with current geopolitical realities characterized by the West's more aggressive stance toward Russia. He referred to the 1961 test of the most powerful Soviet nuclear bomb, Tsar Bomba, as an effective response to Washington's bellicose rhetoric. After the test, Kovalchuk asserted, "the Americans began to negotiate, instantly. … It is enough to conduct tests on Novaya Zemlya. One time, at least. And everything will fall into place" (Ria.ru, September 28).
Russian propagandists have used Putin's Valdai Club speech as the basis for spreading nuclear blackmail. Margarita Simonyan, editor-in-chief of state-controlled RT, declared that a "nuclear ultimatum" to the West will be the key to resolving the military conflict in Ukraine. She further stated that Russia would not "have to hit Washington" to defeat the United States. It would be enough to conduct a thermonuclear explosion over Siberia, and digital equipment, including satellites, would stop working across the globe (Telegram/MargaritaSimonyan, October 2).
Moscow has been quick to provide disclaimers for such combative rhetoric. Russian presidential spokesman Dmitry Peskov disavowed Simonyan's controversial statements. Peskov argued that Russia has yet to withdraw from the CTBT, which means it is a bit premature to discuss such prospects openly (Ria.ru, October 3). Mikhail Ulyanov, permanent representative of the Russian Federation to the International Organizations in Vienna, claims that withdrawal of Russia's ratification of the treaty does not mean that such tests will necessarily be conducted (Twitter.com/@Amb_Ulyanov, October 6).
Others in Russia share such views. Pavel Podvig, a well-known independent Russian expert, explains that the United States and Russia have a policy of keeping nuclear test sites prepared for the possible resumption of nuclear testing (Svoboda.org, October 6). This was documented by Washington when it declared a moratorium on nuclear testing and by Russia when it ratified the CTBT in 2000. Podvig also stated that the United States, Russia, and likely China are currently conducting experiments related to their nuclear military programs. The CTBT authorizes such "subcritical" tests that do not involve live nuclear explosions. Podvig's remarks came as evidence of recent construction activities have appeared on the Novaya Zemlya archipelago, home to one of Russia's nuclear testing sites (Censor.net, September 22).
Podvig doubts that Russia will resume nuclear testing for two reasons. First, after formally withdrawing from the CTBT, Putin would have to walk back his statements that Russia will not resume testing before the United States. Second, Russia will base its decision partly on the reaction of its remaining international allies, none of whom (except North Korea) would support the resumption of such testing (Svoboda.org, October 6).
Belarusian President Alyaksandr Lukashenka has also weighed in on the matter. According to him, by arming Ukraine, especially with long-range missiles capable of hitting Russian territory, the United States is pushing the Kremlin toward the use of nuclear weapons (President.gov.by, October 6). Lukashenka likely seeks to take advantage of the Russian tactical nuclear weapons stationed on Belarusian territory in supporting Putin's escalating nuclear rhetoric.
This is not the first time Lukashenka has signaled Moscow's intentions to escalate the conflict with Ukraine. In his annual address to the National Assembly in March 2023, the Belarusian president first presented the Kremlin's ultimatum: If Ukraine does not give up and agree to negotiate a peace settlement, then Russia will be forced to use nuclear weapons (President.gov.by, March 31).
Lukashenka's comments are especially important in drawing parallels to the beginning of discussions on the deployment of Russia nuclear weapons in Belarus in 2021. Back then, Lukashenka stated that Minsk would extend an offer to Russia to deploy nuclear weapons on its territory if the North Atlantic Treaty Organization took a similar step in Poland (Ria.ru, December 2, 2021). The two sides, however, signed an agreement to this effect only two years later, without waiting for NATO to deploy nuclear weapons first (Belta.by, May 25).
A similar logic lies behind Russia's withdrawal of ratification of the CTBT and renewed nuclear saber-rattling. The Kremlin now has the option to resume nuclear testing without waiting for the United States to do so. The West cannot discount the fact that Russia may unilaterally resume nuclear testing in considering the possible use of tactical nuclear weapons in Ukraine.