Free Rein of Special Services Makes Russia Ungovernable
Publication: Eurasia Daily Monitor Volume: 12 Issue: 43
By: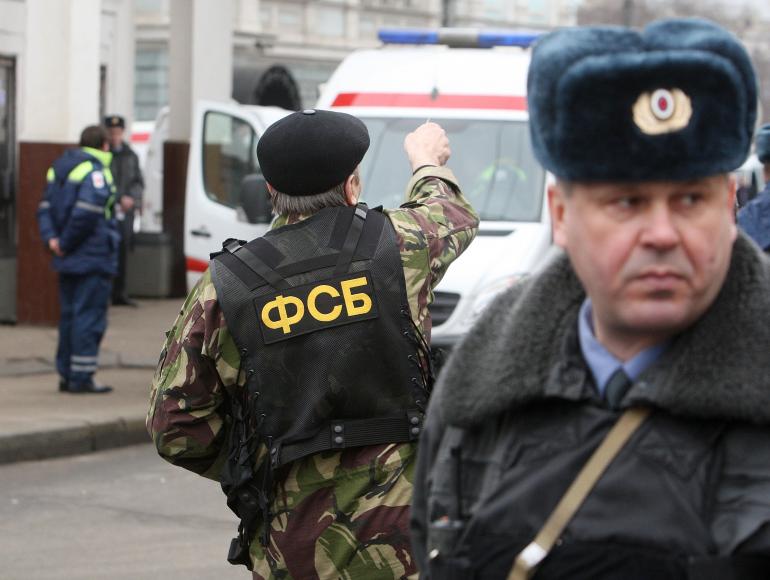 It took a week for the Russian Federal Security Service (FSB) to produce a pair of plausible suspects in the shocking murder of Boris Nemtsov on February 28 (see EDM, March 2). Last Saturday (March 7), FSB Director Aleksandr Bortnikov reported to President Vladimir Putin that two men implicated in the crime were under arrest; and on Sunday, another man killed himself with a hand grenade in Grozny (Newsru.com, March 7). The authoritative statement put an end to the flurry of wild speculations in the mainstream media, which had been eager to mix rumors about Nemtsov's private life with all sorts of conspiracy theories. Rather, the official announcement focused attention on the "Caucasian connection," since the names of the suspects—Zaur Dadayev and Anzor Gubashev—appeared distinctly Chechen (Rbc.ru, March 3). This breakthrough in the completely non-transparent investigation fit well with the instant solution found by Chechnya's despotic ruler Ramzan Kadyrov, who accused Western special services of organizing the murder in order to provoke internal conflict in Russia (Gazeta.ru, February 28). It remains only to connect the murder suspects to the Chechen rebels or the wider North Caucasus insurgency for this tragedy to morph into a story perfectly catered to the needs of the Russian propaganda machine.
Too many loose ends in this crime persist, however, for one to have any confidence in the official version (Moskovsky Komsomolets, March 5). Arguably, the area around the Kremlin is too tightly controlled and Nemtsov was too closely followed by the FSB to believe that a gang of free-lancers would dare to stage such a demonstrative execution (Moscow Echo, March 7). Video evidence showing numerous people and cars at the crime scene also conflicts with the story about a single killer making a fast hit and escaping in a car registered in Ingushetia (Moscow Echo, March 6). It was Alexei Navalny, an anti-corruption blogger and outspoken leader of the democratic opposition, who first concluded that the murder was nothing other than an operation by the special services (Rbc.ru, March 3). Last Friday, he was released from his two-week-long detention and told a small crowd of journalists that the act of terror that was Nemtsov's murder would not scare the opposition from doing its work (Novaya Gazeta, March 6).
The conclusion about a professionally executed special operation is logical and consistent with the proposition that the executioners were too arrogant and confident in their status as "untouchables" to prepare in advance a workable cover story (Slon.ru, March 5). It assumes, however, that the FSB is a well-functioning and disciplined hierarchy, which translates the wishes expressed by the supreme leader into fool-proof plans and acts on them unerringly (Forbes.ru, March 4). In reality, corruption has spread so deep inside this super-structure that it has mutated into a loose constellation of predatory factions pursuing their own and often violent agendas. Illustratively, the Federal Anti-Narcotics Service was the target of several recent hostile takeover attempts; and it is only by directly soliciting help from President Putin that its chief, Viktor Ivanov, has managed to fend off such challenges (RBC.ru, March 7). Often, the real agendas of maverick siloviki (security services personnel) are concealed in Russia by building up a case of "treason"—hence, investigations against "NATO spies" within the security services are already quickly proliferating (Newsru.com, March 7).
The Ukraine crisis has produced a plethora of new opportunities for Russian special services, and many of them are enthusiastically waging their own "mini-hybrid wars" with great zeal and scant attention to political guidelines. Multiple networks have arisen inside Russia to recruit "volunteers" for the Moscow-backed rebel forces in eastern Ukraine. Though, on the whole, these volunteers are still ineffective enough that the Russian Ministry of Defense had to deploy whole battalions in order to achieve success on the Debaltseve battlefield (Novaya Gazeta, March 2). Meanwhile, disregarding any ceasefire agreements, the Russian propaganda machine keeps running its hate-filled campaign under the watchful eyes and approving nods of minders from the special services. No commander-in-chief or general staff commands this blend of local war and global confrontation. And seemingly, each time Putin has tried to take control and ensure his orders were being properly executed, it turned out that the only order that could be carried out was to prepare a new offensive, which would be launched whenever some local warlord/special agent decided that the moment was right.
Running the war as an assortment of special operations, Putin's siloviki are confronted with the fact that the Russian economy cannot be run the same way—resulting in their apparent confusion about the trajectory of the recession. They continue their feuds over those business enterprises that are still lucrative. Notably, Sakhalin's governor, Aleksandr Khoroshavin, who failed to build a proper connection with one or another special services branch, has fallen victim to these rent-capturing attacks camouflaged as the government's struggle against corruption (Vedomosti, March 4). At the same time, the dangerous fall in Russians' real incomes and the clear rise in poverty are seemingly of little concern for the Kremlin's billionaire-courtiers (Gazeta.ru, March 6). They tend to dismiss warnings from such think tanks as the Gaidar Economic Policy Institute that the country's 19-percent contraction in investment activity (caused not by a shortage of capital but by prohibiting risk assessments) could translate into a 6.8-percent fall in GDP by the end of 2015 (Slon.ru, March 6). Rather, the siloviki pay particularly close attention to the European Union's sanctions policy. Consequently, Russia's attempts to increasingly coerce Ukraine by using gas exports as a tool of political pressure was abandoned last week after a firm warning signal from Brussels (Rbc.ru, March 2).
Putin is no more able to assert effective control over rogue elements within the special services than his subordinates are able to turn Rosneft or Russian Railways into modern, efficiently managed corporations. The best he can hope for is to keep up the appearance of firm leadership: and pinning the blame for the elimination of a brave dissident on Western-sponsored Chechen rebels is a convenient means toward this end. Such a policy, however, cannot alter the reality of the ungovernability of the siloviki-dominated Russian state, which oversees a degenerating crony capitalist economy.