FROM CIS TO CSTO: CAN A "CORE" BE PRESERVED?
Publication: Eurasia Daily Monitor Volume: 2 Issue: 125
By: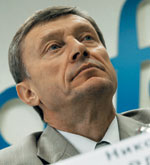 At the Moscow summit of the CIS Collective Security Treaty Organization (CSTO) and in its wake, Russian officials have publicly acknowledged the fragmentation of the "post-Soviet space" and announced some corresponding decisions on two levels: the lexical and the political-military (see EDM, June 24 and separate article in this issue).
On the lexical level, the "post-Soviet space" has now officially been taken out of usage. Russian leaders view that former entity as splintered three ways: the Baltic states in NATO and the European Union, six countries in the CSTO, and another six CIS countries pursuing their own course, four of them pro-Western. Thus, "The term 'post-Soviet space' fails to reflect the existing realities," Minister of Foreign Affairs Sergei Lavrov concluded. CSTO Secretary-General Nikolai Bordyuzha emphatically agreed: "This [post-Soviet space] term is political jargon that we should get rid of. As from today, the term 'post-Soviet space' is to be removed from all official CSTO documents" (Interfax, June 22).
Such cleanup is a rare occurrence in the vocabulary of Russian political communications. Back in 1997, then-CIS Affairs Minister Anatoly Adamyshyn recognized that the term "near abroad" was an offensive one and announced that it would be discarded. It took several years for that term to disappear from the official parlance. "Post-Soviet space" may linger also.
At the CSTO summit, Russian Defense Minister Sergei Ivanov proposed to separate a functional "core" from the rest of the CIS: "We perfectly realize that CSTO is the military-political core of the post-Soviet space. And we are taking steps and measures to develop this system outside the CIS format" (RTR Russia TV, June 22).
Along with the concept of "core," Moscow has introduced the term "zone of CSTO's responsibility and adjacent areas (prilegayushchie rayony)" (Interfax, June 23, 24). Putin himself used this construct during the CSTO summit, in preparation for his meeting with NATO Secretary-General Jaap de Hoop Scheffer, which was held the following day. This construct is central to Putin's quest for international recognition of the Russian-led CSTO as a regional security organization, part of a global security system in which Russia would enjoy a sphere of influence and bloc-leader status. The "adjacent areas" are a thinly veiled reference to non-CSTO countries such as Georgia. Moldova, and potentially Uzbekistan and Afghanistan, in which Russia variously claims a monopoly on peacekeeping and conflict-resolution, latitude for "anti-terrorist" actions, and special consideration of Russian interests.
The terms "near abroad" and "post-Soviet space" sought to confer to Russian policy an appearance of multilateralism through CIS institutions. The unraveling of the CIS and the doubtful prospects of the CSTO can create temptations in Moscow to use raw power even against member countries, whether for reasons of geopolitics or internal Russian politics. Thus, writing in the governmental Rossiiskaya gazeta, Vitaly Tretyakov prescribes national irredentism and border revision among 10 steps for Putin to take in order to secure a third term as president of Russia. Tretyakov recommends that Putin should endorse the partial restoration of a Union State, make public his concept for such a state, name its possible members [from among post-Soviet countries], and begin by building a Russia-Belarus union state. Moreover, Putin should announce the goal and possible plans for the "reunification of Russians within one state." This latter recommendation implies border revision in northern Kazakhstan and Crimea at the very least (Rossiiskaya gazeta, June 23).
On the military level, Moscow is now well advanced in dismantling the defense structures of the CIS, hoping to create more effective ones in the CSTO. Russian officials at the summit and afterward explained this trend by noting that certain CIS countries are not CSTO members and aspire to join NATO. Thus, the summit decided to separate the unintegrated CIS Joint Air Defense System (nominally of ten countries) from the integrated CSTO United Air Defense System (planned by six member countries).
The long-idle CIS Staff for the Coordination of Military Cooperation is about to be closed. That Staff's First Deputy Chief, Russia's Colonel-General Ivan Babichev, was appointed First Deputy Chief of the CSTO's Joint Staff at the CSTO summit. The summit also decided to appoint Army General Yuri Baluyevsky as head of the CSTO Staff. Baluyevsky is the incumbent chief of the General Staff of Russia's Armed Forces. Such dual-hatted appointments used to be characteristic of the Warsaw Pact, some of the organizational principles of which were carried over later into CIS military structures. Officially activated in 2004, but not yet fully functioning, the CSTO Joint Staff currently consists of 55 officers and is tasked to develop the CSTO Rapid Deployment Forces.
(Interfax, June 22-25; Nezavisimaya gazeta, June 25)