From Ostentatious Parade to Fraudulent Vote, Putin Tries to Cement His Crumbling Rule
Publication: Eurasia Daily Monitor Volume: 17 Issue: 93
By: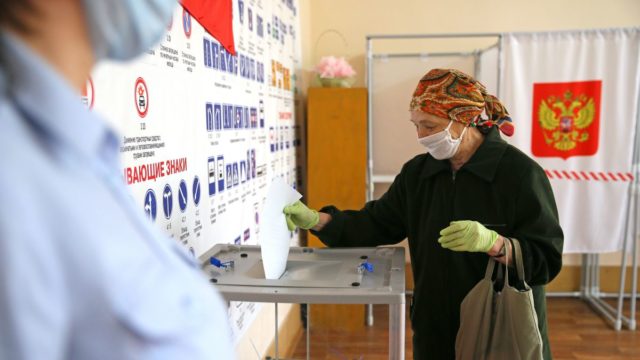 As the tanks rolled off Moscow's Red Square last Wednesday (June 24), the Russian propaganda machine instantly switched from glorifying extra-modern militarism to trumpeting the next pivotal political event—the public vote on the package of amendments to the constitution, which began on June 25 and is set to continue until July 1. The Victory Day military parade itself was postponed from May 9, due to the COVID-19 pandemic, which has by no means weakened; but President Vladimir Putin needed this demonstration of Russia's military might to create patriotic momentum that would culminate in a resounding political victory (see EDM, June 25). The voting is organized with all sorts of special arrangements for casting ballots by electronic means and absolutely no independent monitoring. It is not, strictly speaking, a referendum, but rather a one-off mobilization of public support, intended to enshrine Putin's unique status. Indeed, the only meaningful proposition included among the dozens of amendments, formulated in a heavily casuistic and grammatically incomprehensible language, grants Putin the opportunity to stand again in the presidential elections in 2024 by "annulling" his previous terms in office (Newsru.com, June 26).
It is still not entirely clear why Putin decided to create this opportunity for himself in such a complicated and legally dubious way, distorting the normal process of revising the constitution and resorting to such circuitous means of collecting the clearly fake "overwhelming" vote in favor of his political project (Ezhednevny Zhurnal, June 26). Russian public opinion has remained confused and divided about the rationale for the amendments, and the expected shamelessness of the massive falsifications will certainly turn many indifferent non-participants into potential protesters (Svoboda.org, June 26). Liberal experts and activists argue that the integrity of the constitution is being severely compromised: in a not-so-distant future, it might take only a simple piece of legislation in the State Duma to cancel all the changes, perhaps as a first step toward writing and adopting a wholly new constitution (Rosbalt, June 25; Newsru.com, June 28).
Putin's stubborn execution of the plan, launched at the start of the year and surprising even insightful observers, illustrates his desire to prove that the sudden arrival of a complex crisis changes nothing in the way Russia is governed. The impact of that crisis is, however, far greater than the Kremlin is ready to admit, and the small financial "gifts" Putin keeps announcing for the country's impoverished families and ruined businesses cannot begin to address the collective pain of economic contraction, which is gaining strength (Forbes.ru, June 25). The crude manipulation of public support for the "Potemkin constitution," as it has come to be known, is meant to prove to the doubtful elites that Putin is indispensable as the only effective populist who can communicate with and control the disgruntled "masses" (Novaya Gazeta, June 27). The elites, nevertheless, are disappointed in his aloof leadership, worried about the safety of their ill-gotten fortunes, tired of continually having to demonstrate sycophantic loyalty, and unhappy about the looming uncertainties in the immediate future (Carnegie.ru, June 26).
In the weeks after scoring his desired victory in the divisive plebiscite, Putin will have to produce a meaningful answer to the "Now what?" question regarding Russia's economic recession and a looming second wave of the undiminished pandemic. His strong preference would be to produce a breakthrough in foreign policy, perhaps by presenting the proposed summit of the five permanent members of the UN Security Council as a global proto-governance forum—similar to the Yalta arrangement that he persistently praises in his references to the end of World War II (Nezavisimaya Gazeta, June 26). The main counterpart in such an imagined arrangement would certainly be the United States, but Putin cannot find a useful connection with the political agenda of President Donald Trump. Russia is desperately pushing for a prolongation of the expiring New START nuclear arms reduction agreement, but it cannot deliver any sign of interest from China regarding joining this framework, and Trump has objected to any nuclear arms control deal without China's participation (Kommersant, June 24). Meanwhile, Moscow tries to utilize the "historically correct" narrative on the causes of World War II to put pressure on Poland—even as Trump greets Polish President Andrzej Duda in the White House (Izvestia, June 26). Finally, Russia cannot possibly provide any support to Trump's "Peace for Prosperity" plan for Israel and the Palestinians, and its "hybrid" warfare in Syria and Libya generates irritation in Washington rather than incentives for engagement (Russiancouncil.ru, June 25).
The only area where the Kremlin could find some common ground with the Trump administration is in countering extremism, anarchy and terrorism; but bringing domestic troubles into the international arena is an awkward and unlikely step. Russian authorities are demonstrating readiness to suppress anarchist networks with extreme harshness, for instance by punishing purported members of a dubious organization known as Set ("Net") with long jail sentences, on flimsy evidence of any crime (Fontanka, June 22). This clampdown stands in contrast with the high-resonance case against Kirill Serebrennikov, an outstanding theater producer accused of embezzling budget subsidies and punished—against the background of loud protests from Moscow's intellectual elites—with a suspended sentence (Moscow Echo, June 26). The mechanism of repressions in Russia is ready for large-scale operations; but for the Kremlin to turn it into a useful tool for foreign policy, the country would need to see a new surge of cross-border extremist acts and terrorist attacks. It is not beyond Russian special services to try to "organize" such a surge. However, the potential damage from the exposure of their attempts to manipulate available terrorists, for instance in Afghanistan, could be heavy (Kommersant, June 27).
The sequence of new global challenges and deepening domestic crises is producing new societal dynamics in Russia. As expanding discontent increasingly focuses on these fast-changing issues, the Kremlin's attempts to "cement" the foundation of autocracy is doomed to failure (New Times, June 24). Whatever figures of "overwhelming support" for Putin's indefinite rule the concerned authorities are set to produce, the structures of governance, corroded by corruption and deformed by dominant militarism, will not become any more efficient. The option of slow stagnation and habitual acceptance of injustice by the passive populace is already eliminated by the unfolding calamity, and the ruling bureaucracy is likely to progress from denial to belated overreaction and panic.