FURTHER RUSSIAN MILITARY ACTION IS POSSIBLE
Publication: Eurasia Daily Monitor Volume: 5 Issue: 169
By: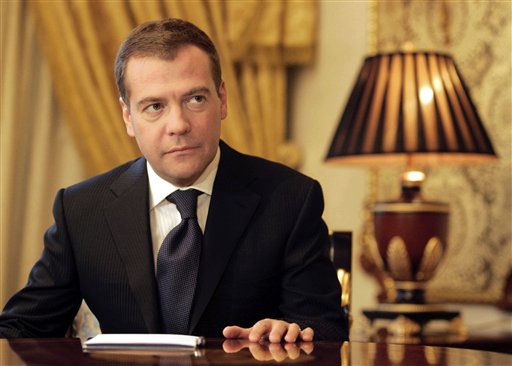 After the EU summit on September 1 in Brussels, French President Nicolas Sarkozy told a press conference, "All of Europe is united" against Moscow's behavior in Georgia. "We can't go back to the age of spheres of influence; Yalta is behind us," stated Sarkozy, referring to the post-World War II conference that divided the world and created new borders throughout Europe (AFP, September 1). Russian President Dmitry Medvedev and Prime Minister Vladimir Putin in turn claimed victory, after the EU stepped back from imposing sanctions over Russia's partial occupation of Georgia.
Medvedev in a TV interview acknowledged that not all EU member nations understood Russia's "good intentions" in Georgia, but "the majority want a constructive relationship and do not want to spoil relations." Medvedev accused the United States of arming Georgia and inspiring it to attack South Ossetia. He claimed that the G8 group of industrial democracies would be "dysfunctional without Russia, so we are not afraid someone might exclude us." Medvedev stated that Russia was ready to discuss the normalization of the situation, but not with "the present bankrupt Georgian regime," adding "President Mikheil Saakashvili for us does not exist–he is a political corpse" (www.kremlin.ru, September 2).
Speaking in Uzbekistan, Putin praised EU leaders for trying to find common ground with Russia. Putin singled out Sarkozy's use at the press conference of the expression "the Saakashvili regime," saying that in his opinion this demonstrated a convergence of views between Moscow and Paris about the present Georgian government being undemocratic and "a regime of personal power" (www.government.ru, September 2). Apparently, Putin wanted very much to hear what was not, in fact, said and was misled by the translation. In Russian "regime" has a strong negative meaning (for instance, fascist regime), while in French it is rather neutral (www.newsru.com, September 2).
This week Medvedev revealed his new personal Russian foreign policy doctrine in an interview to Russian national TV channels. It states, "The world must be multi-polar," while U.S. domination "is unacceptable." Russia will defend its citizens abroad and claims to have "regions of privileged interests"–its close neighboring states, "with which we have historically special relations" (www.kremlin.ru, August 31).
It is clear the Kremlin is openly claiming as its "privileged" sphere of influence the territory of the former Soviet Republics that became independent in 1991 and have sizable minorities of Russian passport-holders. The invasion of Georgia is apparently the first move to enforce this sphere to keep the West and NATO out.
Putin announced, "There are no Russian troops left in Georgia, only peacekeepers." He claimed that "There are no Russian troops in the Georgian port city of Poti, only peacekeepers nearby." He insisted that "Russian peacekeepers" would stay in the "security zones" in Georgia and, moreover, that Russia retained the right to impose "additional security measures" that it has not yet used. Putin blasted the United States for sending humanitarian aid to the port city of Batumi in southern Georgia on the Turkish border using armed naval ships. "We will surely answer," he said, "but in a way you will know later" (www.government.ru, September 2).
The United States has repeatedly denied that it is sending Georgia military supplies under the guise of humanitarian aid, but the Russian Defense Ministry has declared that the U.S. military is shipping thousands of tons of supplies "including military ones" by sea to Batumi and by air to Tbilisi. Emboldened by this support, Georgia is massing troops and preparing "terrorist-guerrilla" attacks in Abkhazia and South Ossetia (Interfax, September 2). Russian Foreign Minister Sergei Lavrov has called for an arms embargo on Georgia "while the Saakashvili regime exists" (Interfax, September 1).
It is possible that Moscow is ready to begin to enforce such an embargo, by invoking the "additional security measures" as part of Putin's mysterious answer. Russian warships and tanks may be moved to Batumi and other forces to the capital of Tbilisi under the pretext of checking U.S. aid shipments. Such a move would effectively choke off Georgia's connections with the outside world.
By invading Batumi, the capital of the autonomous Ajara Republic, Russia may hope to encourage a local separatist movement to break up Georgia further. Aslan Abashidze, the warlord who ruled Ajara from 1992 to 2004, is at present in exile in Moscow. By taking over Tbilisi International Airport and causing a panic in the capital, Moscow may hope finally to topple the "Saakashvili regime" and at the same time embarrass the hated Americans.
Winter bad weather and snow in the mountains are coming soon. The Russian military has only until the end of October to finish off the job in Georgia this year. The EU summit may be seen as a green light to go ahead, while the West is ready to use only hot words that are watered down anyway by "our friends in Europe"–Italy, France, and Germany, which Putin specifically praised for their "understanding" (www.government.ru, September 2).