Gagauzia's Head Urges Russia, Turkey and Azerbaijan to Be Guarantors of Its Survival
Publication: Eurasia Daily Monitor Volume: 10 Issue: 61
By: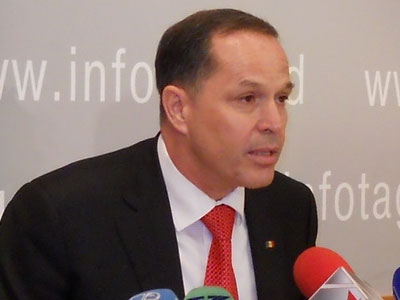 Moscow's latest moves against Moldova, including Foreign Minister Sergei Lavrov's call for opening a Russian consulate in Transnistria (politicom.moldova.org/news/russia-opening-a-consulate-in-transnistria-does-not-mean-recognizing-the-region-236048-eng.html), have attracted far more attention, but a speech by Mikhail Formuzal, the head of Gagauzia, to a meeting at an Istanbul university last week (regnum.ru/news/polit/1640299.html) may ultimately prove more significant. At the very least, Formuzal's call for Russia, Turkey and later Azerbaijan to become guarantors of the survival of the Gagauz people's autonomy in Moldova and of their nation both introduces a new element to the geopolitical game around Chisinau and may prove suggestive to other minorities elsewhere in the former Soviet space.
Speaking at Aydin University on March 25, the Gagauz bashkan (governor) said that it is wrong to think that only great powers have geopolitical agendas. Small peoples have them as well, and in the current century where assimilationist forces are great, most of them are seeking support both within the states in which they live and from abroad to provide them with the backing that will ensure their survival or even flourishing (regnum.ru/news/polit/1640299.html).
The Gagauz are a numerically small Christian Turkic people who live in the southern part of Moldova, but, Formuzal noted, they "have been able to preserve the Gagauz language, to develop an alphabet, to promote their tradition and customs" and to achieve their own autonomous territorial formation within the Republic of Moldova in 1994.
But like almost all other numerically small peoples, he continued, the Gagauz are currently subject to strong assimilationist pressures and are seeking "reliable mechanisms" to defend their culture and identity. One of the most promising directions in that regard, the bashkan suggested, would be the involvement of neighboring countries like Turkey and the Russian Federation as guarantors of the Gagauz autonomy and of the Gagauz people. He added that in the future, it might be possible for Azerbaijan to serve in that capacity as well.
Were all this to happen and were these countries to become involved with the Gagauz in this way, Formuzal said, "Gagauzia would become a model of partnership for the Turkic and Slavic worlds" and thus a possible model for others as "a successful example of the resolution of a complicated issue by peaceful means." And he added that the European Union's approach to national minorities, something he described as having "enormous importance," would certainly allow room for the realization of his proposals.
Indeed, he concluded, the Gagauz case "testifies to the fact that if the residents of an autonomy, together with the organs of power and with the support of the international community, set for themselves the most difficult task and consistently take up its resolution, [that] task will be solved." And that means that in the contemporary world, "the voice of every people," including the smallest ones, "can be heard throughout the entire world" rather than disappear through absorption by larger ones—particularly if even larger countries intervene on their behalf.
Formuzal's remarks are not simply a reflection of Gagauz aspirations, a tip of the hat to his Turkish hosts, or an effort to have it every which way by mentioning not only Ankara but also Moscow and Brussels. All those factors may be involved, but there are three reasons why his call for Russia and Turkey to become guarantors of Gagauzia and the rights of the 200,000 members of that Turkic-speaking but religiously Orthodox community is much more important than just that.
First, as noted above, they cannot be understood except in the context of what Moscow has been doing to pressure Moldova to shift away from Europe. The Russian government will be only too pleased to have yet another lever to use against Chisinau, and the Gagauz are suitable, as they have shown before (see EDM, March 19). Because the Moldovan government has recognized their right to secede and form their own independent state if Moldova itself breaks up, Formuzal's statement has the effect of raising the stakes for Chisinau about both the status of Tiraspol and Moldova's relationship with Europe.
Second, the bashkan's statement represents a clear effort to further "internationalize" the domestic problems of Moldova by roping in Turkey and even the EU on another front. For Turkey, which has supported the Gagauz in the past, this is a potential trap because if internationalization allows Moscow to politically domineer Chisinau, Turkey would likely see its Gagauz partners sold out by Moscow. That is certainly not what Ankara wants to happen, but it is a very real danger if Turkey moved to accept Formuzal's proposal.
And third—and this may be the most important aspect of the Gagauz statement of all—if Turkey were to agree to serve with Russia as a guarantor of the status of the Gagauz, Moscow would undoubtedly use such a precedent elsewhere to pressure its neighbors to break with the West and return to Moscow's orbit.