GAS FROM IRAN TO BREAK GAZPROM'S MONOPOLY IN ARMENIA
Publication: Eurasia Daily Monitor Volume: 3 Issue: 14
By: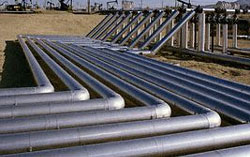 Moscow's intention to double the price of gas supplies to Armenia (see EDM, January 17) vindicates Yerevan's decision to de-monopolize the market by importing gas from Iran. Armenia thus becomes the first among formerly Soviet-ruled countries (outside Central Asia) to diversify its supply sources away from Russian-delivered gas.
Under agreement with Armenia's government, the National Iranian Gas Company (NIGC) is laying a pipeline from Tabriz in northwestern Iran to Armenia, at a cost of $220 million. With construction now running slightly ahead of schedule, the 160 kilometer line is expected to be commissioned in autumn 2006 and to operate at full capacity by mid-2007. The price of gas has been agreed at $85 per one thousand cubic meters at the Armenian border. The line is scheduled to supply Armenia with 1.1 billion cubic meters of gas annually in the first four years of operation, with the option to double that volume in the ensuing years.
By way of comparison, Russia supplied Armenia with 1.7 billion cubic meters of gas in 2005 at the old price of $54 to $56 per one thousand cubic meters, and now demands $110 per one thousand cubic meters as of April 1. Prior to the start of the Iran project, Moscow cajoled Yerevan into accepting a change in design, halving the line's diameter to 770 millimeters, so as to preclude export of Iranian gas via Armenia to Georgia.
Iran-supplied gas to Armenia will probably originate in Turkmenistan. The latter delivers gas to northern Iran, which lacks access to the distant gas fields in southern Iran. Turkmen gas reaches northern Iran through the Korpeje-Kurt Kui pipeline, whose design capacity of 13 billion cubic meters annually can accommodate additional volumes earmarked for Armenia. The line carried 6 billion cubic meters of gas to Iran in 2005 and is scheduled to carry 8 billion cubic meters in 2006.
The $85 price on Iran-delivered gas to Armenia was agreed upon in 2005. Whether this price can be sustained in 2006-2007 and thereafter seems far from certain. Turkmenistan increased the price on its gas from $44 to $50 at its border in 2005, and announced a further increase from $50 to $60 per one thousand cubic meters, to take effect during 2006. Even so, Iran's price offer to Armenia is clearly more advantageous, compared to Russia's extortionate demand of $110 for Gazprom-delivered gas, which also originates in Turkmenistan.
The Iran option does not constitute an "alternative" to Gazprom's gas in Armenia; it could only play that role in the hypothetical event of force-majeure interruptions in the transit of gas from Russia via Georgia to Armenia. Rather, gas delivered from Iran would end the Russian monopoly on Armenia's market, offsetting Moscow's ability to dictate the price or impose concessions on Armenia. Yerevan will be far better placed to negotiate with Moscow, once the Iran option becomes available.
Armenia will compensate Iran with electricity for the gas. They have agreed on a 3:1 ratio, i.e. 6 billion Kw/h of electricity for 2 billion cubic meters of gas per year (including the gas for electricity generation). The electricity is to originate at the Hrazdan power plant's fifth power bloc, currently under reconstruction by Iranian state companies on a $160 million credit. The work is scheduled to be completed in late 2007. Iran's state electricity company, furthermore, is constructing a high-voltage transmission line to connect Hrazdan with Iran.
Owned by the Armenian government, the fifth power bloc at Hrazdan is the most modern and will operate independently from the other four. These were turned over in 2002-2003 to Russia's United Energy System (UES), as part of the debt-for-assets deal that settled Armenia's $96 million debt to Russia. Last year, UES and Gazprom formed a consortium to participate in the tender for completion of the fifth power bloc, as well as to lay the gas pipeline's section on Armenia's territory up to the border with Iran. Yet Yerevan chose Iranian companies for this project.
At the moment, Gazprom offers to be flexible on the price of gas to Armenia, if Yerevan cedes its ownership of the Hrazdan fifth bloc to Gazprom and/or UES. Such a solution could jeopardize the Iran gas supply project, with which that power bloc is inseparably linked.
(Mediamax, Noyan Tapan, Arminfo, January 3-19)