Gazprom Advances in Germany
Publication: Eurasia Daily Monitor Volume: 11 Issue: 11
By: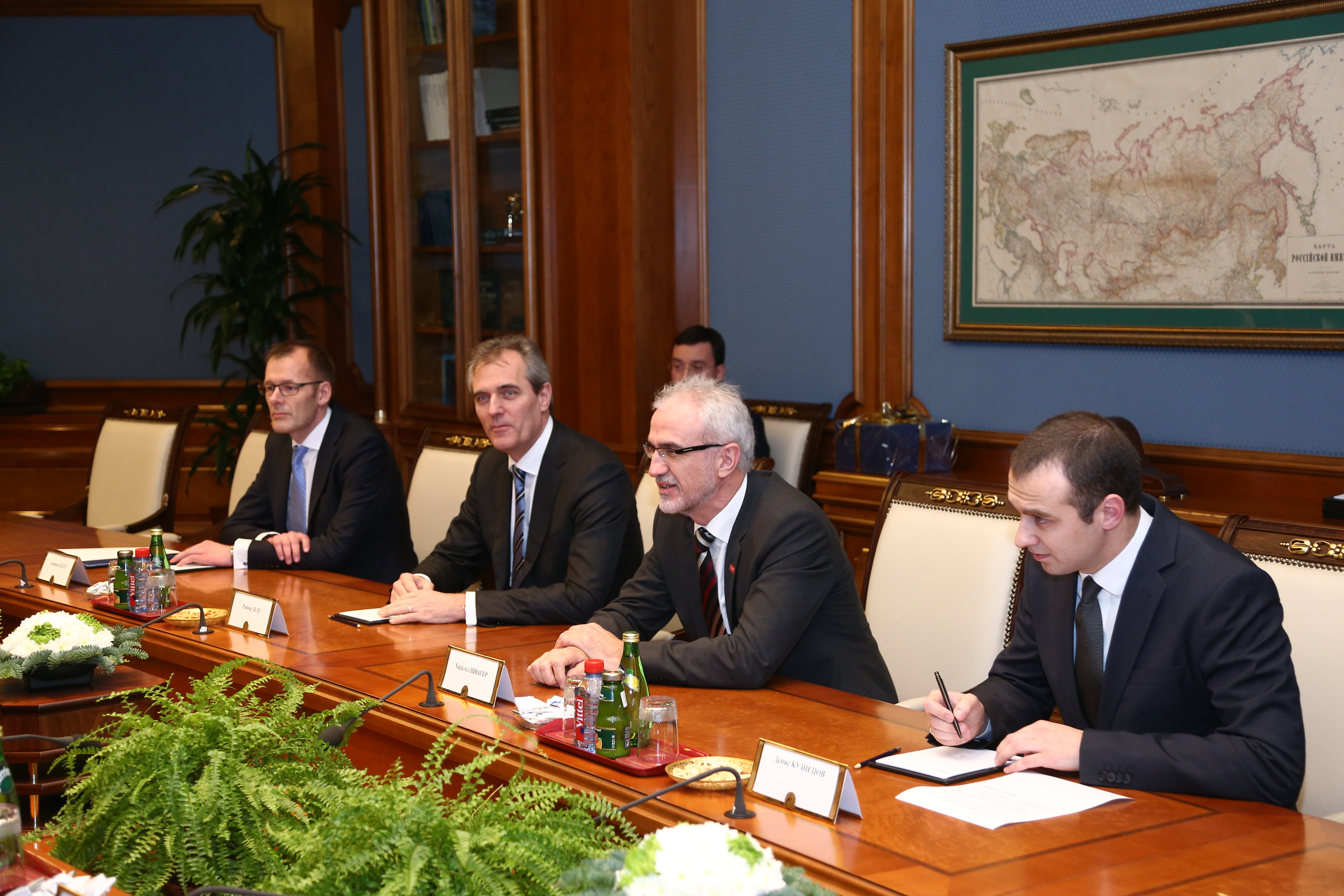 Russian Gazprom is taking over most of the core business of its German partner, Wintershall, in the natural gas trade and storage business. The two companies had conducted that business through the Wintershall-Gazprom joint venture, WINGAS, from 1993 to date. Gazprom is now turning WINGAS into a fully-owned subsidiary, and Wintershall is "exiting" (see EDM, January 17).
This cannot be a willing exit. On the contrary, Wintershall had prospered in the gas trade, storage and transportation business, largely on the strength of Russian natural gas supplies.
Wintershall had staked its strategy on that special relationship with Gazprom. It facilitated Gazprom's pre-eminence in the German market and Gazprom's penetration into Germany's strategic infrastructure. It would be fair to say that no German energy company contributed as much as Wintershall did, for corporate business reasons, to Gazprom's expansion. However, Wintershall has now ended up losing most of the assets it had developed through this joint venture with Gazprom.
During a time-span of 20 years, Gazprom used WINGAS to develop jointly owned pipelines and storage sites in Germany. In a steady process, Gazprom obtained a growing measure of control over those infrastructure assets. WINGAS provides this chronology of its history (www.wingas.de, accessed January 15):
In 1993, Wintershall and Gazprom founded the joint venture WINGAS for marketing Russian gas in Germany. At that time, Wintershall held 65 percent of the joint venture's shares, while Gazprom held percent. But Gazprom went on to reach parity in due course, finally culminating in a complete takeover.
Also in 1993, Wintershall completed the "Stegal" and "Midal" pipelines (running across Germany east-west and north-south, respectively) and commissioned the Rehden underground gas storage site. The two pipelines and the storage have operated under the shared control of Wintershall and Gazprom via WINGAS. In 2012, "Stegal" and "Midal" were transferred to WINGAS's spinoff Gascade Gastransport (see below).
In 1996-98, WINGAS built the "Wedal" pipeline, connecting Germany with Belgium. This pipeline was also spun off to the Gazprom-Wintershall joint company Gascade Gastransport in 2012.
In 1999, WINGAS completed the "Jagal" pipeline (for Russian gas delivered by the Yamal-Europe pipeline); and expanded the Rehden storage capacity to become the largest in Western Europe at 4.2 billion cubic meters (bcm). In 2013, Rehden passed from WINGAS to a Gazprom subsidiary, Astora (see below).
In 2003, Gazprom entered the Belgian market from Germany through the "Wedal" pipeline (see above) and the WINGAS-Belgium trading company, an extension of the Gazprom-Wintershall WINGAS.
In 2004, WINGAS entered the Austrian, French, and British gas markets (anchored in Britain by the acquisition of the Saltfleetby storage site), and in 2005 the Czech market.
In 2005, WINGAS commissioned the Haidach storage site, mainly for Russian gas in Austria, near the German border.
Also in 2005, Wintershall and E.ON Ruhrgas joined with Gazprom to build the Nord Stream pipeline on the Baltic seabed, from Russia to Germany. They contracted for Russian gas supplies through this route. Wintershall and E.ON Ruhrgas each took 25.5 percent stakes, subsequently reduced to 15.5 percent, alongside Gazprom with a locked-in majority of 51 percent. In 2011, Nord Stream's Line One and Line Two were completed, with a combined capacity of 55 bcm per year targeting the German market.
In 2006, WINGAS expanded the "Stegal" and "Wedal" pipelines' capacities (now with Gazprom's German joint venture Gascade Gastransport).
In 2008, Wintershall lost its former dominance in WINGAS, accepting parity: a re-distribution of shares gave Wintershall 50.02 percent and Gazprom 49.98 percent.
By 2010, pipelines in Germany under Gazprom's shared control via WINGAS totalled 2,300 kilometers in length.
In 2011, WINGAS expanded the Haidach storage capacity to 2.6 bcm. In the same year, WINGAS [re-named "W & G", for Wintershall & Gazprom] completed the "Opal" pipeline, from Germany's Baltic coast southward to the German-Czech border. With an annual capacity of 36 bcm, this is the largest-capacity overland pipeline in Western Europe. "Opal" is dedicated to transporting Gazprom's Nord Stream gas inland into Germany and the Czech Republic (connecting with the Gazelle pipeline there).
In 2012, control over WINGAS's [W & G] pipelines (total length 2,300 kilometers) was transferred to Gascade Gastransport, a subsidiary of WINGAS (www.gascade.de). In the same year, control over the storage sites (see above) was transferred to Gazprom's subsidiary, Astora (www.astora.de).

In 2013 the NEL pipeline, from Germany's Baltic coast westward to Rehden, with an annual capacity of 20 bcm, was completed by a consortium with WINGAS [W & G] as 51% majority owner. Gascade Gastransport and is the operator. NEL is dedicated (like the "Opal" pipeline—see above) to carrying Gazprom's Nord Stream gas inland into Germany and beyond.
Also in 2013, Gazprom announced its intention to take over Astora (see above) in full ownership, including the storage sites Rehden, Haidach, and Jemgum (the latter became operational in 2013), with a total storage capacity of 8 bcm. Meanwhile, Gascade Gastransport has apparently switched from German to joint German-Russian management at the top by October 2013 (www.astora.de, www.cascade.de).
In December 2013–January 2014, Gazprom took over 100 percent ownership of WINGAS, as well as confirming Gazprom's full takeover of Astora (www.astora.de, www.wingas.de; see EDM, January 17).