Gazprom and Western Companies Compete in Iran
Publication: Eurasia Daily Monitor Volume: 6 Issue: 106
By: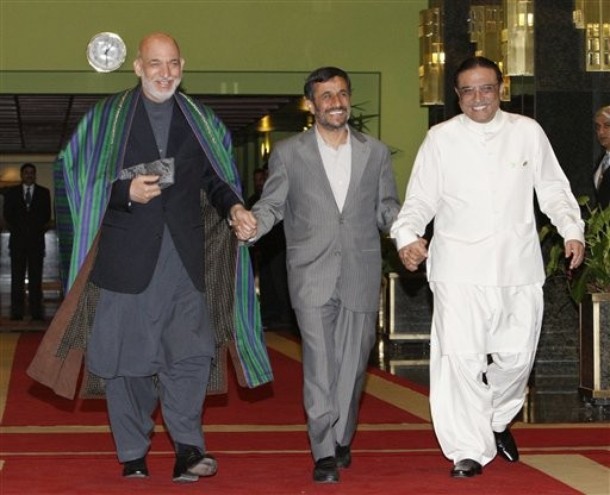 On May 24 in Tehran, Iran's President Mahmoud Ahmadinejad and his counterpart in Pakistan Asif Ali Zardari signed an intergovernmental framework declaration on gas pipeline construction and gas deliveries from Iran to Pakistan. The declaration pledges support for the agreements of intent, signed by the two countries' oil ministries and national oil and gas companies. Ahmadinejad and Zardari signed the framework document during the tripartite summit in Tehran, in which Afghan President Hamid Karzai also participated.
Iran holds the second-largest natural gas reserves worldwide, with the largest export potential. The U.S.-instituted, decade-old sanctions have forced a halt to development of gas fields, export pipelines, and LNG terminals in Iran. The unintended but pernicious effect has been to shield Russian Gazprom from a strong competitor in European markets. At least five major European companies, as well as Gazprom, have signed memoranda of understanding (MOU's) in the last few years with Iran on natural gas development and exports. The Europeans are eager to proceed with the development of South Pars gas fields in Iran as soon as the risk of incurring U.S. sanctions recedes. Gazprom, more boldly, seems prepared to join the Iran-Pakistan deal as a third party, irrespective of U.S. sanctions.
From a U.S. policy perspective, the signing event in Tehran illustrates the obsolescence and, increasingly, the futility of an "isolation" policy that tries to keep Iranian gas locked in the ground. Zardari and Karzai count as U.S. allies of necessity, spawned by a war of choice turned awry. They went to Tehran in the context of promoting a "regional solution" -one with Iran's cooperation- that the United States has decided to seek with some urgency in Afghanistan (as it does in the parallel case of Iraq). Their visit almost certainly gave Ahmadinejad's re-election campaign a boost, without significant objections from the United States.
Under the framework agreement, Iran will supply 11 billion cubic meters (bcm) of gas from South Pars to Pakistan annually from 2015 onward, in the first stage of the project. The pipeline route totals approximately 2,000 kilometers in both countries. Each country will be responsible for financing the construction on its own territory. Construction work is due to start in September 2009 and to be completed by mid-2014. Iranian officials claim that the first gas might flow by 2013. The volume of deliveries will then double to 22 bcm in the project's second stage.
In a separate preliminary agreement, the National Iranian Oil Company (NIOC) and Pakistan's Inter State Gas Systems (ISGS) laid the basis of a pricing formula for Iranian gas, pegged to the price of oil. The companies expect to draft a gas sale-purchase agreement (GSPA) within several weeks and finalize it in several months (IRNA, May 25 – 27; Business Recorder [Pakistan], May 26, 29). However, judging from past experience these negotiations might take longer.
The Iran-Pakistan gas pipeline project stems from the even more ambitious Iran-Pakistan-India (IPI) project, under discussion for more than a decade. The Indian government was uneasy about entrusting its supply security to Pakistan. India withdrew (perhaps temporarily) from the negotiations in 2008 amid disputes over prices and transit fees. However, at the signing event in Tehran and afterward, Ahmadinejad and the Iranian ministry of foreign affairs declared that the project remains open to India and that Iran is also willing to export gas to other Asian countries (IRNA, May 25).
Responding to media queries, the governing Pakistan People's Party Information Secretary Fauzia Wahab stated that the government is "unconcerned about U.S. pressure" over the gas agreements with Iran. The government regards this project as a bilateral matter between Pakistan and Iran (Business Recorder [Pakistan], May 27).
Concurrently, Iran has announced the start of construction to a gas export pipeline to Turkey from a section of the South Pars fields. Turkey plans to develop that section to a production level of up to 20 bcm per year eventually, awaiting a relaxation of U.S. sanctions. The Iranian announcement, specially issued by the embassy in Ankara, also declares Iran's readiness to supply gas for the Nabucco pipeline project (Reuters, May 28). Nabucco had been planned specifically to transport Iranian gas to Europe. The U.S. sanctions, however, held Nabucco back for years by forcing the consortium into a totally lopsided contest with Russia for Central Asian gas.
Moscow is eager to join the Iran-Pakistan project in a potentially dominant role. "We are ready to join the project as soon as we receive an offer," Deputy Energy Minister Anatoly Yanovsky and Gazprom spokesman Sergei Kupryanov announced in parallel statements. Gazprom is offering to act as contractor for the pipeline construction work and as operator of this pipeline after its completion. In addition, Gazprom declares its willingness to undertake the rehabilitation of old pipelines in Iran and build new ones, in return for gas volumes from South Pars that Gazprom would then sell to India (Kommersant, Interfax, May 27).
Russia will hail any project that diverts Iranian gas eastward, leaving Gazprom in a dominant position on European markets. This is Moscow's minimal objective regarding Iranian gas. Beyond the Iran-Pakistan project, Gazprom's wider agenda envisages inserting itself as an intermediary between Iran and European gas consumer countries. It pursues this goal in two ways: bilaterally, by offering to purchase Iranian gas at European netback prices and resell it in Europe; or multilaterally, by involving Iran in a Russia-led cartel of gas exporting countries.
The Russian government and Gazprom anticipate that gas demand will continue to grow strongly in Europe and Asia soon, when the recession is over. With demand growth resuming, Moscow planners (and probably also planners elsewhere) must reckon with an erosion of U.S. sanctions or their enforceability. Gazprom apparently wants to rush through that opening ahead of Western companies. Thus far, the U.S. sanctions have indirectly reinforced Gazprom's position on European markets, also driving up the gas prices and contributing to the Kremlin's enrichment for years before the current recession.
For its part, Iran like any gas producing country is interested in direct commercial relations with consumer countries. Iran will not willingly accept Russian control over its gas exports, unless the U.S. sanctions continue to discourage Western companies from investing in, and operating, Iranian gas development and gas transport projects.