Gazprom, Gazpromneft, in Serbia's Oil and Gas Sector
Publication: Eurasia Daily Monitor Volume: 6 Issue: 198
By: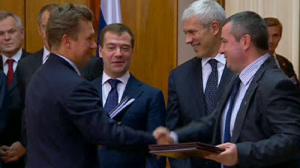 Russian President Dmitry Medvedev's October 20 visit to Belgrade (EDM October 27) helped accelerate Serbia's orientation toward Russia's economic orbit. The Serbian government is handing additional energy assets over to Russian companies and is eagerly seeking Russian involvement in infrastructure projects and joint enterprises in Serbia. If some of these intentions seem unrealistic at this stage, it is not for want of enthusiasm in Belgrade.
In Medvedev's and Serbian President Boris Tadic's presence, CEO's Aleksei Miller of Gazprom and Dusan Bajatovic of Serbian Gas signed a protocol on the South Stream pipeline project. Under the protocol, the sides will within the ensuing 30 days establish a project company to design, build, and operate South Stream's section on Serbian territory. Gazprom will hold 51 percent and Serbian Gas 49 percent of the shares in the project company.
The pipeline is planned to cross from Serbia into Hungary. The route's configuration and costs, however, cannot be determined while Russia discusses with Croatia and Slovenia the possibility of including these countries in South Stream. According to Miller at the signing ceremony, the technical and economic feasibility studies are to be completed by the end of 2010 for South Stream's Serbian section. Gazprom has postponed to 2015 the target date for completing the South Stream project overall. However, the Russian side was unable to identify even hypothetically the gas sources for South Stream while signing the protocol in Belgrade. An apparently undeterred Medvedev declared at the signing, "On these projects depends Europe's energy security, for the sake of which we are so tirelessly laboring" (Interfax, October 20).
Along with that document, Miller and Bajatovic signed an agreement on the construction and operation of the natural gas underground storage site at Banatski Dvor. The agreement envisages modernizing and expanding the existing site and turning it from Serbian into joint ownership. Gazprom will hold 51 percent and Serbian Gas 49 percent of the shares. In addition, Gazprom will own the site's full capacity. Located in a former natural deposit of gas, the site is projected to hold an active volume of 450 million cubic meters. Located in Serbia's Northern Province of Vojvodina near the Hungarian and Romanian borders, Banatski Dvor is well situated for targeting the three national markets (Interfax, October 20).
Meanwhile, Serbian Gas seeks a concession to build a pipeline link from the putative South Stream main line into Bosnia-Herzegovina. Serbian Gas proposes to connect both of Bosnia-Herzegovina's components –the Serb Republic and the Muslim-Croat Federation– to South Stream, for a combined volume of 1.2 billion cubic meters (bcm) through this line. It hopes to finance this project by using part of a loan that the European Bank for Reconstruction and Development (EBRD) is said to be considering for Serbian Gas.
Belgrade has already handed the control over Serbia's Oil Industry (Naftna Industrija Srbje – NIS) to Russia in late 2007-early 2008 (EDM, January 8, 2008). In that transaction, GazpromNeft acquired a 51 percent stake in NIS while the Serbian state retained 49 percent, with diminished managerial authority. GazpromNeft's total purchase price –comprising $400 million in cash and $500 million in investment commitments– was deeply undervalued, considering the NIS refining monopoly and its dominance of Serbia's fuel market. The Serbian government had selected GazpromNeft without holding an international tender, although several companies in Central Europe had expressed an interest in privatizing NIS. Belgrade's handover of control over NIS signified the first major reward to Russia for supporting Serbia on the Kosovo issue. Dmitry Medvedev finalized that transaction in Belgrade in February 2008 in his then-capacity as first deputy prime minister and Gazprom chairman. On the same occasion Serbia joined the South Stream project.
The Serbian government presented a massive wish list to Medvedev during his October 20 visit as president. Belgrade called for Russian companies to build or upgrade railroads and Danube ports in Serbia, construct a metro system and a ring road for the capital city, and build gas-fueled electricity and heating plants, apparently in anticipation of South Stream materializing (ITAR-TASS, October 20).
Belgrade may, however, have overestimated Russia's capacity to invest in Serbian priority projects at this stage. Russian Finance Minister Aleksei Kudrin had earlier held out the possibility of a $1 billion credit, including $350 million to cover Serbia's budget gaps in 2009 and another $650 million for infrastructure projects to be carried out by Russian companies in Serbia. This credit line, however, did not materialize during Medvedev's visit. Instead, the Moscow Bank agreed to provide a $100 million credit. The projects as such remain under Russian consideration.
Russia's penetration of Serbia's economy has advanced massively during the last two years, although perhaps not as much as Belgrade may currently wish. Its calculations seem analogous to Yerevan's, which has basically handed over the energy sector and other assets, in return for Russian support to Armenia's occupation of Azerbaijani territories over the years. Similarly, Belgrade seems willing to allow Russia to capture decisive positions in the national economy as a quid-pro-quo for Russian support to Serbia on the Kosovo issue.