GAZPROM TARGETING UKRAINIAN INFRASTRUCTURE FOR HOSTILE TAKEOVERS
Publication: Eurasia Daily Monitor Volume: 3 Issue: 210
By: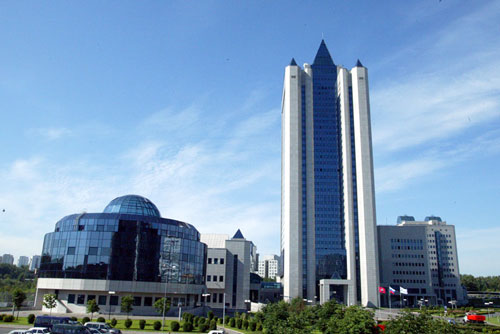 Gazprom is moving rapidly to take over Ukraine's gas transport system through its monopolist offshoots in Ukraine: RosUkrEnergo and UkrGazEnergo. The immediate target is Ukraine's internal gas distribution network, although the transit system is being targeted as well.
This month, on the threshold of winter, RosUkrEnergo's front company, UkrGazEnergo, has refused to sign supply contracts with 16 Ukrainian companies, many of which distribute gas in Ukraine's oblasts. The apparent goal is to take them over by creating Russian-controlled joint ventures with them.
This could not have come as a surprise. Already in September, RosUkrEnergo had announced plans to buy stakes in the gas distribution systems of seven of Ukraine's oblasts (out of 26) and place them under UkrGazEnergo's management, as a first stage in its intention to bring Ukraine's distribution system under Russian control. Conveniently for Gazprom, the Aval Bank — a Ukrainian subsidiary of Austria's Raiffeisen Bank, which represented RosUkrEnergo from the outset — was entrusted with appraising those companies' assets (Action Ukraine Report, September 14; see EDM, September 15 or 16).
This is the first planned stage in a systemic takeover, and the number of targeted Ukrainian companies is growing. On November 10, Ukrainian Fuel and Energy Minister Yuriy Boyko confirmed that RosUkrEnergo intends to take over 16 companies. Boyko describes this method as normal and "civilized," citing Gazprom's practices in certain European countries. "We take the same path," Boyko averred, ignoring the EU's anti-monopoly policy and the opposition of many European governments to that type of arrangement with Gazprom ("2000" [Kyiv] cited by Interfax, November 10).
Apparently, gas-dependent Ukrainian factories might increase the number of targets for hostile takeovers by Russian interests and their local auxiliaries. According to Deputy Prime Minister for Fuel and Energy Andriy Klyuyev, $130 per 1,000 cubic meters (the price to take effect in 2007) is a high price that Ukraine's economy is not yet prepared to afford. With Ukraine's export-oriented chemical industry particularly affected, Klyuyev suggests resorting to a "merger of the chemical enterprises with the suppliers of gas" as a means of capping the price of Russian-delivered gas. Moreover, Klyuyev insists that UkrGazEnergo's stoppage of deliveries to those companies is a "purely commercial issue" beyond the government's remit (Interfax-Ukraine, November 7). On that same day in Moscow, Gazprom was identically characterizing as "pure commerce" its move to take Georgia's trunk pipeline under the threat of stopping gas deliveries (see EDM, November 9).
According to National Security and Defense Council Secretary Vitaliy Hayduk, those 16 Ukrainian companies risk either being forced to a halt or being forced to change owners. The NSDC plans to discuss the situation at an urgent session (One Plus One TV [Kyiv], November 12). Hayduk was a critic of the January 2006 gas agreements that paved the way to this situation.
Gazprom also seems to contemplate absorbing Ukraine's state oil and gas company, Naftohaz Ukrainy, through RosUkrEnergo. Chuychenko proposes that Naftohaz Ukrainy join RosUkrEnergo's stockholders. Gazprom board member and RosUkrEnergo co-managing director Konstantin Chuychenko proposes that Naftohaz Ukrainy become a stockholder in RosUkrEnergo. Gazprom holds a 50% stake in RosUkrEnergo and claims unverifiably that two Ukrainian partners of Gazprom hold the remainder. Merging Naftohaz into a network of Gazprom-controlled structures looks like a first step toward its absorption by Gazprom, whose ultimate target is Ukraine's Naftohaz-operated gas transit system.
Airing this proposal in the leading newspaper of Switzerland (where RosUkrEnergo is nominally based), Chuychenko also explains the three-stage monopolistic arrangements whereby Russia supplies gas to Ukraine: Turkmenistan sells the gas exclusively to Gazprom; Gazprom sells that to [its creation] RosUkrEnergo as the exclusive supplier to Ukraine; and RosUkrEnergo sells that gas to [its creation] UkrGazEnergo as the exclusive distributor within Ukraine. In the first stage, Gazprom buys the Turkmen gas at $100 per 1,000 cubic meters; RosUkrEnergo operates the transit through Gazprom's pipelines, at a cost of $25 per 1,000 cubic meters for the entire distance to the Ukrainian border; and there, RosUkrEnergo sells the gas to UkrGazEnergo. With the price of $130 in 2007, RosUkrEnergo reckons to make $5 in profits for each thousand cubic meters of gas delivered (Neue Zuercher Zeitung, November 10).
While Chuychenko's information on the profit margin must not be taken at face value, his description of the mechanism is realistic. In 2007, this mechanism will deliver no less than 55 billion cubic meters of gas to Ukraine — a deceptive way to provide for "energy security," designed to pave the way for massive transfers of assets to the supplier.
As Hayduk observes, it is "nonsense" to speak about "market relations between commercial entities" when RosUkrEnergo is a monopolist representing the Russian state. As long as this is the case, the NSDC and Presidential Secretariat take the position that Russia-Ukraine gas relations should properly be handled at the inter-state level (One Plus One TV, November 12). Meanwhile, parliament and public opinion are still in the dark about the details of the October 24 supply agreement signed by Boyko in Moscow. This would seem to be an issue made to order for the Presidency and Yulia Tymoshenko to close ranks in the national interest.