Gazprom Wooing Croatia Ahead of Putin-Kosor Meeting
Publication: Eurasia Daily Monitor Volume: 7 Issue: 9
By: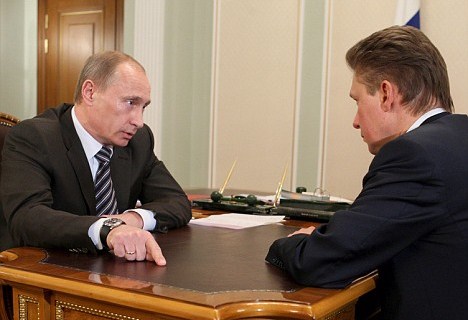 Interviewed in the current issue of Southeast European Times (January 12), Gazprom Vice-President (and Gazprom Export chief) Aleksandr Medvedev unveiled a program of business expansion throughout that region, with a distinct focus on Croatia. Ahead of Croatian Prime Minister Jadranka Kosor's imminent first visit to Moscow, Medvedev offers to build an extension of the South Stream pipeline into Croatian territory.
Croatia's retiring President Stjepan Mesic helped prepare Kosor's Moscow visit during his own recent valedictory trip there. Mesic is said to have been sounded out in Moscow (though "not during the official talks") about chairing the joint company that would build South Stream in Croatia, if the country joins the project (Jutarni List, January 10, 11; RIA Novosti, January 10). Mesic has not commented on the reported Russian proposal to him. While in Moscow, Mesic had expressed regret at Croatia missing the chance to join South Stream and blamed the former government for this (EDM, December 18, 2009).
Russian Prime Minister Vladimir Putin and Gazprom will undoubtedly place this issue high on the agenda of Kosor's visit. Croatia has been seeking for some time to increase its imports from Gazprom. Moscow, however, has asked that Croatia join South Stream as a precondition to an increase in gas deliveries.
The previous Croatian government had deemed that precondition unacceptable during 2007-2009. At that stage, Croatia was seeking 2 billion cubic meters (bcm) per year, not tied to South Stream's construction. At present, however, Gazprom is unlikely to be able to come up with an additional 2 bcm. Its production figures are flat, its major fields past their peak, its imports
from Central Asia down, and its existing contractual obligations take precedence over any new ones. Reflecting these constraints, Gazprom Chairman Aleksei Miller publicly entreated Azerbaijan on January 11 to sell "as much [gas] as it possibly can" to Russia, proceeding from the modest base volume of only 500 million cubic meters of Azerbaijani gas this year (Interfax, January 11).
Thus, Putin and Gazprom lack the leverage, or incentive, to nudge Kosor into joining South Stream when she visits Moscow. They only can (and probably will) offer to increase
gas deliveries to Croatia for the future, after the South Stream pipeline will have been built and extended to this country. This seems fanciful, however. Moscow has never been able to identify the gas sources for South Stream when negotiating with consumer countries. The project's overall costs, estimated in Moscow at more than $25 billion (before proposing a Croatian branch), far exceed any plausible limits (including the project costs to be borne by gas consumers).
Moscow would like Kosor to open the gates for Gazprom's business expansion to the Adriatic. According to Medvedev in his interview, "Gazprom is interested in arriving at the Adriatic coast." Having acquired Serbia's Oil Industry (NIS), GazpromNeft proposes to move into Croatia. It seeks to use the Adria oil pipeline (JANAF) in reverse, for Russian oil exports, instead of Middle Eastern oil flowing into Central Europe from Croatia. Such a reversal would cut Central European countries' access to international oil markets, leaving them even more dependent on Russian oil from the Druzhba pipeline.
As Medvedev observed in the interview, natural gas pipelines and liquefied natural gas (LNG) terminals cannot coexist in one and the same market. By offering a pipeline extension from South Stream to Croatia, Gazprom seeks to block the Adria LNG terminal project on Krk Island. That project can dent Gazprom's monopoly in Central European countries. To preserve that monopoly, Gazprom is likely to ask to use Croatian transmission pipelines in return for bringing South Stream to Croatia.
In the Black Sea, hyping South Stream serves to discourage investment and political commitments to the EU-backed Nabucco project. In the Adriatic as in the Black Sea, South Stream is being deployed not as a supply project in a real sense, but as an anti-diversification project.
When Putin and Gazprom increased South Stream's aggregate gas offer from 31 to 63 bcm, and its cost estimate from $9 billion to more than $ 25 billion within one year (2008 to 2009), with no feasibility studies and no gas earmarks, the project started looking like a political bluff. Medvedev is now upping the ante even further. In his Southeastern Europe interview he offered to add Romania as well as Croatia, Albania, and Montenegro to the South Stream customer countries. The apparent intention is to pre-empt LNG development along the Adriatic coast.
Meanwhile, Bulgaria is reconsidering its participation in South Stream and has suspended its implementation as far as Bulgarian territory is concerned. Gazprom's countermove is to woo Romania again. It tries to hint that the South Stream seabed section's landfall point (as it crosses the Black Sea from Russia) might be shifted from Bulgaria to Romania, if Bulgaria quits or stalls. Romanian media have widely reported Medvedev's suggestion. The Romanian government (for the most part) and President Traian Basescu have all along assessed South Stream as an anti-diversification project and stayed out of it.