Kadyrov Orders Formation of Special Unit to Target Dokka Umarov
Publication: Eurasia Daily Monitor Volume: 7 Issue: 9
By: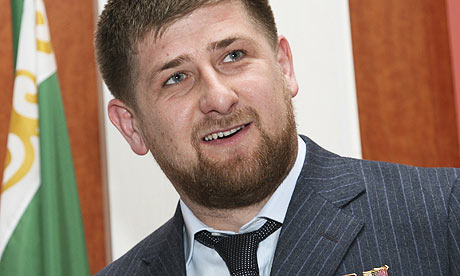 Violence continues unabated in the North Caucasus in the second week of January, with apparent insurgency-related incidents reported in Ingushetia, Dagestan, Chechnya and Kabardino-Balkaria.
Unidentified attackers fired automatic weapons at the home of a businessman and his family in Nazran, Ingushetia, early today (January 14). No one was hurt, but the house was damaged. On January 11, unidentified attackers shot and killed a resident of the village of Ordzhonikidzevskya in Ingushetia's Sunzha district. The victim had been an employee of the republic's interior ministry until 2008.
Also on January 11, a powerful roadside bomb was found in the village of Ekazhevo in Ingushetia's Nazran district. Bomb disposal experts destroyed the device, which consisted of a metal pail filled with explosives with a detonator attached, in a controlled explosion. Late on the evening of January 10, an unidentified gunman fired for ten minutes at a traffic police post in Nazran. The post was slightly damaged but no one was hurt in the incident. On January 7, unidentified attackers fired automatic weapons and grenade launchers fired on the office of Ingushetia's border guards in Nazran. Border guards there returned fired, resulting in a gun battle that lasted several minutes, during which one serviceman was slightly wounded (www.kavkaz-uzel.ru, January 14).
Authorities in Dagestan closed off downtown Makhachkala, the republican capital, to traffic yesterday (January 13) as part of apparent anti-terrorist measures, deploying KamAZ trucks and armed men in camouflage uniforms in the city center. The secretary of Dagestan's Security Council, Magomed Baachilov, said the measures had been taken as a result of information that the "terrorist underground" was planning an attack similar to the January 6 suicide bombing attack on the transport police headquarters in Makhachkala that killed six policemen.
The stepped up security measures in Makhachkala also followed an apparent bomb explosion on a gas pipeline in Dagestan that left several districts in the republic and more than 100,000 people without gas supplies (see Valery Dzutsev's article in this issue of EDM). In addition, Federal Security Service (FSB) bomb disposal experts reportedly defused a powerful explosive device found 15 meters away from a secondary school on January 11. Interfax quoted interior ministry sources as saying that the device's detonator had gone off underneath a car belonging to a traffic police employee but that the bomb itself, consisting of a metal pipe containing a mixture of ammonium nitrate and aluminum powder, had failed to detonate (Interfax, January 11).
On January 12, an explosive device detonated outside the home of a traffic policeman in the city of Derbent. The blast, which took place as the officer arrived outside the house in a car, broke windows in the house and damaged the car, but the policeman was not hurt (Interfax, January 12).
On January 11, unidentified gunmen open fire on a traffic police car in which three officers were traveling in the village of Stary Cherek in the Urvansky district of Kabardino-Balkaria. None of the policemen was hurt (Interfax, January 12).
A law-enforcement source in Chechnya was quoted on January 12 as saying that a rebel accomplice was arrested in the Staropromyslovsky district of Grozny, the republic's capital, while another rebel accomplice was arrested in a similar operation in the village of Engel-Yurt in Chechnya's Gudermes district (RIA Novosti, January 12).
Chechen President Ramzan Kadyrov told reporters in Grozny on January 12 that there were no violent acts by militants during the first 10 days of January, which corresponded with the New Year and Russian Orthodox Christmas holidays. This, he said, "proves that police and personnel serving at other agencies were able to ensure complete order and public security during the ten days of festivities." Kadyrov said that while no place in the world is completely safe from terrorism, the situation in Chechnya has changed significantly for the better, with thousands of "Wahhabis" who once operated in the republic now having been "routed." He said the Chechen interior ministry and the local branch of the FSB are taking "exhaustive measures" to locate and neutralize the "remnants" of the rebels, who, he said, have no support from the people (Interfax, January 12).
Still, in what might be interpreted as a tacit admission of frustration with the performance of the republic's security forces in their fight with the rebels, Kadyrov on January 11 ordered Chechnya's interior ministry to set up a special unit to hunt down Chechen separatist leader Dokka Umarov.
During a meeting with Chechen Interior Minister Ruslan Alkhanov, Kadyrov praised the ministry's personnel for killing more than 150 rebels in special operations carried out jointly with other law enforcement agencies last year, but noted that "the rat" Umarov "remains at large." Kadyrov added: "He tries to put psychological pressure on the population by sensational allegations that he has been involved in various terrorist acts or plans to organize such acts. Before he is neutralized you have no right to rest easy and relax." He said it would be "useful" to form "a special group from particularly experienced personnel" to collect information on, look for and detain Umarov, working closely with the FSB and defense ministry structures. Kadyrov said the "primary goal" should be to detain Umarov and ensure he faces trial and "receives the punishment he deserves," but that in case of "armed resistance, "the lives of police and special services personnel must not be put at risk" (www.newsru.com, January 11).