GAZPROM'S EFFORTS IN TURKMENISTAN UNMATCHED BY WEST
Publication: Eurasia Daily Monitor Volume: 5 Issue: 146
By: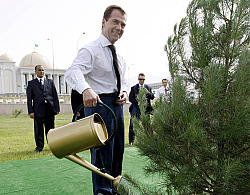 Gazprom president Aleksei Miller's July 24-25 visit to Ashgabat brought Russia closer to its goal of monopolizing Turkmenistan's proven and probable gas reserves for the next several years. Miller's visit was the third by Gazprom's top leaders to Turkmenistan in the last three months and it followed in the wake of Russian President Dmitry Medvedev's July 4-5 visit there. Furthermore, Medvedev, "at his initiative," telephoned Turkmen President Gurbanguly Berdimukhamedov during Miller's July 24-25 visit (Interfax, July 25).
Gazprom's vice-president Valery Golubev had spent an entire week in Ashgabat preparing Miller's latest visit. The tempo of high-level visits and the hands-on approach reflect a sense of urgency on the Kremlin's part. It underscores the goal to control Central Asian gas as a pivotal element in Russia's economic and political strategy in Europe.
The level of Russian presence, the incentives held out to Turkmenistan for its gas, and the strategic planning behind Moscow's efforts are matched by nothing remotely comparable from the West.
Hungarian diplomatic efforts stand out on the Western side at the moment. The government has reverted to prioritizing the Nabucco project, which has all along been the priority of MOL, the national energy company. Prime Minister Ferenc Gyurcsany and MOL managers visited Ashgabat on July 8—preceded by the Hungarian government's special envoy for the Nabucco project, Mihaly Bayer—to discuss possible gas supplies by a proposed trans-Caspian pipeline. Gyurcsany then proposed a political-level summit to resuscitate Nabucco (see EDM, July 21). U.S. Deputy Assistant Secretary of State Matt Bryza, who is in charge of energy policy for this region, welcomed the summit proposal as evidence of a renewed Hungarian commitment to the Nabucco project (Heti Vilaggazdasag, July 24).
Such efforts, however, can not substitute for concerted Western action and offers to the Central Asian countries, particularly Turkmenistan. Meanwhile, Moscow comes up with pricing and investment offers that Ashgabat could simply not refuse in the absence of alternative options.
Ongoing Russian-Turkmen discussions involve two sets of issues: Sale-and-purchase price of gas in 2009, and gas field development in Turkmenistan by Gazprom. In addition, Moscow is offering attractive package deals to Turkmenistan outside the energy sector.
Moscow's base purchasing price for Turkmen gas in 2009 is projected in the range of $340 to $350 per 1,000 cubic meters at the Turkmen border. Gazprom had first made this offer in March 2008 (see EDM, March 17), which would more than double the existing purchase price. Gazprom has already raised the purchase price from $130 per 1,000 cubic meters in the first six months of 2008 to $150 in the second half of this year. Moscow's price offer for 2009 is supposed to raise Turkmenistan's earnings closer to the European netback level (sale price minus transportation costs).
Nevertheless, Turkmenistan's expected net earnings could fall short of that target, in the likely event that Uzbekistan, Kazakhstan, Russia and Ukraine raise their transit fees for Turkmen gas en route to Europe. In that event, and depending on the revised transit fees, Turkmenistan might receive a netback price in the range of $225 to $295 per 1,000 cubic meters of gas sold to Gazprom at the border, according to some projections (Kommersant, Nezavisimaya Gazeta, Interfax, July 28).
Moscow and Ashgabat are now discussing details of the "market"-based gas pricing formula for 2009. The Russians propose applying one of the two versions of a "market-price formation" method. In the first version, the base price would be an average of the wholesale gas prices in Europe, in Ukraine, and in southern Russia. In the second version, the base price would be an average of the European and Ukrainian wholesale prices. Inasmuch as the Gazprom monopoly and the Russian government shape those prices to a large extent themselves, the "market" price in these transactions from Central Asia to Europe would more or less be what Moscow says it is.
Ashgabat wants the price from January 1, 2009 onward to be indexed to the price dynamics within the given year, and to be renegotiable annually. Turkmenistan evidently expects the ascendant price dynamics to continue. For its part, Moscow wants the price to be recalculated at six-month intervals, as well as binding multi-year commitments for gas deliveries from Turkmenistan.
To outbid the West preemptively, Russia is now offering interest-free loans to finance Turkmenistan's inputs into joint gas projects. The projects include modernization of gas extraction installations and pipelines and construction of new ones, as well as development of new gas fields in Turkmenistan by Gazprom, in accordance with the December 2007 intergovernmental agreement. Medvedev broached the interest-free loans during his early July visit and Miller apparently began discussions on implementing the offer (Kommersant, Nezavisimaya Gazeta, Interfax, July 28).
Presumably, Gazprom will have to borrow in international financial markets at the going interest rates in order to lend interest-free to Turkmenistan. This would result in a substantial loss to Gazprom itself. Strategic policy considerations, however, seem to trump commercial ones in this case also.