GEORGIA HIGH ON THE EU-RUSSIA SUMMIT AGENDA
Publication: Eurasia Daily Monitor Volume: 5 Issue: 123
By: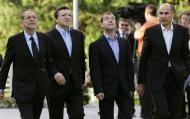 The European Union has decided to make an issue of Russia's assault on Georgia at the EU-Russia summit in Khanty-Mansiisk on June 26 and 27. This decision, and the surge of attention to Georgia within the EU, are unprecedented and were almost forced on the EU by Moscow's overt seizure Abkhazia in progress since April. Many West Europeans who previously looked away from the situation are now seriously talking about it, though not yet acting on it.
Russia's entrenchment in Abkhazia and pressures to subdue Georgia are challenging the overall post-Soviet international order. This view, first advanced by new member countries in the EU, is gaining ground in the internal debates on EU policy. Nevertheless, EU institutions in Brussels have only responded with feebly worded declarations to Russia's moves thus far.
For its part, Moscow has prepared the stage for a failure of EU policy on Georgia at the Khanty-Mansiisk summit. Russia has taken further steps against Georgia in the immediate run-up to the summit. Rather than trying to defuse the tension, Moscow has chosen to keep it high. At the same time, it called for discussing the issues with Georgia on a bilateral basis, so as to minimize EU involvement. Moscow seems to expect an anemic EU response, which would contrast with the brazen provocations, thus discrediting the EU's capacity to act and showing Russia to be the ultimate arbiter in the region.
On June 19 Lieutenant-General Aleksandr Burutin, first deputy chief of staff of Russia's armed forces, warned that Russian "peacekeeping troops" in Abkhazia could use force against Georgia. He was speaking after Georgian police intercepted Russian soldiers bringing a truckload of rocket-propelled anti-tank projectiles illicitly into Georgian-controlled territory. In response, Burutin threatened that Russian troops would henceforth shoot in any such situation, inflict "casualties" and "bloodshed" on Georgians, and base such actions on the "CIS peacekeeping mandate." Moreover, Burutin warned, the Russian troops' "patience is not limitless … we can not guarantee that our servicemen will act patiently in the future" (Interfax, Zvezda TV, June 19).
Russian President Dmitry Medvedev weighed in, terming the incident an "unacceptable provocation against Russian peacekeepers, who are carrying out their work properly, in accordance with international obligations" (Itar-Tass, June 19). Those pronouncements signaled ahead of the summit that Moscow would reject any EU-proposed changes to Russia's "peacekeeping" operation.
In parallel, Gazprom announced a project to drill for oil and gas offshore in the "Republic of Abkhazia," in partnership with Abkhaz authorities and ignoring Georgian sovereignty (see EDM, June 23). Through this project, the state-controlled Gazprom is in effect recognizing Abkhazia's secession from Georgia. Undoubtedly, the project had been prepared before Medvedev's recent move from Gazprom's chairmanship into Russia's presidency. In both capacities he shares responsibility for this breach of international law. Gazprom's move also affects the Black Sea continental shelf, drilling rights, and delimitation of maritime borders, issues on which Russia maintains deliberate uncertainty with regard to Ukraine as well as Georgia.
Russia demonstrated in recent weeks that it could act arbitrarily in the air space over Abkhazia and the adjacent portion of the Black Sea, which is legally under Georgian control. Having shot down three Georgian unmanned, unarmed drones there, the Russian military allowed the nonexistent Abkhaz "air defense" and "air force" to claim credit for those actions, while the Abkhaz authorities claimed sovereignty in that air space. They warned against "unauthorized" flights, apparently to discourage the use of existing air corridors by international airliners; claimed the right to use Sokhumi airport for "international" flights to Russia; and demonstratively rejected the International Civil Aviation Organization's objections (see EDM, June 23).
Abkhaz "president" Sergei Bagapsh is now calling through the Russian state media for Russian protection of Abkhazia's maritime "border" out in the Black Sea. He presents this request as a corollary to Russia's "sealing off" the air space and securing the ground with troops (Itar-Tass, June 24).
In a speech on June 21, Medvedev reaffirmed his view that Russia-Georgia "differences, including the problem of [breakaway] territories, should be resolved through bilateral negotiations" (Interfax, June 21). Medvedev put forward this view to Georgian President Mikheil Saakashvili during their June 6 meeting in St. Petersburg and their June 17 telephone conversation. The Kremlin misleadingly implies that Tbilisi has chosen a bilateral approach (Interfax, June 6, 17, 21, 25).
Such claims seek to divert the EU from discussing Georgia with Russia seriously at the summit and afterward. In fact, Georgia had sought bilateral dialogue with Russia all along, albeit as a part of a wider context. This would include internationalization of the Russian-controlled peacekeeping and negotiating formats, direct political talks between Tbilisi and Abkhaz authorities, and an active role for the EU in these processes.