Georgia Intensifies Its Relationship With China
Publication: Eurasia Daily Monitor Volume: 20 Issue: 144
By: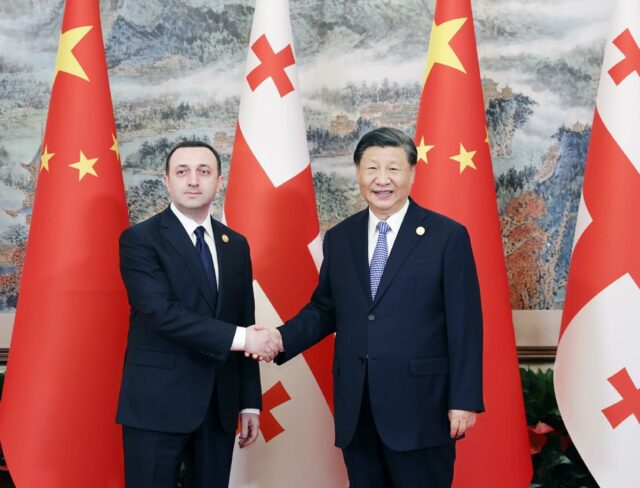 On September 6, China's ambassador to Georgia, Zhou Qian, made an important declaration regarding Beijing's interest in the development of the deep-water Port of Anaklia in Georgia. Zhou made clear that China considers the port a "critical component" of the Belt and Road Initiative (BRI) and that such cooperation would strengthen Chinese influence in the South Caucasus (Civil.ge, September 6). The current Georgian government may welcome these remarks, as the port in question has run into a number of difficulties in recent years (see EDM, June 18, 2019).
Zhou's comments were rather significant. The ambassador is generally not very active in the Georgian media and seldom provides public comments. He also elaborated on wider Chinese intentions in the region: "Generally speaking, we, Chinese companies and Chinese enterprises have interests in all infrastructure projects. … If conditions are good, Chinese companies have no problems participating in the construction of the Anaklia Port or other projects." He added, "I have information that the [European Union] is very active in the Middle Corridor, and I think this could be another important platform for China-EU cooperation. I believe this is not a problem for Georgia" (Civil.ge, September 6).
The Chinese diplomat's mention of "problem" hints at the debate raging in Georgia over its foreign policy goals, On the one hand, the Georgian public remains strongly pro-West and pro-EU (see EDM, May 10). On the other hand, the Georgian Dream government continues its eastward bent. This was punctuated by Georgian Prime Minister Irakli Garibashvili's historic visit to Beijing on July 28 and the subsequent signing of a "strategic partnership" agreement between Georgia and China (see EDM, August 10).
An amendment in the Georgian constitution requires the government to do everything in its power to join the EU and the North Atlantic Treaty Organization (Matsne.gov.ge, accessed September 18). The constitution also touches on the strategic imperative to complete construction of the Port of Anaklia. Thus, the main opposition party in Georgia, the United National Movement (UNM), has accused the ruling Georgian Dream party of changing course on terms of transatlantic integration as codified in the country's constitution (Carnegie Politika, August 17).
In an interview with this author on September 17, UNM General Secretary Petre Ciskarishvili emphasized that Georgia's partnership with China "is not merely an economic partnership anymore. … We are talking about a 'strategic partnership' that was drafted secretly at a time when relations between China and the West are at a historical low." Ciskarishvili also observed that, when the world is divided between liberal democracies and authoritarian regimes, Georgia is expected to make a choice: "Is it transatlantic integration, or integration with China and Russia?" The opposition leader further asserted that a UNM administration would "make sure that Anaklia is built with Western investments, promote trade with Europe and would not hand over [Georgia's] 5G network to authoritarian states" (Author's interview, September 17).
Ciskarishvili's concerns have heightened as Georgian Dream and Garibashvili are defiantly turning to China. During their meeting on July 28, Chinese President Xi Jinping applauded the fact that Garibashvili attaches great importance to Chinese-Georgian relations and has been actively promoting cooperation with Beijing (Radiotavisupleba.ge, August 12). Both sides also issued a joint statement, according to which China and Georgia committed to the steady, long-term development of their strategic cooperation in trade and energy.
China is ready to work with Georgia to further advance the BRI. Beijing hopes to use the China-Georgia Intergovernmental Committee on Economic and Trade Cooperation, the China-Georgia Joint Commission on Free Trade and other mechanisms to allow for increased Chinese investment in future Georgian infrastructure projects (see EDM, August 10). Additionally, Beijing is encouraging Tbilisi to expand its exports to China and Chinese enterprises to invest and do more business in Georgia.
Georgia firmly adheres to the "One-China" policy. The current Georgian Dream government "regards the deepening of bilateral relations as a priority and believes that Chinese modernization "offers a new path and a new option for mankind to achieve modernization." As part of the strategic agreement, Tbilisi also expressed its readiness to allow Beijing to use "Georgia's transit infrastructure for the smooth export of Chinese products to Western markets" (Civil.ge, July 31). On September 11, Garibashvili announced the enactment of a visa-free travel regime for Chinese citizens and the beginning of direct flights from Georgia to China (Interpressnews, September 11)
Independent experts are convinced that turning to China will be especially dangerous for Georgia. Paata Chekurishvili, a former member of the Georgian parliament and an expert on China, indicates that Xi and the ruling elite in China are pushing for increased influence in the Georgian economy. He stressed, "Due to the establishment of an autocratic regime at the 20th Congress of the Communist Party of China and its political flirtation with Putin's Russia, China's authority among liberal pro-Western and pro-state sovereignty … has fallen sharply" (Author's interview, September 17).
Chekurishvili further asserted that the Chinese state has been accused of dubious practices in the countries where it wields strong influence. This is usually accompanied by the participation of state-owned and "private" enterprises in key infrastructure projects, with the focus on advancing the BRI's goals. The Georgian expert further lamented, "Unfortunately, such negative cooperation practices have been accumulating in Georgia as well. … The intention of the Georgian government to lobby the Chinese state on the construction and financing of the Anaklia deep-water port will be met with great protest by the Georgian people" (Author's Interview September 17).
Completion of the strategic Black Sea port at Anaklia will remain a top priority for Georgian foreign policy in the coming months. In 2019, former US Secretary of State Mike Pompeo warned Tbilisi that the United States would not welcome a dominant Chinese role in building the port (Bm.ge, June 11, 2019). As such, the Georgian government must tread carefully, lest it further aggravate public sentiments and exacerbate tensions with Georgia's traditional Western allies.