Georgia Still Haunted by Ghosts From the 1990's
Publication: Eurasia Daily Monitor Volume: 6 Issue: 122
By: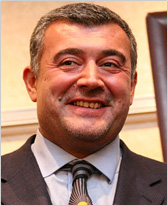 On June 24 Georgian television channels played video footage from meetings of radical oppositionists Levan Gachechiladze and Davit Gamkrelidze with the fugitive former internal affairs minister Kakha Targamadze, a wealthy man who resides in Moscow and is believed to be in contact with the Russian intelligence services.
Gachechiladze and Gamkrelidze apparently held three meetings between June 15 and June 18 with Targamadze in Berlin. One meeting venue where they were filmed was literally next door to the Russian embassy in the German capital. The video footage, without soundtrack, was posted on YouTube by a German website server -identified as utb.com, according to the Russian news agency Interfax (June 24)- and was then replayed in Georgia (Rustavi-2 TV, Imedi TV, June 24).
Both TV channels gave Gachechiladze and Davit Gamkrelidze ample opportunity to explain these meetings in live interviews and even interviewed Targamadze by telephone from Moscow. They all admitted to having held talks at that time and place, but evaded further questions and attempted to make light of the situation. They all denied that the financing of anti-government activities was a topic of their discussions. Just after returning from Berlin, however, Gachechiladze had announced to rally participants in downtown Tbilisi that he had discussed "in Europe" the issue of financing the anti-government campaign with "businessmen," whom he did not name.
It must be assumed that it was the Georgian intelligence services who managed, directly or indirectly, to have these Berlin meetings videotaped. This is not their first exploit of this kind. In December 2007 they recorded some of the preparatory discussions for an armed coup d'etat by close associates of the billionaire Badri Patarkatsishvili in Tbilisi as well as in Patarkatsishvili's own London mansion. Those video and audio recordings, posted on YouTube and broadcast on television, averted the likely bloodshed at the last moment. Counterintelligence actions of this type have recurred since then, reported in the media from time to time. In Georgia and abroad there were those who argued that it was somehow politically incorrect to tell the public about some of the radical oppositionists' conversations with Russian representatives. Such meetings and conversations have become more frequent lately, with the Russian side using shadowy Georgian businessmen resident in Russia for the most part.
Aside from any operational value to their Moscow handlers, Targamadze and those shadowy businessmen are relics of the Georgia of the 1990's with its violent politics, business intersecting with organized crime, clan-based divisions of society and country, and widespread incomprehension of the idea of statehood as such. Many among the present opposition leaders -there are approximately 20 opposition parties, each of them boasting titular "opposition leaders," so labeled in media reporting- are themselves relics of those times of turmoil. The experience of the 1990's only ended in November 2003 in Georgia, largely but not entirely (as Patarkatsishvili and the fugitive former defense minister Irakli Okruashvili showed afterward by threatening the re-established legal order).
That period's ghosts have returned to the political arena with renewed assertiveness in the wake of Russia's invasion, economic crisis, and persistent ambiguity in the European Union's message to Georgia. This time (unlike the extended 1990's) some of these politicians are capitalizing on Russian support directly or indirectly. Such support remains highly unpopular in Georgia and must therefore be channelled to the country through Russia-based Georgian proxies. Kakha Targamadze (who on June 24 denied any role in financing the opposition) was a key power-broker in Georgia's corrupt governance, which fed on state failure under the enfeebled Eduard Shevardnadze's presidency. Targamadze and some other political figures, whose modus operandi involved connections in Russia, moved there in 2004. At present, however, a handful of Russia-resident Georgian businessmen, rather than political figures, seem to have been assigned the role of Russian transmission belt to those among Georgian radical oppositionists who are willing to play along.
Using Georgian businessmen (preferably those publicly known as donors to diaspora churches) as middlemen is a tactic that gives Moscow plausible deniability and enables some Georgian oppositionists to use this alibi for accepting the support. Several wealthy, fugitive "thieves-in-law" from the 1990's, such as Tariel Oniani and Bondo Shalikiani -both based in Russia at present- have been identified as participants in such activities (www.jamestown.org/blog, May 27).
A more highly connected figure in that social milieu, Aleksandr Ebralidze, has announced his intention to arrive in Georgia in late June or early July and run for president, in the hope that the radical opposition might force the holding of snap elections. Based in St.Petersburg and boasting a large personal fortune, Ebralidze has announced plans to form a party in Georgia, buy or launch media outlets there as part of the regime-change campaign, and spend his own wealth in Georgia if elected president (Interfax, Imedi TV, May 28, 29). During the intervening weeks, however, the radical groups' protests have dwindled numerically to utter insignificance. Only by provoking a bloody incident might the most irrational protesters or Moscow re-energize the street actions in Tbilisi.