Ramzan Kadyrov and Ruslan Aushev Trade Barbs and Accusations
Publication: Eurasia Daily Monitor Volume: 6 Issue: 122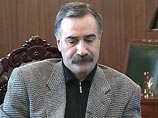 Fresh on the heels of his claim that President Dmitry Medvedev had ordered him to fight rebels in Ingushetia following the attempt on the life of Ingushetia's president, Yunus-Bek Yevkurov, Chechen President Ramzan Kadyrov made a surprise visit to Ingushetia on June 24.
"We will conduct our investigation in line with the law of the mountains and our revenge for Yunus-Bek Yevkurov will be ruthless," Kadyrov was quoted as saying in Ingushetia's capital, Magas, where he met acting Ingush president Rashid Gaisanov (Reuters, June 24).
At the same time, Kadyrov explicitly denied rumors rife in the Russian media that he would like to use the attack on Yevkurov as a pretext to take control of Ingushetia, possibly even through a formal merger of Chechnya and Ingushetia (EDM, June 24). "I want to express bewilderment in connection with conversations over supposed plans to unite Chechnya and Ingushetia," he told Interfax. "I would like to ask, who has such plans? I do not. Yevkurov does not. The federal center does not. I repeat: no one in Chechnya or in Ingushetia has raised or plans to raise the issue of uniting the two republics" (Interfax, June 24).
Ingushetia's presidential press secretary Kaloi Akhilgov said following the talks between Kadyrov and Gaisanov in Magas that the Chechen president will be in charge of joint operations to capture insurgents on the Chechen-Ingush administrative border, but that Gaisanov is "directly" and "unequivocally" executing his duties as Ingushetia's president. "The rumors that Ramzan Kadyrov will be in charge of all special operations and lead the fight against terrorism on all of Ingushetia's territory does not square with reality; it is false information," Akhilgov said (www.kavkaz-uzel, June 24).
Gaisanov himself issued a statement denying comments "made by certain experts and journalists … suggesting that elements of external governance could be introduced in Ingushetia, and that special operations could be carried out on its territory without coordination with Ingushetia's authorities and law enforcement services." Gaisanov insisted that Ingushetia's constitutionally-mandated authorities are continuing to fulfill their duties in compliance with the law and to carry out the "uncompromising fight against terrorism and extremism started by President Yevkurov" (Interfax, June 24).
Ingushetia's former president Ruslan Aushev weighed in on the controversy, telling Ekho Moskvy radio that putting Kadyrov in charge of counter-insurgency operations in Ingushetia will only complicate the situation in the region. "If the president of Russia really thinks that Kadyrov has the potential and the authority to handle such situations, then he [Kadyrov] should be named a presidential representative to the whole region, given that the situation is tense not only in Ingushetia, but also in Chechnya itself, Dagestan, Kabardino-Balkaria," said Aushev. The former president of Ingushetia said that Chechnya still has "millions" of its own problems, and that Ingushetia has its own president and parliament. Aushev also offered to temporarily fill in as Ingushetia's president while Yevkurov recovers in the hospital (www.newsru.com, June 24).
In a sign that Aushev's offer to take charge temporarily in Ingushetia has at least some support in the republic, Ingush opposition leader Magomed Khazbiev told Kommersant that the opposition has decided to convene an emergency congress of the Ingush people, which will call on Moscow to name Aushev as Ingushetia's acting president while Yevkurov recovers. Khazbiev also criticized the decision to put Kadyrov in charge of counter-insurgency operations in Ingushetia (Kommersant, June 25).
Speaking to Interfax, Kadyrov called Ruslan Aushev's offer to assume Ingushetia's presidency temporarily improper and inappropriate, insisting that it was under Aushev's presidency in the 1990's that "bandits of every stripe built a nest in Ingushetia." Kadyrov said that Ingushetia has a constitution which spells out who should fill in for an incapacitated president. "It is not Aushev nor Kadyrov nor [former Ingush president Murat] Zyazikov," he said, adding that Aushev ought to know that the republic's prime minister fills in as acting president under such circumstances and accused Aushev of playing politics. Kadyrov claimed that the joint operations he had carried out with Yevkurov in recent weeks had killed several dozen rebels, and said: "It is possible that Aushev is not altogether happy about the decisiveness of our joint actions with our Ingush colleagues and the results they yielded." Kadyrov added that Aushev, during his tenure as Ingushetia's president, had "arranged relaxation" for Aslan Maskhadov, Shamil Basaev and other Chechen rebel leaders who were hiding out in Ingushetia.
"If Aushev says that I have enough problems in Chechnya, then I want to remind him that also important for me are the problems of the Ingush people, who for us are family, whether Aushev likes it or not," Kadyrov said adding, "this is fully understood by Yunus-Bek Yevkurov, who does not split the Chechen and Ingush peoples into us and them." Kadyrov promised to do everything possible to "help the Ingush people" in their time of need in accordance with his orders from "the commander in chief" (President Dmitry Medvedev), adding that "we are a constituent part of Russia" and cannot feel at ease with terrorist acts like the attempt on Yevkurov's life taking place.
In a parting shot to Ingushetia's former president, Kadyrov said: "I want to remind Aushev that today in Ingushetia, President Yevkurov, the leadership of Russia, all of us are trying to untie that knot of problems that was tied precisely during the period of Aushev's rule" (Interfax, June 24).