GEORGIA TO SEND, LITHUANIA TO AUGMENT TROOPS IN AFGHANISTAN
Publication: Eurasia Daily Monitor Volume: 4 Issue: 25
By: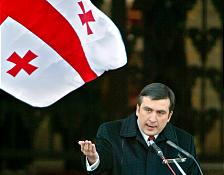 High-level Georgian-Lithuanian talks on February 2 in Tbilisi included the issue of deploying a Georgian military unit and civilian specialists to Afghanistan with NATO forces there. Lithuania's Prime Minister Gediminas Kirkilas, Minister of Foreign Affairs Petras Vaitiekunas, Chief of Staff Brig.-General Vitalijus Vaiksnoras, and Defense Ministry Undersecretary Renatas Norkus discussed this issue with their Georgian counterparts during this visit.
Lithuania operates a Provincial Reconstruction Team (PRT) in Ghor province as part of NATO's International Security Assistance Force (ISAF) in Afghanistan. One option under discussion for the Georgian unit is to join the Lithuanian PRT. Georgian soldiers trained in mountainous terrain in their own country could add value to NATO's multinational contingent in Afghanistan.
Summing up Tbilisi's position, State Minister for Euro-Atlantic Integration Giorgi Baramidze expressed readiness to deploy a highly trained military unit to Afghanistan, as soon as the NATO Command determines the size and place of deployment and gives the green light.
Georgia made this offer to the Alliance officially in December 2006, immediately after NATO's summit in Riga, where Secretary-General Jaap de Hoop Scheffer urgently appealed for reinforcements to ISAF, amid incomprehension from many "old" allied countries. Already during the summit, Georgia's delegation, led by Parliament Chairwoman Nino Burjanadze and including the influential parliamentarians Giga Bokeria and Nika Rurua, made clear that Georgia would make its contribution to NATO's operations in Afghanistan.
This possible new deployment, as well as Georgia's ongoing contribution to NATO's Kosovo Force, was discussed at NATO headquarters in Brussels on February 1 as part of the NATO-Georgia's Intensified Dialogue on Membership Issues. Tbilisi also proposes to host an air force exercise in the framework of NATO's Individual Partnership Action Plan at one of Georgia's several upgraded airfields this coming summer.
Georgian troops were deployed to Afghanistan for several months in 2004, when ISAF temporarily increased its troops during the general elections there. A platoon-size Georgian unit from the Sachkere battalion operated with a British battalion in Afghanistan at that time.
Meanwhile, Georgia has been deploying more than 1,000 troops at any given time to Iraq and Kosovo. A group of 60 U.S. trainers from the Joint Multinational Training Command is continuing a training program for Georgian troops at the Krtsanisi base. At present, Georgia seems to rank third overall — behind only the United States and Britain — in terms of its troop contribution to U.S.- and NATO-led operations, relative to the troop-contributing countries' population. According to Baramidze, any Georgian deployment to Afghanistan would not come at the expense of the Iraq and Kosovo operations.
Lithuania has been in charge of the PRT in Chagcharan, Ghor province, central Afghanistan, since June 2005 as part of ISAF under NATO command. The PRT's currently authorized strength includes 120 Lithuanian soldiers (in the fourth Lithuanian troop rotation) along with symbolic numbers of military and civilian personnel from Denmark, Croatia, and the United States; seven Icelandic civil-affairs specialists have just completed their duty. Currently under the command of Lithuania's Colonel Almantas Leika, the PRT operates through mobile liaison and observation teams in all ten districts of Ghor province. It also oversees civil assistance projects — most recently a micro-hydroelectric power station, the first of several planned stations of this type. The Lithuanian government has allocated some $1.7 million of its own funds for development projects in Ghor in 2007.
In addition, Lithuania has decided to deploy a special-operations squad from the elite Aitvaras unit to southern Afghanistan, to operate alongside British forces there. Britain issued the invitation and Lithuania accepted it in December, responding to de Hoop Scheffer's appeal at the NATO summit. On January 26 in Brussels, Vaitiekunas officially informed NATO's ministerial meeting of Lithuania's decision to deploy a platoon-size Aitvaras group and also seconded de Hoop Scheffer's calls to the European Union to understand the importance of funding the PRTs adequately. Lithuania is also inviting the United Nations to set up an assistance office for Afghanistan in Chagcharan, where the Lithuanian-led PRT helps maintain a secure environment.
When the three Baltic states were candidates for NATO membership, they successfully established a record of "behaving as de facto NATO members." The same is currently the case with Georgia. The difference seems to be that certain "old" members de jure tend to contribute less de facto, compared to some new members and certainly to the aspirant country Georgia at the present time.
Georgian President Mikheil Saakashvili and Prime Minister Zurab Nogaideli acknowledged Lithuania's offer at the concluding news conference.
(BNS, January 26-February 4; Civil Georgia, Prime News, February 2; Stars and Stripes, January 16)