"Georgian Dream" Attack Georgia's NATO Mission in Afghanistan
Publication: Eurasia Daily Monitor Volume: 9 Issue: 42
By: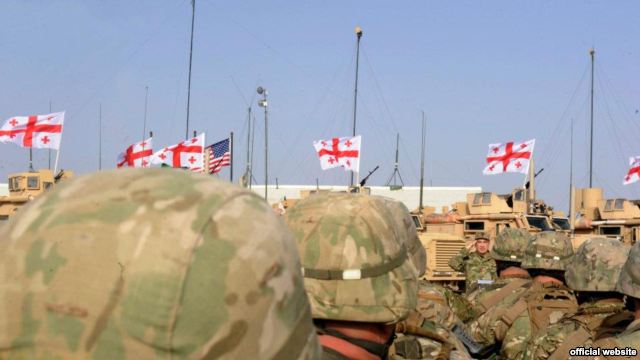 On February 20-26, Georgia marked "Occupation Week," commemorating the Red Army's February 1921 occupation of the Georgian Democratic Republic and the latter's annexation by Soviet Russia. Public events were held in memory of Georgia's first democratic republic, the victims of the 1921 and 2008 Russian invasions, and the Georgian soldiers who defended the country. Representatives of the governing United National Movement and of the parliamentary opposition (mainly, Christian-Democrats) joined citizens participating in the commemorative events (flower-laying at tombs and memorials, book and photographic exhibitions, theatrical plays and film screenings, church services).

Bidzina Ivanishvili's Georgian Dream (currently operating as a leadership group only) did not participate in these events. Instead, Georgian Dream merely posted a one-paragraph text on its leader's Bidzina Ivanishvili's Facebook page. Apparently, Ivanishvili or his recently-enlisted foreign-policy advisers took a political decision to demarcate themselves from the commemoration. This is consistent with their view that the Georgian government has unnecessarily antagonized Moscow, and that Ivanishvili's team is better placed for the role of interlocutor to Russia. Team Ivanishvili seeks to position itself for dialoguing with Russia as a Georgian opposition party, apparently hoping to outflank the Georgian government on this issue. Georgian Dream seems prepared to inject this issue in the upcoming parliamentary campaign, and emerge post-election as "the interlocutor acceptable to Russia," if Georgian Dream captures a significant number of parliamentary seats.

The inexperienced Ivanishvili has a full-fledged group of foreign-policy advisers by now. Some of them are attacking Georgia's participation in the US-led operations in Afghanistan. The death of three Georgian soldiers in combat on February 22 (raising the death toll of Georgian soldiers in Afghanistan to 15 since 2011, including four in 2012 thus far – see Civil Georgia, February 22) provoked those advisers' attacks on the mission.

Georgian Dream's defense and security working group chief, Irakli Sesiashvili, stated in print: "[President] Saakashvili organized a joint special operation with the Americans in Afghanistan. The [combat deaths] could have occurred because of the badly planned special operation, or due to Saakashvili's public-relations needs" (Rezonansi, February 23, www.resonancedaily.com). Sesiashvili also stated on prime-time national television: "This special operation was carried out for [President] Saakashvili's public relations needs, to honor his visit to Afghanistan" (Rustavi-2 Television, February 23; www.myvideo.ge). Sesiashvili is also a member of Georgian Dream's top political team (see EDM, February 28). The head of Georgian Dream's working group on regional policies, Mamuka Areshidze, stated: "Georgian troops are now being used as cannon fodder. Armenian troops face lesser risks than do our soldiers. Our soldiers get much less pay than NATO troops" (Pirveli news agency, February 22, https://pirveli.com.ge).

The overall chief of Ivanishvili's foreign policy advisers, Tedo Japaridze, must cringe at such unprofessional statements from his subordinates, but has not been heard disavowing them. Ivanishvili's ally, reputedly US-connected Irakli Alasania, seems to face a similar problem in his party, Our Georgia-Free Democrats. The party's vice-president, Tea Tsulukiani, stated for the "Liberali" opinion magazine, about the Afghanistan mission: "[President] Saakashvili is manipulating with this topic. [He] believes that soldiers must go to war and fight heroically. Saakashvili's government thinks of soldiers as cannon fodder. The government should see to it that the soldiers return home" (Liberali, February 17-23; https://liberali.ge).

Georgia's participation in the Afghanistan mission, however, is key to establishing Georgia's credentials as a NATO aspirant and a strategic partner (de facto ally) to the United States. It is, in this sense, an investment in Georgia's own national security. Apart from the strategic investment it is also a heavy fiscal investment by the country's people, among whom support for NATO membership remains high. Georgia currently deploys some 950 soldiers in Afghanistan, almost all in the Helmand combat theater, operating without "national caveats" (combat restrictions maintained by most NATO member countries). In per capita terms, Georgia is the largest troop contributor among non-NATO countries, and one of the largest troop contributors among all countries in the Afghanistan mission. Georgia plans to deploy an additional 750 soldiers this year, raising the total to almost 1,700 troops, and probably making Georgia second only to the US as a troop contributor on a per capita basis (Civil Georgia, February 23).

The opposition's statements indicate that it is prepared to exploit Georgian sacrifices in Afghanistan as part of the electoral campaign against the president and government. Ivanishvili started out in politics in October 2011 with ambivalent and skeptical statements about Georgia's NATO aspirations; he was entirely new to this issue and to foreign policy generally. He then apparently realized that his position was a guaranteed vote-loser in a country in which NATO membership remains a highly popular goal. More recently, Ivanishvili's team has endorsed Georgia's Euro-Atlantic integration (European Union and NATO) as an overall goal. But Georgia Dream would undermine the country's NATO aspirations – and raise more questions about Ivanishvili's position – if Georgian Dream endorses NATO membership in words only, but opposes the necessary measures toward that goal, and blames the government for taking those measures.