Georgian Government Escalates Repression Threats Against Opposition UNM Party
Publication: Eurasia Daily Monitor Volume: 10 Issue: 211
By: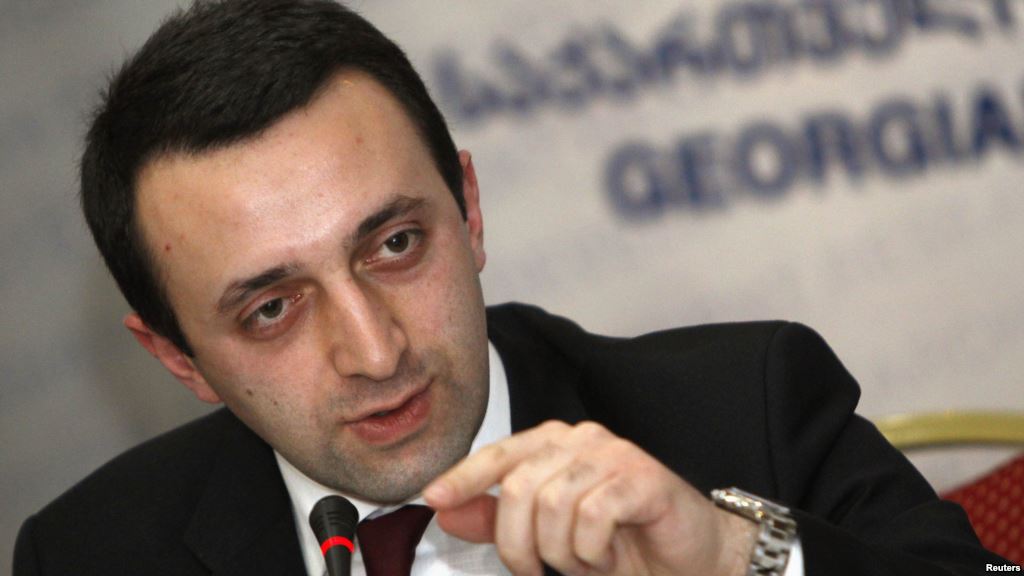 Georgia's new prime minister, Irakli Garibashvili, took office on November 20, casting anathema on the opposition United National Movement (UNM) party, and warning it of more criminal investigations to come. His fierce introductory speech as head of government came across as an attempt to intimidate and de-legitimize the opposition party.
Designated by the outgoing prime minister, Bidzina Ivanishvili, to replace him in this post, Garibashvili had served as internal affairs minister since November 2012. In that capacity (alongside then-prosecutor-general Archil Kbilashvili, and Ivanishvili himself), he often threatened the opposition UNM with criminal proceedings against its members in public statements, regularly implying presumptions of guilt (see EDM, November 4, 15).

On November 19 (one day prior to his official confirmation in parliament), technically as the acting internal affairs minister and prime minister-designate, Garibashvili presented himself to the UNM's parliamentary caucus as part of confirmation hearings (he held a similar session with the Georgian Dream parliamentary majority) (Civil Georgia, November 19, 20).
In his introductory remarks, Garibashvili described the UNM as a "neo-fascist formation," one that had "staged terrorist acts against [its] own population" and "destroyed the economy [while governing the country]." He went on to allege that the former UNM authorities had abducted and killed hundreds of people: "Regrettably for the (UNM) parliamentary minority, indications of serious crimes are emerging [about] abductions of various persons and their murder. The public will soon learn how people were disappearing and what happened to them. These are very grave cases. Many of these [people], according to preliminary information, have been liquidated. Of course this has to be proved, and we [the government] will do our best. Leaving such grave cases unsolved would be inadmissible. We are talking about several hundred people, several hundred" (Civil Georgia, November 20).
This statement typifies a method that Ivanishvili's team has used relentlessly during the last 12 months to intimidate the UNM opposition (and impress Georgian Dream voters as a side-effect). The standard method involves announcing criminal investigations into activities of the former UNM government, vaguely proffering charges—sometimes dire-sounding, even if unsubstantiated—and hinting that the authorities hold more of this in store against the UNM, collectively.
In this latest case, as well, the internal logic of the threat follows the usual progression: from an attention-catching, sensational first allegation (UNM authorities had abducted and liquidated many people) to the tantalizing hints (we will soon tell the public more), a claim of compelling responsibility by the government (this is very grave, we are obliged to investigate), and finally hedging to allow a retreat later on (the information is preliminary, it has yet to be proved). If this final hedge is also meant to satisfy the presumption of innocence, it has already been nullified by the introductory phrase, which targets the UNM parliamentary minority as such, even editorializing that the consequences will be "regrettable" for it.
Garibashvili implied in the same speech that the UNM-led Ministry of Internal Affairs had been responsible for a "terrorist" bomb explosion in Kurcha, on the demarcation line with Abkhazia, on the day of Georgia's parliamentary elections (October 1, 2012). One year later (October 2013), Garibashvili's interior ministry detained two former officers who worked for the ministry at that time, and is now questioning them "to find out who gave the orders to commit that terror [sic] act" (Civil Georgia, November 19).
The present authorities recurrently allege that the former authorities were involved in "terrorism." Throughout the year of "co-inhabiting" with President Mikheil Saakashvili (November 2012–November 2013), Prime Minister Ivanishvili and his top aides claimed that Saakashvili's UNM government had colluded with North Caucasus "terrorists" against Russia. An ongoing investigation, initiated by Ombudsman Ucha Nanuashvili with law enforcement agencies, alleges that the UNM-led internal affairs ministry, in 2012, had hired and armed a Chechen group to attack Russia from Georgian territory. This allegation, as well as the Kurcha case (see above), seem designed, in part, to compromise the former internal affairs ministers, Vano Merabishvili and Bacho Akhalaia. Both are currently in detention on poorly substantiated charges, and the authorities seem to be looking for some new charges.
Merabishvili's case has international resonance. Prime minister in 2012, and secretary-general of the UNM to date, Merabishvili was due to lead the party's campaign organization in the recent presidential election. Instead, he is, since May 2013, in pre-trial detention. The charges include abuse of power (apparently related to past use of a villa he did not own) and misappropriation of funds (related to the 2012 parliamentary elections). As these charges could be too weak to convict and eliminate Merabishvili from politics, the authorities have further charged him with ordering the forcible dispersal of opposition politician Nino Burjanadze's May 26, 2011 rally. That violent rally convulsed downtown Tbilisi until the police intervened (see EDM, May 27, 28, 2011). Two years later, Ivanishvili considered helping Burjanadze's group to become the main, but tame, opposition party that would outrank and marginalize the UNM—the charges against Merabishvili stem from those political motivations.

Georgia's new president, Giorgi Margvelashvili, took office on November 17. The UNM congratulated the election winner and acknowledged the voters' choice, but declined to be represented at the inauguration. Its statement invoked the abusive arrests, investigations and job dismissals, to which thousands of UNM supporters have been subjected during the past year throughout the country (Civil Georgia, November 15, 17). Yet the courts have, for the most part, acted independently, resisting pressure to convict on poorly substantiated cases. The number of convictions seems very small and a matter of frustration to Georgian Dream hardliners.
Garibashvili's remarks at his parliamentary confirmation hearing apparently reflected that frustration. In a manner that would have been unthinkable in a normal parliamentary institution, the prime minister-designate bullied and shouted at the opposition UNM members, rejected outright many or their questions, and repeatedly called them "liars." In a sense, it was a fitting end to Garibashvili's one-year tenure as interior minister. It confirmed the political and emotional bias that inspired his anti-UNM investigations.

The new president's and new prime minister's investitures (November 17 and November 20, respectively) also confirm outgoing Prime Minister Ivanishvili's new, informal power, which can be exercised without official accountability. Ivanishvili had designated Margvelashvili and Garibashvili for these posts as his personal choices, and billed them publicly as such; whereas, the new president and new prime minister have publicly professed their loyalty to Ivanishvili. The latter will act, from now on, in the role of civil society leader. In a November 21 open letter to the country, Ivanishvili dismissed as "ultimate nonsense" the idea that he would "govern behind the scenes" (Pirveli, www.pirveli.com.ge/en, November 21).