Ukraine: Not Going West for Now
Publication: Eurasia Daily Monitor Volume: 10 Issue: 211
By: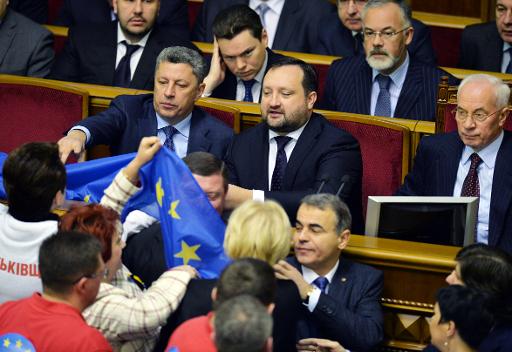 The Ukrainian authorities have seemingly activated a "pause" in Kyiv's European integration process. President Viktor Yanukovych's Party of Regions, which controls the government and holds an overwhelming plurality in the parliament, blocked all of the opposition's attempts to vote through European integration draft laws on November 20 and 21. Moreover, on November 21, the Cabinet of Ministers issued a sublegal act (a.k.a. delegated legislation or subordinate legislation) to suspend Ukraine's preparations to sign the Association Agreement with European Union. The act referenced national security issues related to European integration and the need to examine the risks of the disruption of trade and economic cooperation with Russia should the signing of the Association Agreement with the EU go forward. The government act also called upon the resumption of dialogue with the Customs Union and the Commonwealth of Independent States (CIS) countries, and resolved to set up a trilateral dialogue with the EU and Russia on economic and regulatory issues (https://www.kmu.gov.ua/control/uk/publish/article?art_id=246864953&cat_id=244276429).
Meanwhile, President Yanukovych and his senior staff asserted that Ukraine's European integration course remained unchanged (https://www.president.gov.ua/en/news/29537.html; https://zn.ua/POLITICS/u-yanukovicha-schitayut-chto-krest-na-podpisanii-associacii-s-es-stavit-rano-133334_.html). On November 22, Prime Minister Mykola Azarov told the Ukrainian Parliament that the proposed trilateral EU-Ukraine-Russia consultations were to be held before the November 28–29 EU Eastern Partnership summit in Vilnius. He also complained about the International Monetary Fund's (IMF) tough austerity requirements to resume its financing program for Ukraine, which the Ukrainian authorities had rejected (https://ria.ru/politics/20131122/978924666.html).
Kyiv's move seemed to be coordinated with Moscow. Also on November 21, President Vladimir Putin denied that Russia was applying economic coercion, adding that the Kremlin was not against Kyiv joining the EU and would only have objected to Ukraine joining the North Atlantic Treaty Organization (NATO) (https://inpress.ua/ru/politics/20469-rossiya-ne-protiv-assotsiatsii-ukrainy-s-es-no-protiv-vstupleniya-eyo-v-nato-putin). Moreover, the Russian presidential press secretary, Dmitry Peskov, said on the same day that Moscow was prepared to hold tripartite negotiations with Ukraine and the EU on trade and economic issues (https://en.interfax.com.ua/news/general/176159.html).
On social media, European politicians Stefan Fule (twitter.com/StefanFuleEU) and Karl Bildt (twitter.com/carlbildt), swiftly condemned Russia's substantial economic pressure on Ukraine. And the next day, on November 22, Lithuanian President Dalia Grybauskaite's aide told Baltic News Service that during today's telephone conversation [between the two leaders], Viktor Yanukovych told the Lithuanian President about Russian threats "to restrict imports of its goods" from Eastern Ukraine, which, according to Kiev's calculations, could "lead to billions in losses" (https://www.lithuaniatribune.com/57579/ukrainian-president-tells-president-grybauskaite-about-russias-blackmail-201357579/).
Arguably, Putin has demonstrated a coherent and determined, if somewhat unpredictable, coercive policy against Ukraine, thus allowing him to keep Ukraine from leaving Russia's orbit. The Kremlin remarkably skillfully used the issues of Ukraine's fiscal problems, energy dependency on Russia and falling commodity outputs. Furthermore, Russia exploited Yanukovych's political vulnerability stemming from his ties to large Ukrainian businesses that predominantly trade with Russia, as well as his fears of relatively low voter support ahead of the 2015 presidential elections. Finally, Moscow played on the consequences of an underperforming international order, including the IMF's unpopular austerity demands on Kyiv, Brussels's unwillingness to treat Ukraine as a candidate for membership, as well as Europe's inability to provide more support to Ukraine in the face of Russian pressure (https://jamestownfoundation.blogspot.com/2013/11/a-possible-third-way-for-ukraine-no-eu.html).
Nonetheless, Kyiv's poor record in addressing the "selective justice" issue points to President Yanukovych's personal political vulnerabilities. The Ukrainian opposition has accused Yanukovych of agreeing to behind-the-scenes accords with Putin, including, purportedly, deals benefitting himself (see EDM, November 14). Opposition leader Arseniy Yatseniuk of the "Batkivshchyna" ("Fatherland") party alleged on November 22 that Viktor Yanukovych managed to negotiate reduced natural gas prices and $20 billion in financing "for him and his closest circle," and that part of this funding would be allocated to the president's 2015 re-election campaign (https://interfax.com.ua/news/political/176281.html). Indeed, some unaddressed issues, suggesting possible corruption—such as, for example, President Yanukovych's opulent Mezhyhirya residence and his son Oleksander's wealth—inspire negative public opinion and contrast sharply with the "European values" that Kyiv claims it is striving to embody. At the same time, the ever-changing policies of the Ukrainian authorities are indicative of the technical weakness of government institutions, which, to a large extent, lack the institutional capacity to comprehensively analyze and respond to Russian economic coercion. Ukraine's relative economic weakness compared to its massive eastern neighbor requires that the Ukrainian authorities seek the support of other large regional powers, but such assistance clearly comes at a price.
At this stage, Kyiv's suspension of its European integration efforts translates to a short-term victory for Putin. Ukrainian authorities will probably continue their "multi-vectoral" approach, trying to win concessions both from the EU and Russia and also, perhaps, from other regional players. Speaking to Jamestown on November 21, US negotiations expert Arthur Martirosyan compared EU-Ukraine-Russia relations to "an asymmetrical bargaining game following rules of auctions or, to use Harvard Business School professor Guhan Subramanian's neologism, 'negotiauctions.'" While Martirosyan acknowledged the suspension of the deal as a rational option, he emphasized: "And, yet, it cannot be postponed indefinitely without significant damage to the national interests. The very game needs to be changed. A more salient question is whether the current cast of players is capable of changing it." Indeed, as the country's political aspirations remain unfulfilled, there is a clear call in Ukraine to develop improved leadership, integrity and professional statecraft within the government.