German Election-Year Politics Facilitates Russian Take-Over of Opel
Publication: Eurasia Daily Monitor Volume: 6 Issue: 107
By: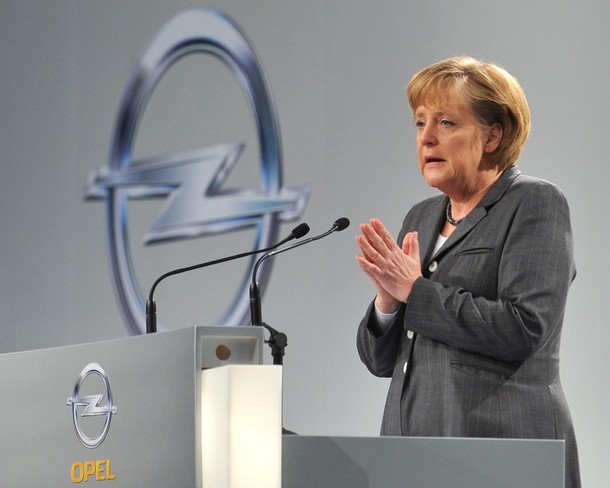 With its 25,000 employees, four major production plants in as many German states, generating business for thousands of German suppliers and dealerships, and a traditional iconic status, Opel has become a highly sensitive issue in this election year in Germany. The company is loss-making and debt-ridden. The general public in Germany tends to perceive Opel's travails as a spillover from bankruptcy at the parent U.S. company General Motors and from the ongoing recession.
In the tension-filled coalition government, both major parties are convinced that voters expect them to rescue Opel or most of it, even through non-market solutions if necessary. Facing an electorate now skeptical of free-market rectitude, Christian-Democrats and Social-Democrats are vying with each other to be seen as protecting jobs and rescuing Opel or other crisis-hit enterprises.
The German government is bearing almost the entire brunt of the Russian entry into Opel. The federal government in Berlin and four German state governments (with Opel plants in their territories) are providing a 1.5 billion Euros bridging loan for a six-month period and 4.5 billion Euros for a five-year period. The German federal government will guarantee repayment on the 4.5 billion Euros. Outside the terms of the agreement, Magna envisages using GAZ production capacities to make as many as one million Opel vehilces per year in Russia, generating jobs there, rather than in Germany (Handelsblatt, Financial Times Deutschland, June 2).
In these ways, Germany will subsidize Opel's takeover by the Russian government-controlled Sberbank; and consign the German auto-maker to a partnership with Oleg Deripaska's heavily in debt, technologically inferior, albeit Kremlin-favored Russian auto-maker GAZ (see article above). The terms of this agreement reflect (paraphrasing the late Bavarian Prime Minister Franz-Josef Strauss) an "inversion of logic" commercially and fiscally.
As a possible silver lining for the Germans (though not for the Opel work force), Magna can withdraw from the nonbinding memorandum of intent without incurring any penalty. On the other hand, this possibility might increase the German government's anxiety and its consequent willingness to pay an exorbitant price for rescuing Opel in this German election year.
The Russian solution was not the only one available. Criticizing it as too expensive and risky, the Economics Minister Karl-Theodor zu Guttenberg (conservative Christian-Democrat) proposed instead an "orderly insolvency procedure" under German government receivership to downsize Opel and retain its viable operations, at lower cost than subsidizing Russian control and risk of failure. The Italian FIAT company proposed to include Opel in the merger of FIAT with Chrysler, a rescue operation backed by 6 billion Euros in German loan guarantees. Almost the entire cabinet, however, overruled Guttenberg in a spasm of election-year populism. And Chancellor Angela Merkel implicitly brushed the FIAT offer aside by ruling out options other than the Russian one (Sueddeutsche Zeitung, Handelsblatt, June 2).
In an unguarded and widely quoted remark to the press, Merkel explained her decision as dictated by politics and the immediacy of the Russian offer: "I absolutely could not assume the political risks of considering an alternative option." She sounded scathing about "monumental mismanagement" at Opel's U.S. parent company and underscored the time pressure for a decision to decouple Opel from General Motors: "I do not want Opel to be dragged into the vortex of an American bankruptcy" (Frankfurter Allgemeine Zeitung, June 2).
With the Russian offer in hand, the German government finalized its position and negotiated Opel's separation from General Motors with representatives of GM and the U.S. Treasury Department in several day-and-night sessions in the last days of May. The new Opel joint venture will be entitled to use most of its existing technology licenses from GM in return for fees, except a few of the most advanced licenses.
This arrangement seems to open the way for the transfer of technology coveted by the Russian side. Prime Minister Vladimir Putin, Sberbank President German Gref, and GAZ majority owner Oleg Deripaska in parallel statements all hailed the prospect of advanced technology transfers from GM and Opel to Russia through the planned joint venture with GAZ (Interfax, June 1). Moreover, Gref gloated, the Russian side is paying an "exceptionally low price" for entering the joint venture with Opel (Handelsblatt, Sueddeutsche Zeitung, June 2). In practice, however, the Russian side is paying almost nothing to the joint venture while the German government subsidizes it heavily.
German government approval for the Russian take-over in preference to other solutions, as well as the ambitious scale for this joint venture, illustrates a creeping trend toward the formation of a Russo-German economic community of interests, with strategic-political consequences. The German government appears to drift along with some influential interest groups in that direction. This trend first emerged with the Nord Stream gas pipeline project in 2005. It was seen again in the Siemens company's decision in February to jettison its long-term partnership with the French nuclear giant Areva and enter into a partnership with the Russian nuclear company Rosatom. The nascent Russo-German Opel joint venture, in this case replacing a major American presence in Germany, seems to continue that strategic trend.