German RWE Signs Groundbreaking Agreement for Turkmen Gas
Publication: Eurasia Daily Monitor Volume: 6 Issue: 76
By: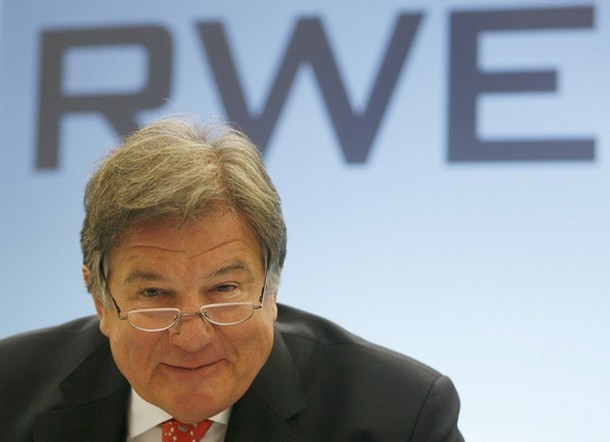 On April 16 in Ashgabat, the German energy giant Rheinisch-Westfaelische Elektrizitaetswerk (RWE) entered into an agreement with Turkmenistan on offshore gas field development and gas deliveries. RWE board chairman Juergen Grossmann and Yagshgeldi Kakayev, head of the Turkmen State Agency for the Management and Use of Hydrocarbon Resources (attached to the office of President Gurbanguly Berdimuhamedov), signed this long-term framework agreement.
This move has the potential to become a breakthrough in terms of Western access to Turkmen gas reserves, advancing the EU-planned Southern Corridor -including the Nabucco project- via Azerbaijan and Georgia to Europe, and emancipating Turkmenistan in due course from Russian Gazprom's monopsony. RWE is a partner in the Nabucco consortium.
Under the agreement, RWE and Turkmenistan will examine and consult with each other on possibilities for initiating deliverers of Turkmen gas to Germany and Europe. The sides will establish a long-term partnership to transport Turkmen gas to the country's border and export it to international markets.
Furthermore, under the agreement, RWE will explore and develop gas resources on Turkmenistan's continental shelf in the Caspian Sea. According to Turkmen officials at the signing event, Turkmenistan has assigned its offshore Bloc 23 to RWE as an initial step, with further blocs possibly to be added. Exploration work is expected to start during the course of this year. RWE will also provide technical training for Turkmen specialists, of whom a 20-strong group is scheduled to arrive in Germany already this month.
In his remarks at the signing in Ashgabat, Grossmann indicated obliquely that the transport solution to Europe will involve a trans-Caspian pipeline link, which would lead to Azerbaijan and farther westward (Turkmen Television, RWE press release, DPA, April 16; Financial Times Deutschland, April 17).
The agreement with RWE is Turkmenistan's first-ever with a major Western company. Up till now only the small, British-Arab jointly owned Dragon Oil (as well as Petronas of Malaysia, at Bloc 1) had been licensed to drill for Turkmen oil and gas offshore. The Russian company Itera had signed two years ago a memorandum of understanding with Turkmenistan for exploration and development of Blocs 21 and 22, but that agreement has not been finalized thus far (Kommersant, April 17). There is still no Western involvement in Turkmenistan's onshore gas field development, but such involvement seems entirely realistic now after the RWE agreement and with Berdimuhamedov's growing openness to the West.
RWE is Germany's largest energy producer and supplier overall (nuclear, natural gas, electricity) and second-largest natural gas supplier in the country (after E.ON Ruhrgas). Unlike Ruhrgas or the BASF subsidiary Wintershall, the Essen-based RWE does not have strategic interests in Russia generally and is not burdened with overdependence on Russian gas.
With its more diversified portfolio of gas imports, RWE joined the EU and U.S. backed Nabucco project one year ago. In November 2008, RWE and the Austrian OMV (initiator of the Nabucco project) created the Caspian Energy Company (CEC) to develop trans-Caspian solutions for delivery of Turkmen and other Central Asian gas to Europe. The London-based CEC is open to participation by other companies, particularly gas-producing ones. This initiative is closely connected with the EU Commission's initiative (launched also in November 2008) to expand the initial Nabucco concept into a far more ambitious Southern Corridor, which would include a trans-Caspian link. Toward that goal, Grossmann and other RWE executives held talks in Turkmenistan persistently in recent months and opened an RWE office in Azerbaijan.
The RWE-Turkmen agreement strengthens the case for Nabucco; marks an early step toward implementation of the Southern Corridor; and opens prospects for diversifying Turkmenistan's export routes as well as Germany's and Europe's gas import sources, away from dependence on Russia in both cases. The trans-Caspian pipeline link can be achieved either as a coast-to-coast project (which Russia staunchly opposes, although it has no real means to stop) or, as an alternative option, can be achieved incrementally by connecting Turkmenistan's and Azerbaijan's offshore infrastructure, a short distance from each other in the center of the Caspian Sea.
The April 16 agreement follows (but was not caused or precipitated by) disagreements erupting publicly between Ashgabat and Moscow. Their negotiations on expanding the capacity of Turkmenistan-Russia pipelines -and, thus, Russia's future intake of Turkmen gas- failed in late March. Consequently, on March 27, Berdimuhamedov instructed his government to prepare an international tender for modernization of Turkmenistan's existing energy transport systems and construction of new ones. The new systems would deliver Turkmen energy resources to world markets -i.e., bypass Russia (Turkmen Television, March 27). On April 8-9, a Turkmen pipeline carrying gas to Russia blew up, causing a near-halt in gas deliveries for several days. The Turkmen side is publicly blaming the explosion on gross negligence by Gazprom and demanding compensation. Such incidents used to be hushed up in the past. Ashgabat's decision to go public and challenge Moscow signifies -as does the agreement with RWE- the onset of a new era in Turkmenistan's policies.