Turkmenistan Delays Russian Pipeline Project and Rejects Russian-Led Gas Cartel
Publication: Eurasia Daily Monitor Volume: 6 Issue: 76
By: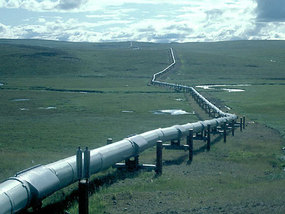 Evidently disturbed by Turkmenistan's recent moves to crack Gazprom's monopsony, Russian Prime Minister Vladimir Putin has publicly instructed Deputy Prime Minister Igor Sechin and Gazprom CEO Aleksei Miller to "step up work with Turkmenistan" (Interfax, April 16). Putin was speaking on the day when Turkmenistan signed a ground-breaking agreement on natural gas with Germany's RWE (see article above). On April 19 Sechin and Miller descended on Ashgabat, ahead of the international energy transport conference there, evidently with lead time calculated to "work with" President Gurbanguly Berdimuhamedov, who received them (Turkmen Television, April 20).
The Turkmen-RWE agreement is the latest in a series of moves by Berdimuhamedov to loosen Russia's stranglehold and reach out to international markets for Turkmen gas.
Berdimuhamedov surprised and disappointed Moscow by not signing a pipeline construction agreement during his official visit there on March 25. Neither side disclosed the reasons behind the Turkmen move. The signing had been scheduled as the centerpiece of the Turkmen president's meeting with Russian counterpart Dmitry Medvedev. The agreement, envisaging Russian construction of an "East-West Pipeline" across Turkmenistan, remains on the table for continuing discussion and possible renegotiation, however (Interfax, Kommersant, March 25, 26; ITAR-TASS, April 6).
Moscow has planned that line to run from Turkmen gas fields in the east of the country to Turkmenistan's Caspian coast. There the line would plug into the existing Caspian Coastal Pipeline, which carries Turkmen gas northward, via Kazakhstan to Russia. Under a political agreement signed by the three countries' presidents in May 2007, followed by a tripartite intergovernmental agreement signed in December that year, the Caspian Coastal Pipeline is due for full reconstruction and capacity expansion up to 20 billion cubic meters per year. The existing, badly worn out coastal line dates back to the Soviet era and operates far below its nominal capacity of 5 billion cubic meters annually.
The East-West Pipeline across Turkmenistan would help fill the Coastal pipeline bound for Russia. The Russian state company Zarubezhneftegaz, specializing in pipeline construction abroad, has been designated as the general contractor for the 600 kilometer East-West line, which would cost an estimated $1.2 to $1.5 billion to build. This two-pipeline project, East-West and Caspian Coastal, would increase Russia's intake of Turkmen gas even further in the long term, well beyond the existing annual deliveries of some 45 billion cubic meters, which is a vast volume in itself.
Moscow hopes through this project to supply Gazprom's South Stream pipeline, which would carry Turkmen gas across the seabed of the Black Sea to Europe. In that case, Turkmen gas would be marketed in Europe as "Russian" gas. This would also help Gazprom and the Kremlin to some extent to meet their existing supply commitments and their additional, reckless supply offers, even as Russia faces the prospect of shortfalls in its own gas production. The two-pipeline project on Turkmen territory would prevent Turkmenistan itself from exporting its gas through direct commercial contracts and trans-Caspian pipeline links westward toward Europe.
By the same token, Turkmen objections to this project could jeopardize Russia's South Stream. Such objections seem to emerge in Ashgabat. On his return from the Moscow visit, Berdimuhamedov assigned Deputy Prime Minister Tacberdi Tagyyev to coordinate the preparation and announcement of international tenders for modernizing existing energy transportation systems and building new ones. The new systems would deliver Turkmen energy resources to international markets (i.e., apparently, bypassing Russia) (Turkmen Television, March 27).
On April 3 Turkmenistan openly rejected Russia's idea to create a cartel of gas-exporting countries. A press release, ostensibly on behalf of Turkmenistan's Ministry of Foreign Affairs, though undoubtedly initiated by the head of state himself, announced: "Turkmenistan does not support the idea of setting up supranational structures of gas-producing countries. A producer country's sovereign right to choose its energy supply routes is inseparably linked with its right to set its price for its energy resources. Combining gas-producing countries into supranational regulating bodies, including price regulation, is an idea without merit. Direct contracts between seller and consumer are the only correct model for price formation." The document takes aim at the Kremlin and Gazprom directly: "Using energy supplies as a tool for achieving certain political goals or to satisfy some interest groups is an anachronism." It characterizes Ashgabat's policy to diversify its gas exports routes as a "cornerstone of our country's economic strategy… in addition to being a profitable commercial project. The time of monopolies in this sector of the world economy is fading into the past" (Turkmen MFA press release, Neytralnyi Turkmenistan, April 3).
On April 9 an explosion damaged the pipeline that runs from Turkmenistan's giant Dauletabad gas field, which delivers to Russia (via Uzbekistan). The damage brought the deliveries to a halt for several days. Ashgabat is blaming the situation on Gazprom's April 8 unilateral, sudden cut in the volume of deliveries, leaving the Turkmen side insufficient time for taking measures to relieve the extra pressure in the pipeline. Moscow for its part blames technical faults on the Turkmen side or simply the worn-out condition of the pipeline. Berdimuhamedov and other Turkmen officials have angrily demanded an international investigation and possible compensation from Gazprom (Turkmen Television, Interfax, April 9-14).
It is unprecedented for Turkmenistan to stand up to Moscow with such outspokenness and persistence as it has in recent weeks, defending its interests. These are the political signals of a quest for emancipation from Gazprom's monopsony. Clearly, Ashgabat is ripe for considering commercial and transport proposals from Western companies -such as the German RWE has just pioneered- as well as from the European Union.