'Good Tsar, Bad Boyars': Popular Attitudes and Azerbaijan's Future
Publication: Eurasia Daily Monitor Volume: 12 Issue: 30
By: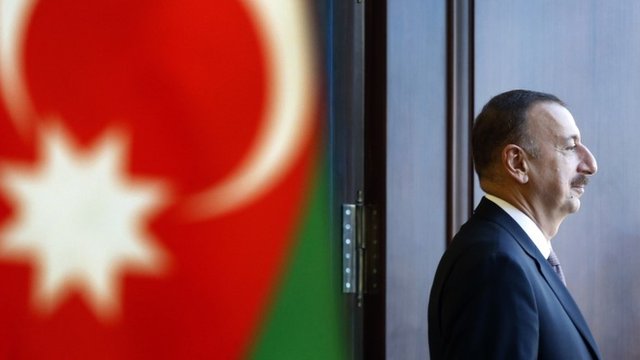 A commonly held view in Russia is that the government consists of "a good tsar and bad boyars." That is, the population tends to have a positive attitude about whoever sits at the top of the ruling hierarchy; while most, or even all, of the bad things Russians experience are assumed to be the work of functionaries lower down the bureaucratic ladder, who are pursuing narrowly selfish goals. That perspective, many scholars say, is the product of Russian historical development in which the tsar tended to be "far away," while the bureaucrats were nearby and, thus, the most likely targets of popular disgust or anger.
But a new study conducted by Anar Valiyev, Azer Babayev, Hajar Huseynova and Khalida Jafarova, under the auspices of the "Beyond the Ivory Tower" project of the Norwegian Institute of International Affairs, finds a similar pattern of views about state institutions in Azerbaijan. This reality, the researchers conclude, is having a profound impact on political life and development in that south Caucasus country (Caucasus Research Resource Centers, February 11).
Their findings are intriguing, first of all, because of what they say about Azerbaijan under President Ilham Aliyev. Furthermore, they shed light on a political system in which the leader has enormous power but where citizens are often most affected by lower-level bureaucrats. Such research can help explain whether this phenomenon is, in fact, typical of most authoritarian systems or whether this type of rule was actually institutionalized in Azerbaijan during the course of the almost two centuries of Russian Imperial and Soviet occupation.
In most societies, the level of trust in this or that government institution reflects how well those institutions are perceived to be meeting citizens' goals and expectations—but that is not the case in the Russian Federation, most other post-Communist countries or Azerbaijan, in particular. There, citizens report high levels of trust in the president and much lower levels of trust in the parliament, bureaucracy and local governments, regardless of how well they say any of these are meeting their needs, the new study by Valiyev, Babayev, Huseynova and Jafarova finds (See also William Mishler and Richard Rose, "Trust, Distrust and Skepticism: Popular Evaluations of Civil and Political Institutions in Post-Communist Societies," Journal of Politics, 59:2 [1997]).
The amount of trust present in society, Valiyev and his colleagues say, profoundly affects the prospects for the country' social, economic and political development. Where there are high levels of trust, economic development and political stability are more likely; where the levels of trust are low, those are much less likely and corruption much more so. However, divisions between high levels of trust in the president and low levels of trust in other institutions, as exists in Azerbaijan, can create problems because it means people will look to one institution to fight another rather than viewing all of government as their own.
The authors of the current study cite the work of Marc Morje Howard (The Weakness of Civil Society in Post-Communist Europe, Cambridge University Press, 2003) to argue that while trust in state institutions was low in Soviet times, it has fallen even further in many places because poor public management has contributed to "political apathy and low membership in political organizations," thus creating a situation in which breaking out of this pattern is typically extremely difficult.
In Azerbaijan, the new study reports, "trust in the president and trust in other institutions" of the government are quite different. According to the 2013 CRRC Caucasus Barometer survey, which the study cites, "84 percent of the population reports trusting the President of Azerbaijan," but only 56 percent say they trust the president's ministers, and only 39 percent say that they trust local government officials (Caucasusbarometer.org, accessed February 18).
This pattern, in turn, leads to high levels of participation in presidential elections, the study says, but extremely low levels of electoral participation in local and municipal government races, ranging between 23 and 39 percent during Azerbaijan's the last three election seasons. And it means that Azerbaijanis are not inclined to see either those local governments or the ministries of the central government as working for them. Hence, for the population, almost everything depends on the president rather than on the political system as a whole. In the short term, that pattern may contribute to the simulacrum of stability; but in the longer term, it creates conditions for instability during a presidential transition.
The authors of the study call on the Azerbaijani authorities to "take immediate action" to change this pattern of trust and distrust "by making the work of state institutions transparent and public, educating the public on the importance of state institutions, and involving the public in decision-making processes" (Caucasus Research Resource Centers, February 11). Indeed, all these steps will be necessary for this post-Soviet republic to make a successful, full transition to a democratic society while retaining the prospects for long-term stability and economic growth.