Growing CCDI Power Brings Questions of Politically-Motivated Purge
Publication: China Brief Volume: 15 Issue: 3
By: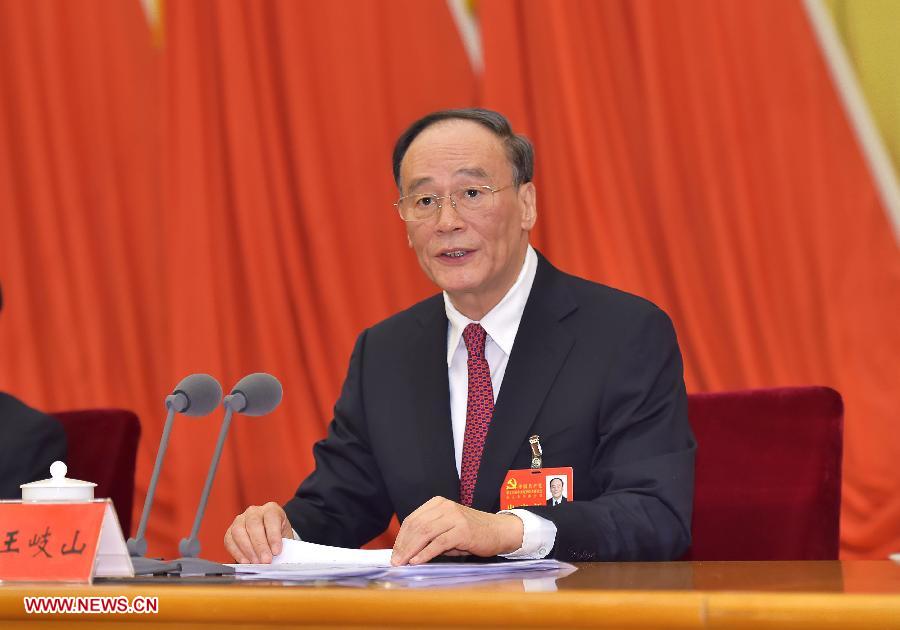 "There is no quota for the anti-graft campaign, and there is no upper limit [regarding the rank of cadres to be disciplined]." This is the latest instruction given by Chinese President Xi Jinping on the clean-governance crusade that has shaken up the Chinese Communist Party (CCP) over the past two years (CCDI website, January 11; People's Daily, January 11). Undoubtedly, Xi has gone much further than his predecessors, ex-presidents Jiang Zemin and Hu Jintao, in nabbing high-level miscreants in China's labyrinthine party-state apparatus—and there is clearly strong public support for Xi's campaign against the "big tigers." Nonetheless, doubts have surfaced about the propriety and legality with which the anti-graft movement is being conducted. Specifically, questions are being asked about the status and mechanisms of the Central Commission for Disciplinary Inspection (CCDI), the Party's top graft-buster whose power has dramatically expanded since the 18th Party Congress in late 2012.
At the Fourth Central Committee Plenum last October, the CCP leadership vowed to "resolutely uphold the authority of the Constitution and the law" and to "insist upon running the country and administration in accordance with the law" (see China Brief, November 20, 2014). On this and other occasions, Xi reiterated that "all organizations and individuals must operate within the parameters of the Constitution and the law." The year 2015 has been designated as the beginning of a "new epoch for the comprehensive implementation of rule of law with Chinese characteristics" (Xinhua, October 23, 2014; Xinhua, February 24, 2013). However, the CCDI, which is a secretive Party organ outside the purview of both the National People's Congress (NPC) and the courts, seems to be an extra-legal institution that derives its authority from just one person: President and Commander-in-Chief Xi.
The CCDI's Special Status and Unprecedented Power
The CCDI is headed by Politburo Standing Committee (PBSC) member Wang Qishan, who is often considered the second most powerful politician in the country. A former vice-premier in charge of finance and foreign trade, Wang is, like Xi, a princeling (a reference to the offspring to top leaders) whose close friendship with the president dates back to the early 1970s, when they were "rusticated" to the same village in Shaanxi Province. The CCDI is the only Party or government organ that has its own Organization and Propaganda offices, which were set up in March 2013. This means, for example, that the CCDI leadership can recruit cadres outside the established channels of the CCP Organization Department, which has since 1949 been responsible for the Party's human resources-related operations (People's Daily, March 29, 2013; Xinhua, March 28, 2013).
The CCDI runs twelve Discipline and Inspection Offices (DIO), which are responsible for uncovering graft and related offences in party and government departments, state-owned enterprise (SOE) conglomerates as well as regional administrative units. Four of the 12 DIOs were established in the past two years (Chongqing Commercial Daily, March 20, 2014; China News Service, March 18, 2014). Starting late last year, the CCDI has stationed sub-offices in a number of top Party and government units. These include the CCP Central Committee's General Office, the Organization Department and the Propaganda Department. Special CCDI units have also been installed within the General Office of the State Council (China's cabinet), as well as the NPC and the Chinese People's Political Consultative Conference (CPPCC), the country's top advisory organ. The CCDI is set this year to station anti-corruption cells in all regional party and government units as well as in big SOEs (Xinhua, December 12, 2014; Southern Weekend [Guangzhou] December 12, 2014).
Moreover, the past two years have witnessed an unprecedented number of senior CCDI personnel assigned to post-18th Congress Party organs with responsibilities for economic, political and social reforms. Take, for example, the Central Leading Group on Comprehensively Deepening Reforms (CLGCDR), which has emerged as one of the most powerful policy-setting organs at the CCP's top echelon. This mammoth organization is headed by four PBSC members: President Xi, Premier Li Keqiang, PBSC member in charge of ideology and propaganda Liu Yunshan and Executive Vice-Premier Zhang Gaoli. Five Deputy CCDI Party Secretaries—Zhao Hongzhu, Huang Shuxian, Li Yufu, Zhang Jun and Chen Wenqing—are among the 39 senior cadres with the rank of ministers or above who sit on the Leading Group. While these five clean-government experts seem to be charged with closing graft-related loopholes in the course of formulating new policies, their presence on this high-level central leading group also means that graft-busters for the first time are deeply involved in the country's overall administration—they are not present on similar Leading Groups for foreign affairs or economics. Never has the CCDI, whose job used to be solely related to clean governance, been involved so deeply in the country's overall administration (Beijing Youth Daily, March 13, 2014; Ta Kung Pao, January 23, 2014).
Even more remarkable is the fact that CCDI cadres have "parachuted" into regional administrations that are deemed disaster zones of misdemeanor. A case in point is Shanxi Province, where at least a dozen or so senior cadres have been put under investigation in the past year for alleged corruption. Shanxi happens to be the home province—and power base—of two "big tigers," the disgraced former Politburo member Bo Xilai and the detained Vice-Chairman of the CPPCC, Ling Jihua (Singtao Daily [Hong Kong], December 26, 2014; China Daily, December 9, 2014; Shanxi Daily, September 12, 2014). Last September, two senior CCDI officials were transferred to Shanxi as Standing Committee members of the province's ruling Party committee. Huang Xiaowei, who became the only female Standing Committee member of the CCDI in late 2012, was named Secretary of the Shanxi Disciplinary Inspection Commission. CCDI member Fu Jianhua was promoted to vice-governor of the coal-rich province (China Daily, January 19; People's Daily, September 30, 2014).
Increased High-Level Corruption Cases Suggest Political Purge, Not Progress
Studies conducted by Ren Jianming, Head of the Clean Governance Research Center at Beijing's Beihang University, have shown that up to one third of cadres with the rank of ministers or above have accepted bribes and commissions or helped their close relatives and cronies profit in commercial deals. This figure is similar to a 2014 report that quoted an internal document as saying that "more than 30 percent of party, government and military officials were found to be involved in some form of corruption" (Hong Kong Economic Journal, August 7, 2014; Reuters, April 16, 2014; Procuratorial Daily, December 25, 2013). Given that it is well-nigh impossible for the CCDI to tackle all of these bad eggs within a short time, the question arises as to what criteria top graft-buster Wang—and President Xi—is using to determine who to go after first.
According to the official media, the CCDI last year detained for investigation 42 officials with the rank of vice-ministers and vice-governors or above. This was substantially more than the 17 officials of similar ranks nabbed in 2013—and the comparable annual figure of six to eight during the Jiang and Hu administrations (Ming Pao [Hong Kong], January 12; People's Daily, December 30, 2014). Senior cadres incriminated in 2014 included a former Politburo Standing Committee member (Zhou Yongkang), a former Politburo member and vice-chairman of the Central Military Commission (General Xu Caihou) and two former vice-chairmen of the CPPCC (Ling Jihua and Su Rong). Questions have been asked, however, as to whether Xi and Wang have used the anti-corruption campaign as a weapon to bring down political foes. For example, Zhou, Ling, General Xu and former Politburo member Bo Xilai—who are described as "the new Gang of Four" by the Hong Kong and overseas-Chinese media—are rumored to be leaders of an "anti-Xi Jinping cabal" within the Party (Apple Daily [Hong Kong] Radio Free Asia, December 24, 2014). It is perhaps not surprising that the two previous Politburo members who went to jail for corruption—former Beijing Party secretary Chen Xitong and former Shanghai Party boss Chen Liangyu—were political foes of ex-presidents Jiang and Hu, respectively (Financial Times Chinese, August 1, 2014; Hong Kong Economic Journal, July 14, 2011).
According to Bao Tong, the secretary of disgraced Party General Secretary Zhao Ziyang, however, corruption can never be eradicated under China's stern one-party authoritarian rule. "Corruption can only be tackled with political reform and meaningful checks and balances [within the system]," Bao told a Hong Kong TV station. Bao, who is China's highest-ranked dissident, has been under house arrest ever since the Tiananmen Square massacre of 1989 (Apple Daily, January 17; Ming Pao, January 10). Zhao, the revered liberal leader who passed away ten years ago, was known to advocate the establishment in China of a relatively independent anti-graft agency comparable to the much-admired Independent Commission against Corruption of Hong Kong (Radio Free Asia, January 17).
It is mindful of the potential abuses by the CCDI system that Peking University political scientist Zhang Ming warned that the anti-graft watchdog must not degenerate into something like the "Eastern Factory," which is a reference to the imperial spying agency run by eunuchs of the Ming Dynasty (1368–1644) to remove critics of the regime and foes of the emperor and his favorite aides. "It is said in anti-corruption circles that the CCDI observes three big laws—the way of thinking, opinions and instructions of the leadership," said the outspoken academic. "If the police, prosecutors or judges break the law, recourse is still possible. But when the CCDI makes a mistake, nobody is in a position to challenge it." Zhang added that China's anti-graft system amounted to "the Party supervising itself." "Fighting corruption will only be successful if there is popular and media supervision [of the authorities]," he noted (Zhang Ming's blog, May 14, 2014; IB Times Chinese Edition, December 11, 2012).
The CCDI's media appearances have increased at a commensurate pace with the increasingly vital role that it is playing in Chinese politics. For example, the word "CCDI" appeared 81 times last year in the titles of articles in People's Daily, compared to a mere 19 times in 2012. The phrase "Party Secretary of the CCDI" showed up 1,327 times on the news section of China's four most popular semi-official Internet portals. This contrasted with the comparable figure of just 433 in 2012 (Ta Kung Pao, January 12; Ming Pao, January 12) Despite the CCDI's enhanced exposure in the media, the operations of the graft-buster remain as non-transparent as ever. While President Xi's commitment to clean governance does not seem to be in doubt, he and the CCDI's Wang need to do more to convince the public that they have not been using one of China's most powerful organs to consolidate their power and to decimate political foes.