President Xi Clears the Way for Military Reform: PLA Corruption, Clique Breaking and Making, and Personnel Shuffle
Publication: China Brief Volume: 15 Issue: 3
By: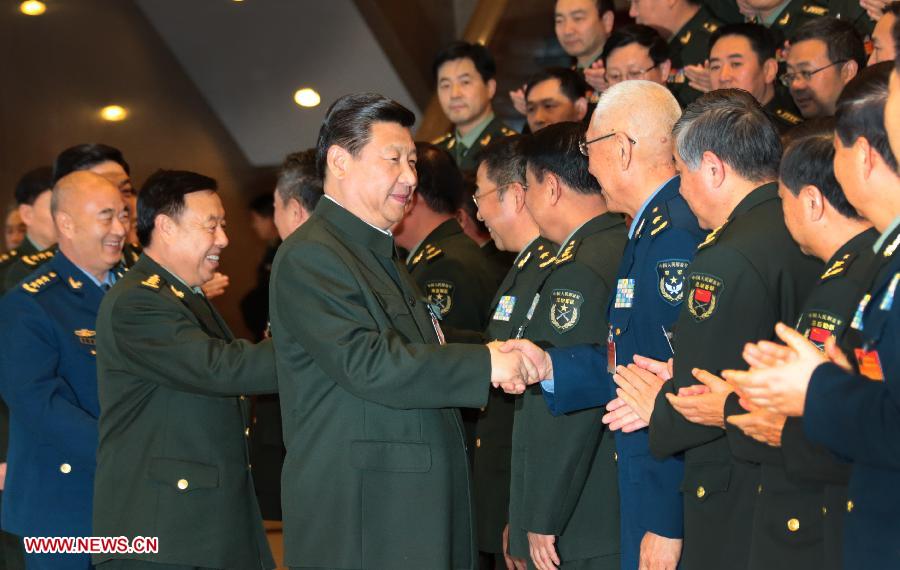 An unprecedented number of personnel moves and promotions within the PLA have occurred under President Xi. The Chinese press suggests that the promotions and shuffling of personnel are due to ongoing anti-corruption campaigns in the Chinese government and the military (Caixin, January 8; South China Morning Post, January 9). Others have noted that a number of officers with backgrounds in the Nanjing Military Region (MR), comprising Jiangsu, Anhui, Zhejiang, Jiangxi and Fujian provinces, have been promoted to bolster President Xi's support within the People's Liberation Army (PLA). This MR is noteworthy because President Xi served in Fujian and Zhejiang provinces and in Shanghai (see China Brief, January 9; The Diplomat, December 30, 2014). Meanwhile, the Defense Ministry spokesman, in response to press speculation, portrayed the personnel shuffle as routine (China Daily, January 5). These explanations for the large-scale reshuffling and promotions provide valid, but incomplete, explanations for the large number of PLA personnel moves occurring under President Xi. An important additional reason is to gain support as well as break ground force opposition based in the MRs to President Xi's announced military reforms, which plans to adjust the MRs creating joint commands, thus reducing ground force dominance (see China Brief, December 5, 2014). Past opposition, mainly from entrenched interests within the ground forces to maintain the current MR structure, derailed earlier plans by former Presidents Jiang Zemin and Hu Jintao to adjust the MR structure and form joint commands, which form an important component of President Xi's military reforms.
Tigers and Flies: PLA Anti-Corruption Campaign
Corruption investigations occurred within the PLA before Xi Jinping assumed the presidency, but have greatly expanded in conjunction with a campaign to overhaul military procedures to curb abuse of positions and cliques. Reports indicate a significant increase in the level of PLA corruption over the last decade. Two high-level officers caught in the anti-corruption campaign are former Politburo member and vice chairman of the Central Military Commission (CMC) General (GEN) Xu Caihou and former deputy director of the General Logistics Department (GLD) Lieutenant General (LTG) Gu Junshan. Xu, who is suffering from terminal bladder cancer, has confessed to taking bribes. Military prosecutors finished their investigation and started the procedure to file the case against Xu last October. Gu, a close associate and whose especially egregious corruption is intertwined with Xu, has been in detention since early 2012. GEN Liu Yuan, political commissar (PC) of the GLD, initiated charges of embezzlement, bribery, misuse of state funds and abuse of power against Gu despite encountering initial opposition (Want China Times, January 4; South China Morning Post, March 17, 2014; South China Morning Post; March 20, 2014; Xinhua, March 31, 2014; Xinhua, October 28, 2014; Want China Times, November 12, 2014).
The PLA recently posted a list of investigations as part of its efforts to institutionalize and align the military's anti-graft campaign with the Central Commission for Discipline Inspection (CCDI). The list includes four officers not previously mentioned in the media as under investigation by the military procuratorate, and additional officers mainly at the LTG and MG level. The list includes officers at military educational institutes, political officers, logistics officers, as well as officers in positions in various MRs and the Second Artillery Force (SAF). Chinese reports have also named additional corruption suspects not mentioned in the recent report of 16 PLA officers caught up in corruption investigations. In addition, several suicides, including two PLA Navy (PLAN) officers, have been reported in the Chinese press, along with allegations of corruption. Finally there are rumors that GEN Guo Boxiong, a former Politburo member and CMC vice chairman, is implicated in the investigation of Xu Caihou and has been detained by authorities (MND, January 15; MND, January 16; Global Times, January 15; China.org.cn, December 4, 2014; China.org.cn, October 23, 2014; Want China Times, July 10, 2014; South China Morning Post, November 16; Washington Times, November 20, 2014; Want China Times, January 4).
The reports on corruption include mostly MG and above officers. Only recently did the PLA Daily announce changes to auditing and management procedures as well as additional information on corruption investigations at the regiment level and above involving 4,024 officers leading to the removal of 21, demotion of 144, reprimand of 77 and poor evaluations of 61 officers. It remains unclear how many corruption cases there might be involving lower ranking officers. The announced PLA corruption cases appear low compared to those involving civilian officials. President Xi is likely using the threat of corruption investigations to ensure support for him and his military reform plan, and does not want to significantly disrupt the PLA or cause morale problems that could lead to lowered combat readiness or even opposition. The PLA corruption cases also demonstrate to the public the civilian and military leaderships' willingness to clean up the armed forces (PLA Daily 29 January 2015).
Breaking Cliques
The PLA has undergone an unprecedented shuffling of personnel under President Xi affecting the General Departments, all the MRs, PLAN, PLA Air Force (PLAAF), SAF and military educational institutes. A Ministry of National Defense (MND) article in August 2014 discussed the ongoing high level personnel changes. It noted at that time that President Xi had already promoted 11 generals. The article stated that most newly promoted generals are usually members of the Central Committee of the Chinese Communist Party, have held the rank of LTG for a full four years and have been an MR-level officer for two full years. In a break with this convention, of four generals promoted in July 2014 only LTG Chu Yimin, political commissar (PC) of Shenyang MR and previously director of the political department (PD) in the Nanjing MR, had been an MR-level officer for a full two years. The article also noted that the promotions were as much about advancing highly qualified personnel as combating corruption (MND, August 5, 2014).
The personnel changes under President Xi have had other anomalies. In the past, officers have often spent much of their careers within a single MR, at least until they reached higher echelons. Personnel changes under President Xi have featured not only movement between MRs, but movement to other services or organizations. This is not unprecedented, as there have been a fewofficers from the other services at the MR headquarters level which are dominated by ground force officers. Under President Xi's promotions and personnel shuffling, ground force officers from each MR have been reassigned to different MRs. Examples under President Xi of officers exchanging positions with officers in different organizations include the following: LTG Wang Ning, deputy chief of the General Staff and former Nanjing MR alumni, exchanged positions with GEN Wang Jianping, commander of the People's Armed Police Force (PAPF); LTG Zhang Shibo, newly appointed commander of the Beijing MR, exchanged places with Song Puxian, commandant of the National Defense University, both with a Nanjing MR background; GEN Xu Yaoyuan, PC of the PAPF with a Nanjing MR background, changed positions with GEN Sun Sijing, PC of the Academy of Military Science (AMS); LTG Miao Hua, with a Nanjing MR background, moved from deputy PC of the Lanzhou MR to PC of the PLAN; and LTG Wang Zhimin, deputy commander of Guangzhou MR, moved to deputy commander of the SAF (Caixin, December 31, 2014; Caixin, December 26, 2014; Caixin, December 30, 2014; Caixin, December 24, 2014; Caixin, September 23, 2014; Caixin; January 12).
The PLA is also shuffling commanders and political officers down to the battalion level. Exchanges of commanders and political officers at battalion and company levels were tested in a brigade of the 27th Group Army, Beijing MR in 2014. In January 2015, it was announced that the exchange program would be applied to all grass-roots units. According to the PLA, this is designed to improve the quality of officers and end corruption. In addition, the PLA began a program in April 2013 to send officers at and above the regiment level to serve temporarily as privates. Reportedly, 86,000 officers have been through this program to improve work styles (Global Times, January 12; South China Morning Post, January 12; China Military Online, January 12).
Quite a few of the personnel changes involved political officers and to a lesser extent logistics related positions. These are likely designed to break up cliques of officers in positions where corruption is most rampant. Political officers are responsible for personnel selection and logistics officers are responsible for material and construction projects. Both of these areas have been a focus of corruption cases involving payment for billets, embezzlement of funds and bribery for construction contracts. The movement of officers within all of the MRs also breaks ground force cliques in those commands that were likely opposed to adjustments in the military region system and establishment of joint commands that would diminish the power of the ground forces within the defense establishment.
Making Cliques
Analysts have noted that some of President Xi's promotions include building a "Nanjing MR Faction" as a power base for him within the PLA, while also building support for his military reform program (see China Brief, January 9). Reported promotions include LTG Gao Jin, LTG Miao Hua, LTG Yi Xiaoguang, LTG Wang Ning, LTG Song Puxian and MG Jiang Yong, all of whom served in Nanjing MR at some point during their careers (see China Brief, January 9; The Diplomat, December 30, 2014).
In addition to those reported officer promotions with connections to Nanjing MR, examples of additional officers connected to the Nanjing MR also receiving promotions include the following: Qi Jianguo, deputy chief of the General Staff, promoted to GEN, one of the few officers with combat experience and has served in 1st GA and 12th GA Nanjing MR; LTG Qin Weijiang, deputy commander of Nanjing MR, named deputy chief of the General Staff; LTG Zhang Shibo, named Commandant of the National Defense University (NDU), reportedly from Zhejiang; Wei Liang, promoted to GEN, served in Nanjing MR including the 12th GA; Wang Jiaocheng, promoted to GEN, served in Nanjing MR, including the 12th GA; Chu Yimin, promoted to GEN, who served as director of the PD in Nanjing MR; and GEN Xu Yaoyuan, named PC of the Academy of Military Science (AMS), reportedly from Jiangsu (MND, August 5, 2014).
An MND article in August 2014 stated that 34 incumbent generals once served in the Nanjing MR, including GEN Zhao Keshi, director of the General Logistics Department (GLD) and CMC member; GEN Wu Changde, deputy director of the General Political Department (GPD); LTG Liu Shenyang, deputy commander of Jinan MR; LTG Wang Jian and LTG Cheng Tongyi, both deputy PCs of Beijing MR; and MG Han Weiguo, deputy commander of Beijing MR (MND, August 5, 2014).
Although President Xi appears to be building a Nanjing MR clique to support him and his reform efforts, the MND article from 2014 also correctly notes that Nanjing and Guangzhou MRs have become the most important strategic direction since the fall of the former Soviet Union. These two MRs are responsible for Taiwan and the South China Sea contingencies, respectively, have seen a large number of promotions and personnel shuffling, and are where promotions have focused more on the operational capabilities of the officers, rather than other considerations, especially at the higher echelons within these MRs (Caixin, January 12; China Military Online, January 4; MND, August 5, 2014; South China Morning Post, December 27, 2014).
Shaping the Battlefield for Military Reform
The reform plan was announced in November 2013, and the past year was spent preparing support, breaking opposition, conducting detailed planning for its implementation, and initiating some elements of the reform plan such as improvements in training that have wide support. President Xi's unprecedented number of promotions and reassignments has a number of underlying purposes related to the reform plan. Corruption is cited as the reason in many Chinese press articles, and even the PLA press has provided this as one explanation. Analysts as well as the PLA press have noted the number of Nanjing MR-related promotions, but for different reasons. President Xi is promoting officers with a Nanjing MR background to build a clique within the PLA to support him, although the PLA press is right to note the operational qualifications and the importance of the Nanjing and Guangzhou MRs' strategic direction.
The shuffling of a large number of political and, to a lesser extent, logistics officers from areas where corruption is at its worst is an attempt to break connections and curb corruption. The number of announced corruption cases and the movement of political officers appears to indicate a significant problem in the personnel selection process with serious adverse consequences for the PLA. Corruption involving payments for promotions not only lowers morale within the PLA, but adversely affects PLA combat readiness by not basing promotions on qualifications. The corruption probes involving officers at PLA universities and colleges represent a threat to the PLA's long-range plan to develop military talent. President Xi has expressed concerns over the poor quality of instructors and courses, and fraud in PLA educational institutes which inhibits modernization and no doubt hurts morale. PLA morale and combat readiness are both issues Xi's military reforms seek to address. The apparent limited scale of announced corruption cases in the PLA compared with the civilian sector likely represents a measured approach to use corruption as a potential threat, and to show the public the regime's intent to clean up military abuses, while avoiding incurring poor morale and possible opposition within the military.
Promotions, building a base of support within the military, and the threat of corruption investigations all enhance President Xi's control over the military and increase the chances of full implementation of his military reform plan. However, an additional important reason for the PLA personnel shuffle is to break up ground force cliques within the MRs that oppose some of President Xi's military reform proposals, and have also obstructed MR adjustments and the creation of joint commands in the past. The making of cliques to support President Xi and the breaking of cliques opposed to aspects of his military reforms should pave the way forward for real change within the PLA. These moves during the past year are likely the precursor to start implementing these sweeping changes proposed in the military reform plan.