Growing Network of IS-K in Pakistan's Baluchistan Province
Publication: Terrorism Monitor Volume: 16 Issue: 18
By: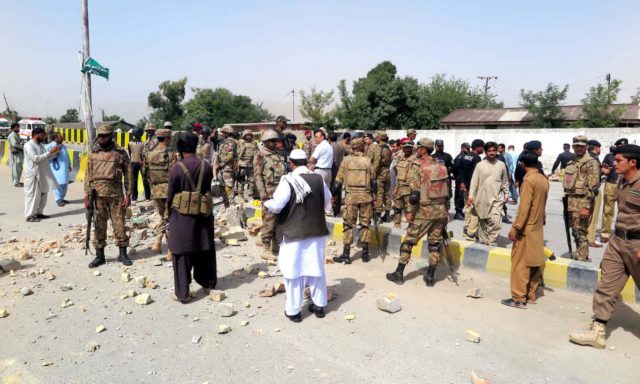 With the fall of Mosul in July 2014, the Islamic State (IS) started to spread its tentacles, luring in Islamist terrorist groups all over the world. This includes many groups previously aligned with al-Qaeda. The IS spokesperson, Abu Mohammad al-Adnani, called upon all Islamist groups to align with the so-called Islamic Caliphate and pledge allegiance to its caliph, Abu Bakr al-Baghdadi. In quick succession, more than 40 Islamist terrorist and insurgent groups across the globe pledged allegiance to al-Baghdadi. [1]
Among those to answer IS's calls were several Pakistani Islamist terrorist groups, which joined hands with IS and allowed the terrorist organization to spread its ideology and violence in an already terrorism-ridden country. Tehreek-e-Khilafat Pakistan, Jundullah and the Tehreek-e-Taliban Pakistan's Shahidullah Shahid faction were the first to answer the call in late 2014. [2] Some terrorist groups issued conciliatory statements whereas others established working relationships with IS. The group termed the Pakistan and Afghanistan region Wilayat-e-Khurasan, commonly referred to as Islamic State-Khurasan (IS-K).
The so-called Khurasan region has become crucial to the core of IS. After the fall of Raqqa in November 2017 it, along with Africa, became a primary region for hundreds of relocating IS militants. The Khurasan region is also fertile ground with long-established Islamist terrorist groups and large swathes of unsecure territory. These factors improve the group's ability to recruit and operate.
IS-K in Pakistan
IS-K was quick to capitalize on Pakistan's rich jihadist landscape. The group spread its network with the help of local and regional militants in all four of Pakistan's provinces, as well as in the eastern and northern provinces of Afghanistan. Pakistan is particularly attractive to IS due to the sheer number of different terrorist organizations. Recent fractures within a variety of Pakistani terrorist groups also makes the country an alluring target for IS. IS-K launched a massive media campaign coupled with strong propaganda on social media in order to drive recruitment in Pakistan. Concerted efforts by law enforcement and security forces quickly began to root out IS influence in Pakistan and halt its recruitment drive. [2] The group's recruitment efforts, however, succeeded despite stiff resistance from both security forces and rival al-Qaeda affiliated terrorist groups operating in Pakistan.
IS-K has perpetrated scores of attacks in both urban centers and far-flung rural areas across the country, though it has been more successful in some provinces than others. The group conducted a wave of at least 60 targeted killings in western Khyber-Pakhtunkhwa province before law enforcement forces managed to dismantle the IS-K cells operating in that province.
IS-K in Sindh province has proven to be more resilient and effective in launching terrorist strikes and establishing decentralized cell-based units of highly educated young militants. In one major attack in May 2015, an IS-K cell killed 43 Ismaili-Shias when they attacked their bus and murdered them in cold-blood (Dawn, May 13, 2015). The IS-K cell in Karachi has also targeted social workers, and members of secular parties, especially the anti-Islamist, anti-Taliban, overtly secular Muttahida Quami Movement (MQM) during 2014. The groups created havoc in Karachi and Hyderabad before law enforcement forces were able to make a significant number of arrests and disrupt their operations. Arrested members were predominantly highly educated individuals espousing the Salafist-jihadist ideology. While IS-K has found some success in Sindh, the group's growth has been most notable in Baluchistan, where rule of law is particularly lacking.
IS-K's Growth and Operations in Baluchistan
IS-K has been able to make inroads in sparsely populated Baluchistan, which is Pakistan's largest province. Baluchistan makes up 43 percent of Pakistan and is almost the size of Germany. The province is also the poorest and most underdeveloped part of Pakistan. It time and again experiences Baluch nationalist-separatist insurgencies. The group has capitalized on the weak writ of state, presence of ungoverned territories and relationships with other terrorist organizations.
The IS-K does have its own recruitment, financial, and logistics networks in the province, but it also seeks support from its operational hubs in neighboring Afghanistan. The southeastern provinces of Afghanistan, close to the Pakistan-Afghanistan border, have traditionally weak rule of law, allowing IS-K and the Afghan Taliban to infiltrate and find safe havens in those areas. The proximity of these areas and the presence of ungoverned territories in Baluchistan makes the province particularly conducive to IS-K's growth and survival. Apart from Islamist terrorist groups, a plethora of Baluch nationalist-separatist groups also operate in southern Baluchistan—some with bases in neighboring Afghanistan—and at times collude with Islamist groups as far as logistical issues are concerned.
The IS-K campaign in Baluchistan could be categorized as the group's most successful to date because it has managed to forge important alliances with local terrorist groups. For instance, IS-K has developed a working relationship with Lashkar-e-Jhangvi al-Alami (LeJA). The LeJA is led by Yousaf Mansour Khurasani, a native of Punjab province that now operates in Baluchistan. He espouses a conciliatory approach towards IS-K and seemingly collaborates with IS-K on a regular basis (Terrorism Monitor, January 27, 2017).
The cooperation between the LeJA and IS-K is purely a marriage of convenience. The LeJA does not adhere to IS-K's Salafist ideology but espouses a violent anti-Shia Deobandi version of Islam. Their shared hatred for Shia and Sufi communities, however, appears to be the driving force behind their relationship. Despite their relationship, the LeJA has remained associated with al-Qaeda. Many of its commanders and militants had received training at al-Qaeda-run camps in Taliban-ruled Afghanistan (1996-2001). The LeJA, unlike other al-Qaeda-linked groups, has not shown any hostility towards IS-K. The LeJA and IS-K have jointly claimed attacks conducted in Baluchistan, and at times, in neighboring Sindh province.
Baluchistan's Mastung District remains the hub of IS-K activities. A three-day-long security forces operation in June 2017 revealed that various hideouts were used by both organizations. A total of 12 IS-K militants and two suicide bombers were killed by security forces during the operation (Dawn, June 8, 2017). The security forces also claimed to have destroyed the headquarters of IS-K and LeJA (News International June 8, 2017). The group, however, still remains intact and has demonstrated its operational capabilities through several attacks on security personnel and election meetings.
IS-K continues to exploit vulnerabilities of the security mechanisms in Baluchistan. In August 2017, an IS suicide bomber hit a military convoy passing near Pishin District, killing 15 people, including eight soldiers (Nation, Aug 13). Among the group's most notable, recent attacks were two consecutive bombings during election campaigning for the 2018 general elections. IS-K claimed responsibility for a suicide bombing at a Baluchistan Awami Party rally in Mastung District on July 13 that killed 131 people and another at a polling station in Quetta on July 25—election day—that killed 31 people (Dunya News, July 15; Dawn, July 25). These two bombings underscored     IS-K's operational capabilities and ability to inflict mass casualties, even during events that are typically accompanied by a significant security presence.
Conclusion
Despite Pakistani law enforcement and security forces' consistent and concerted efforts to eradicate IS-K, the terrorist group has demonstrated its resilience and continues to be able to perpetrate acts of terrorism, particularly in Baluchistan. The province provides the group a largely ungoverned area, relationships with well-established Pakistani terrorist groups, and proximity to IS-K networks based in Afghanistan. IS-K's growth in Baluchistan and its activities in Afghanistan—where the local IS-K network has perpetrated waves of terrorist attacks—highlights the need for Pakistani authorities to collaborate with their Afghan counterparts to share intelligence. The sharing of information is essential to eliminate IS-K, as alone neither of the two neighbors have been able to resolve the issues while the group moves freely between the two countries. Pakistani and Afghan policymakers need to align their policy measures vis-à-vis IS-K before its network becomes too strong to be dismantled.
Notes
[1] List with dates of when various groups pledged allegiance to Abu Bakr al-Baghdadi (Intel Center, 2015).
[2] Ibid.
[3] Discussions with a senior police officer of Baluchistan police who requested for anonymity on August 12, 2018
[4] Discussions with a senior officer of KPK police department, August 24, 2018